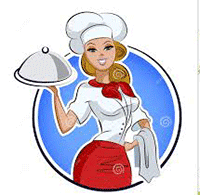 Culinary Career Profile: Restaurant Cook
What does a Restaurant Cooks do? Where do they work? Salary & Career Trends for Restaurant Cooks?
About Restaurant Cooks
The first thing to understand about Restaurant Cook jobs...is there's a ton of variability in tasks, pay, specialization, training, autonomy...and just about everything else.  Some establishments may have only 1 - 2 restaurant cooks, who do just about everything there is do in the kitchen, from preparation to expediting. Other places can have kitchen staffs numbering in the dozens or even hundreds, where restaurant cooks work in a brigade system, working very specific tasks, in conjunction with their peers.
One commonality among restaurant cooks, is they are usually the production engine of the kitchen. Head Chefs and/or Food Services managers, will take overall responsibility for restaurants operations & management, and restaurant cooks work under them, making sure the food is prepped, cooked, and served at the pace and standards that are expected.
Restaurant cooks (like other culinary jobs) can go by many names - some very French & fancy sounding that also specify a specific task in the kitchen. You may see titles like: Line cooks, Short Order Cooks, Grillardin (Grill Cook), Saucier (sauce cook), Chef de Partie, Commis (junior cook), Rotisseur (Roast Cook) Friturier (Fry Cook), Poissonnier (Fish Cook), Potager (Soup Cook), Legumier (Vegetable Cook)
According the the BLS, there were about 1,150,000 Restaurant cooks in the United States in 2014, with new jobs expected to be added below the average job growth rate.  In additional to Resturant cooks, the BLS categories other cook jobs (Short order, Fast Food, Institutional, Private cooks, etc) which are similar, and which employ over 1 million more cooks.
What does a Restaurant Cook do?
Restaurant cooks are all about the food.  Their head chefs, will design the dishes, teach the cooks how to make them, order the food, train the staff, etc...but it comes down to the restaurant cook to put food to flame and execute on the chef's vision.  And while that sounds simple, there are numerous steps and activities involved.  Restaurant cooks need to:
Study and learn how to cook the restaurant's dishes

Arrive before the restaurant opens to prep ingredients and supplies for service

Coordinate with the head chef, or supervisors taking orders, so they know what to cook

Cook and plate dishes
Maintain a safe, sanitary work station

Clean up and prepare their work station for the next day at the end of their shift

Restaurant cooks are ultimately responsible for pumping food out of the kitchen, quickly and up to the right standards. However, they are also honing their own culinary skills, and learning the business elements of the restaurant.
Who Employs Restaurant Cooks?
Entry level restaurant cooks may work at Fast Food or Quick Service resturants, but the majority of them are employed by full service restaurants and diners, who employ about 85% of restaurant cooks.  Still significant though, are hotels and amusement parks, which have a need for cooks, and can be a great place for some to start their culinary career.
As you'd expect, higher end restaurants that prepare more complex food, tend to pay restaurant cooks a bit more than lower end establishments. Chain restaurants are likely to pay near the industry average, but many will offer better benefits and/or more stable schedules. 
What is a Restaurant Cook's Salary?
Like most jobs in the culinary field, pay for restaurant cooks varies quite a bit based on the establishment, where the in the country the job is, and of course the individual skills and experience of the cook.
The median wage for restaurant cooks in May 2015 was $10.44 according to the BLS. That's is of course the national average, and pay varies quite a bit by geography. The top 10% of earners make on average $15.38 compared to an average of just $8.26 for the bottom 10%. As in most things, experience and expertise tend to make restaurant cooks more valuable and able to earn more.
How to Become a Restaurant Cook?
Many people become restaurant cooks through dedication and on the job training. Entry level jobs are restaurants are plentiful, if not very well paid, and aspiring cooks can typically find a a junior job at one. From there, there is ample opportunity (and ample hard work) to get on the job training, learning from the existing staff. With practice, opportunities usually arise to take on more responsibility and to continue to perfect your skills as a cook.
An alternative path to becoming a restaurant cook is through more formal training. There are hundreds of training programs accros the US, in every state.  These training programs range from formal credit bearing college classes, to private training, and association sponsored classes and programs where you earn certifications.
While you can become a successful restaurant cook via either path (and others), on the job training as the advantage of cost (you're paid instead of paying). More formal education, particularly at one of the top culinary schools, comes with a level of prestige and vetting, that will give a cook a better shot at working at a high end restaurant for a more established head chef.