Review of Dinnerly's Spinach Pesto Pasta with Roasted Tomatoes
Review Summary
Dinnerly took a simpler "deconstructed" take on pesto with this recipe, and ended up with a pretty tasty meal that you can easily put together in less than 30 minutes.
The biggest short-cut in this "pesto" recipe is actually not making a pesto at all. Typically, you'd pull out the blender and combine ingredients into a smooth sauce - the pesto. In this version, Dinnerly has you using the same ingredients separately added to pasta. Still a tasty option, but if you're expecting a traditional Pesto - this is not it.
I did like the flavors in the dish. The roasted tomatoes provide a slightly sweet, acidic sauce for the pasta, along with the olive oil and parmesan cheese. I love spinach, and slightly wilted, it's great in this dish. I didn't think the chopped almonds had much flavor....but did give the pasta a nice texture component.
Overall, the flavor was good, but not a big bunch like traditional pestos, and probably would have been helped with a bit more parmesan cheese, some red pepper flakes or some other component to add a bit more complexity.
It took me about 25 minutes to cook the recipe (while also filming) so I think you can get it done very quickly. And the directions on the recipe card were clear and easy to follow.
Overall I was happy with dish. It's kid and adult friendly, and would be an easy after-work, home cooked meal. And at just $5 per serving, it's pretty easy on the wallet as well.
Ingredients
The Dinnerly box came packed with ingredients for three recipes. You need to sort out the ingredients by recipe, but that takes about 30 seconds. Everything that came was in good shape and all the fresh ingredients were good quality - as good as I'd get at the grocery store. The finished portion size was reasonable, although I wish I had a bit more parmesan cheese to help boost the flavors.
For the Spinach Pesto with Roasted Tomato recipe, Dinnerly includes the following:
Plum tomatoes
Salted almonds
Garlic
Parmesan
Rigatoni
Baby spinach
As I said above, everything that came was in really good shape. To the shipped ingredients, you'll need to get salt, pepper and olive oil from your own pantry. 
Making the dish
The fact that we're not making a traditional pesto, makes this dish really easy and fast to make. There are not a lot of "tricks" you have to be careful of. Use high heat to roast the tomato (hopefully getting some caramelization).  Most importantly, just don't over cook the pasta. Start tasting it a minute or two before the directions suggest, just to make sure you take it out al dente.
Dinnerly breaks the cooking down into five steps:
Prep the ingredients: Here you get a pot of water on the heat for the rigatoni. Dice the tomatoes and garlic. Grate the parmesan cheese, and finely chop the almonds.
Cook the pasta: Is self-explanatory. You do want to reserve some pasta water before you drain, which you can use to thin the sauce if needed.
Broil the tomatoes: In this step you season the tomatoes, add some olive oil and get them under the broiler. As they heat, water evaporates, concentrating flavor. And the sugars start to caramelize creating more flavor/complexity. I'd suggest going a bit longer than the directions, and getting the tomatoes pretty well browned.
Wilt Spinach: You put the spinach, together with the tomatoes and garlic back in the saucepan with the pasta. This is the base of the dish, and in just a few minutes the spinach will wilt down.
Finish the pasta: Finally, you wrap everything up by adding the parmesan cheese and the almonds. If needed, you can add some reserved pasta water. Most importantly, you need to taste the pasta and add salt and pepper if needed; and they also suggest (and I agree) adding a drizzle of olive oil. These last few steps are really critical to bringing out the flavor in this simple dish.
The directions are simple to follow and there are not many steps. I would have liked a bit more flavor in the dish, and when I make it again, would probably add a bit of fresh lemon juice, some red pepper flakes and a bit more parmesan cheese.
I found the portions where fairly generous and there was plenty of food for two people.
Taste
The flavors on this dish were mild but good. It's a simple dish without a ton of ingredients, so it's really about perfectly cooked pasta, lightly dressed, and well seasoned. You need to make sure the rigatoni doesn't get mushy or soft on you.
I didn't think the almonds added a ton to the dish, other than a bit of a texture component. 
I would have a liked to see a little bit more garlic and/or parmesan cheese, both have big flavors and would have added more punch to the dish. If you have the time, and can oven-roast the tomatoes for longer, that would concentrate their flavor and make for a richer finished recipe. Dinnerly could also add some sun dried tomatoes to the kit vs the fresh.
Finally, a bit of acid is a very common trick to add some complexity and flavor to a pasta dish. A light squeeze of fresh lemon juice at the very end of the cooking would have brightened everything up quite a bit.
Dinnerly's Spinach Pesto Pasta with Roasted Tomatoes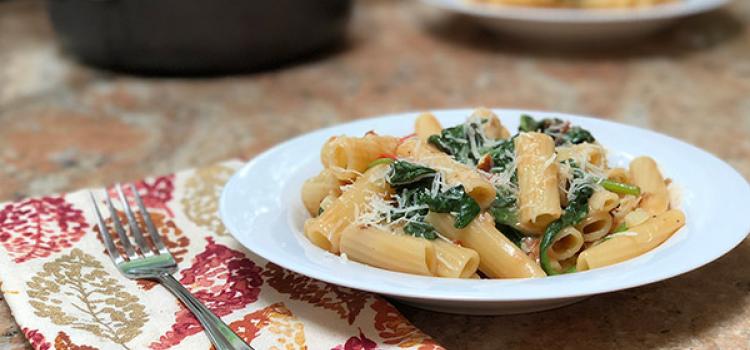 Overall
Like everything I have tried (and read about) from Dinnerly, their Spinach Pesto Pasta fits right in the wheelhouse, of simple, un-fussy and fast.
I had this recipe made in less than 30 minutes and with a bit of practice (and no filming) I could probably do it about 20.
Like all simple pasta dishes, it's critical to cook the rigatoni al dente, so don't walk away and forget it. Once put together, I liked the flavor, but did wish for a bit more punch. Fortunately, it's easy to add a bit more flavor with ingredients you probably have on hand. The portion sizes where good.
This is a very family friendly recipe. I think just about anyone's going to like it. And at Dinnerly's price ($5/serving) it's as cheap at fast food.
Give it a try and let me know how it goes. And if you're interested in Dinnerly, just use the link below.