Review of Martha & Marley Spoon's Buffalo Glazed Chicken Breast with Chopped Salad
Review Summary
It's no mystery what this recipe is inspired by. But it also recognizes, that a bucket of chicken wings may not be the most healthy thing in the world to dine on. Using the chicken breast for this dish actually makes this (in my book) a relatively low cal (~650/serving), healthy meal that I'd happily serve to the family. But does it taste good?
The short answer is yes. The buffalo sauce that Martha & Marley Spoon provided is tangy with just a bit of hit. Mixed with butter, it nicely coats the chicken breast, and delivers the falvor you'd expect. Of course you don't get all the crispy chicken skin on regular wings...but that's the compromise we're making for health.
Try Martha & Marley Spoon at a Discount
The salad, with the fresh carrots and romaine  lettuce ably serve the role of carrot & celery sticks, and help to bulk up the overall recipe. I was a bit surprised, they didn't include some blue cheese crumbles for the salad - an obvious pairing in my book.
Again, I'm going to give very high marks for clear directions and simple, but critical cooking tips on the recipe card. The dish took just about the time indicated on the recipe card, the steps made logical sense, seemingly small, but critical tips were clear.
This isn't a tremendously wild or exotic recipe that going to knock anyone's socks off. But it is simple, good tasting food that most people will be comfortable eating and cooking - with just a bit of a twist to keep it interesting.
Ingredients
Martha & Marley Spoon provided 11 ingredients for this dish:
Mini French roll
Garlic
Carrot
Romaine heart
Fresh parsley
Boneless skinless chicken breast
Mayonnaise
Apple cider vinegar
Butter
Buffalo hot sauce
The only things I needed were salt, pepper and olive oil.
Everything that came in the box for this dish was packed together and easy to separate from the other recipe that came. The produce was all fresh and clean, and tasted as it should.
They did include a roll, which I would not have wanted to eat as a roll. It seemed a bit stale/hard. But the intent was NOT to eat as roll, but rather to make croutons for the salad, and it was perfect for that.
The chicken breast where of average size, and I had not issues or complaints with them.
Finally, the buffalo sauce was better than I expected...and the ingredients for the salad dressing all worked great.
Making the dish
I am coming to discover that Martha & Marley Spoon does a really good job providing directions on the recipe card. The 6 steps are broken down as follows:
Prep ingredients
Make the croutons
Cook the chicken
Make the dressing
Finish the chicken
Make the salad and serve
While the recipe itself is fairly simple, I love the clarity of directions they provide.
Little tips like cooking the garlic "about 30 seconds" are important, as over cooked garlic gets bitter very quickly. When it comes time to cook the chicken they say to "Season well all over with salt & pepper"...most people tend to under season their food.
These little tips are so simple, but they really well make your food taste better.
I found the steps to be logically ordered, and didn't find a lot of wasted time. They also get us to cook everything in just one pan - which is nice for clean up.
The recipe cards suggest about 30 minutes for this dish, which is about the time it took me. I'm sure I'd get it done faster without filming and/or after a time or two.
I wouldn't change anything significant about the steps in this recipe. I would however suggest a bit of blue cheese crumbles for the salad to keep it on theme with the buffalo wings.
Taste
I'm a man who likes a good fried chicken wing...or a dozen. Maybe a few more than a dozen. And because I have respect for the mighty buffalo wing, I'm not going to lie and say, a chicken breast can be just as good. It can't.
However, this recipe really does deliver on essence of the traditional wings. The buffalo sauce they provided is actually better than just about any jarred sauce I've bought in the store. Searing the chicken well, gives some of the charred skin taste. And the cool salad, is a nice contrast, just like the celery/carrot sticks and blue cheese dressing.
And perhaps most important, this version is really very very simple to make. And it's actually quite healthy for you. So, I felt good about eating it and serving it to my family. Thumbs up.
Martha & Marley Spoon's Buffalo Glazed Chicken Breast with Chopped Salad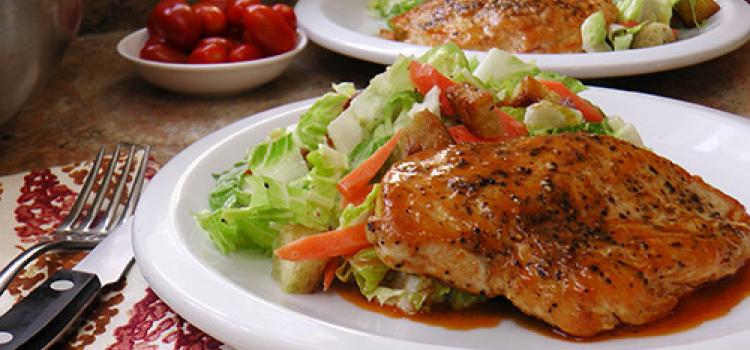 Overall
I was very satisfied with this recipe. As I mentioned, it's not the most creative recipe...and it's not going to blow anyone's socks off. After all, it's a chicken breast with a salad.
That said, all the ingredients where fresh and high quality. The flavors worked really well together, and tasted great. It's small, simple touches like making your own croutons, that elevate the dish - without making it crazy complex. It's better home cooking that is approachable.
And finally, the clear directions in the recipe card will make a big difference to a lot of people. Not only are they easy to follow and understand, there's little tips and tricks that will make the dish much better.
Good one! Let me know what you think of the recipe in the comments below. And of course, if you're interested in Martha & Marley Spoon make sure to use the discount code below.
Martha & Marley Spoon Discount Code