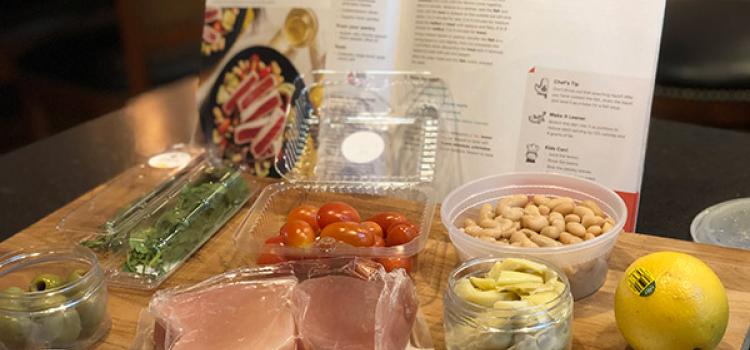 Sun Basket Solving Salt Epidemic One Recipe at a Time
The average American consumes more than 3,400 milligrams of sodium a day. Because eating too much sodium puts Americans at risk for developing serious medical conditions, like high blood pressure, heart disease, and stroke, the Centers for Disease Control and Prevention's (CDC) 2015-2020 Guidelines say Americans should consume less than 2,300 milligrams of sodium per day (2,300 mg/day). And for at-risk groups such as African-Americans, older adults and diabetics, the recommendation is even lower—just 1,500 mg/day.
With the still growing popularity of meal kit services, health-conscious consumers may be wondering if they are putting their health at risk over flavor and convenience. And they have a point: just one teaspoon of salt contains a whopping 2,325 milligrams of sodium (so more than the recommended daily allowance) and according to a WebMD report, most of the recipes in today's meal kits are "tremendously high in sodium, fat, or both." 
Aside from spending hours poring over every single recipe, what can busy consumers seeking quick and healthy meal options do? Well, it all starts with finding a meal kit service that aligns with your health goals. We think Sun Basket might be "the one."
The San Francisco-based meal kit delivery service promises that all meals are made with hand–selected seasonal ingredients from the country's top farmers, ranchers and seafood purveyors. Meals feature only organic produce, responsibly raised meats free of antibiotics and added hormones, and sustainably sourced, wild-caught seafood. And about that sodium: most Sun Basket recipes contain 800mg or less of sodium, with many designed to meet the American Heart Association's guidelines of 600mg or less per serving. 
Most meals do not include processed food or any added gluten, soy, sugar or dairy. And the icing on the cake? Each recipe is dietitian-approved, with many bearing the American Diabetes Association (ADA) symbol and/or "Heart-Check Certified."
Sample Sun Basket recipes with 400 mgs of sodium or less per serving include:
Velvety Mushroom Bucatini with Kale and Marcona Almond Salad Sodium per serving: 360mg (15% DV)
Chicken Breasts and Parsley-Pecan Pesto with Roasted Beets and Oranges Sodium per serving: 330mg (14% DV)
Turkish Ezogelin Soup with Chickpeas and Red Rice Sodium: 320mg (13% DV)
Black Lentil and Eggplant Bowls with Plum Relish Sodium per serving: 290mg (12% DV)
Roasted Salmon with Pearl Couscous and Date-Apple Salad Sodium per serving: 280mg (12% DV)
Garlic Shrimp with White Beans and Collard Greens Sodium per serving: 280mg (12% DV)
Five-Spice Salmon Tacos with Lemon-Mint Yogurt Sodium per serving: 250mg (10% DV)
Chipotle Turkey Chili with Cucumber-Sumac Salad Sodium per serving: 200mg (8% DV)
Salmon with Cilantro-Lime Sauce and Pear-Cashew Salad Sodium per serving: 160mg (7% DV)
Salmon Niçoise with Roasted Potatoes and Green Beans Sodium per serving: 170mg (7% DV) 
While each of Sun Basket's meal plans offer plenty of options for consumers seeking lower-sodium alternatives, the company's Lean & Clean Plan appears to offer the widest variety. Prices for Sun Basket meal kits start at $11.99 per serving.