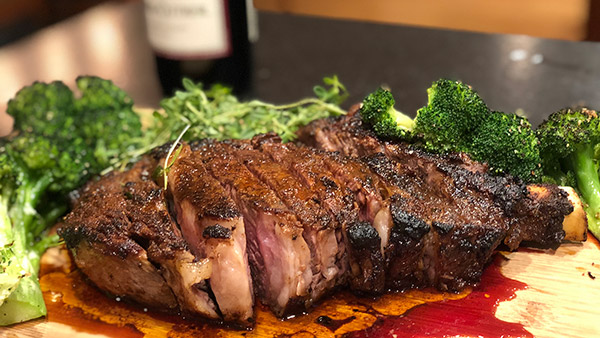 How to Cook a Cowboy Steak
I love a good steak. And since more is (nearly) always better, Cowboy steaks are near heaven. The cowboy steak is a bone-in ribeye steak. And the ribeye is often called the chef's steak - as it's super rich in flavor, from all the marbling that runs through it, and can be as tender as a filet mignon. The fat on the outside, renders and get crunchy providing a greater texture contrast. It's simply superb.
Most cowboy steaks are absolutely massive and at times have actually been confused with dinosaur ribs. The one I cooked here was North of 2 3/4 lbs and I fed 3 adults and 3 kids with it.
The a perfectly cooked cowboy steak, just like every other steak has a crusty, charred, well seasoned exterior and a tender juicy center, cooked to the desired doneness - in my case that's medium rare or about 125 degrees. And the cooking techniques needed to get that perfect cowboy steak are also the same as just about any other cut - we just need to adjust the cooking times times a bit. Admittedly, there are a couple different ways to get to that desired perfect steak...here I'm going to explain the most common; searing the exterior and then oven roasting until the center is cooked just right.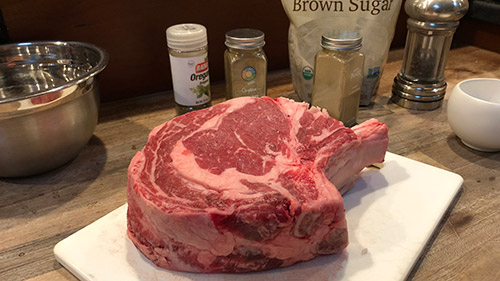 You can see the rich marbling in the cowboy steak, which gives it a ton of flavor. I generally don't to a sauce with the Cowboy steak, as the fat content is plenty rich. But I do like to do a quick dry rub on the steak - brown sugar and a few spices are a sure hit. Give it a try and let me know how it goes in the comments.
How to Cook a Cowboy Steak
I love to put a rub on my cowboy steaks - and you can use just about any kind. Store bought rubs are great, but they are also easy to make on your own. You can make a good simple rub with brown sugar, salt, pepper, cumin, paprika
If you use one, coat the steak liberally on all sides and allow it to sit in the fridge for 30 minutes, to up to 5 hours
About 45 minutes before cooking, take the steak of the fridge and allow it to come up to room temp
If there's no rub on it yet, very liberally with salt and pepper about 20 minutes before cooking (remember your seasoning a giant piece of meat - don't be skimpy)
Preheat your oven to 425 - 450 degrees
Also heat your grill, or a large, heavy-gauge, oven proof pan, until it's very hot
Lightly oil the steak with a high temp oil (olive oil is ok if that's all you have)
If using the grill, you need to watch out for flare ups. There is a lot of fat on this cut, and as it melts, the flames are likely to rise. Keep part of the grill turn off/absent of coals, so you can move the steak if needed; and make sure to keep an eye on things.
Lay the steak down on the grill or pan. You should get a loud sizzle - which is the outside started to caramelize
Leave the steak alone to allow it to char (if the grill flares up, move the grill to a cooler spot until flames subside)
Let it cook for 4 - 5 minutes then turn the steak over to sear the other side; again no need to touch, unless the grill is flaring up
Once seared, the steak is tasty on the outside, but still raw in the middle; so we move it into the pre-heated oven to finish cooking
I LOVE to use a meat thermometer that can stay in the steak in the oven, and provide a temp reading to a unit outside the oven. Steaks this thick can be hard to time, and that kind of thermometer gives you a really simple way to time the meat.
I like to cook the steak to medium rare, about 125 - 130 degrees. But for a steak this large, you need to factor in carry over temp - a very important factor.
If you take the steak out of the oven when it hits 125, it's going to keep cooking to probably 140 - giving you a medium steak. All large piece of meat, will continue to rise in temp even after it's out of the oven. So to get it to 125, we actually need to take the steak out with the thermometer shows about 115
If you don't have a thermometer, it should take about 7 minutes in the oven, per lbs of steak. So I would leave a 2 lbs cowboy steak in the oven for 14 minutes. Go about 20 for medium, and 25 for well done
When you take the steak out, it's important to let it rest for about 10 minutes before cutting into it. Resting allows the juices to settle down a bit, so they stay in the meat, instead of pouring onto the plate when cut
For serving, I like to cut the steak off the bone, then slice it into about 1/2 in pieces, that I re-align them with the bone.
You can slather on some melted butter & herds and bit of finishing salt, and you'll have one of the best steaks ever.