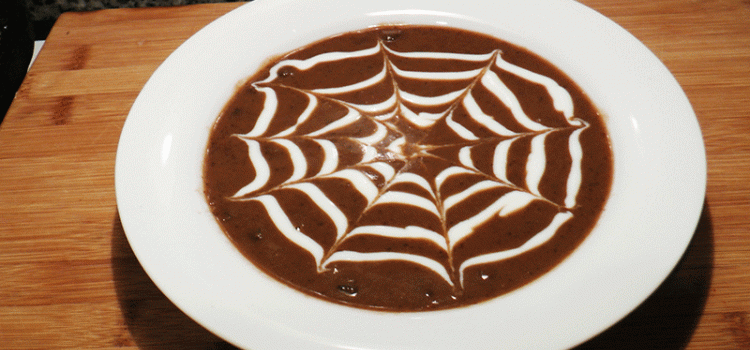 Easy and Spooky Halloween Soup Recipes
Halloween is a gift to the creative chef.  There are a billion options for themed recipes…ghosts, ghouls, witches, pumpkins and the like, it's amazing how creative people can get. 
Many of the options I've see are candy, cookies and other sweets…but I've got a couple very simple Halloween soups that will appeal to the savory food lovers; and that you'll feel great about serving to your kids. Both, use a bit of sour cream at the end, as a garnish, to make a simple patterns on top of the soup. The first, is a "Jack-o-Lantern" soup, using butternut squash as the soup base, and….you guessed it….the sour cream to make a jack-o-lantern picture.
The other soup is my "spider-web" soup.  For it, I make a simple black bean soup, with just a few ingredients, and then again, use sour cream to make a spider web pattern in the bowl.  Both, are extremely simple, the soup bases can be frozen for more meals, and your kids are going to love them!  Enjoy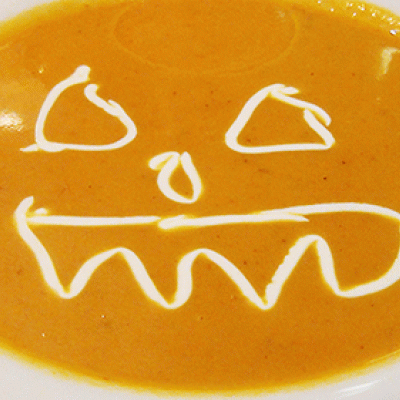 I have a love of butternut squash soup, which is what I use here, but you can easily make this with pumpkin soup (just to keep it all in the same gourd family). This is another simple soup to make, really just some squash, pureed with other veggies, and chicken stock. A bit of sour cream, and a plastic bag for a make shift piping bag, and you can design any kind of jack-o-lantern you want. It's a great way to get the kids to dig in!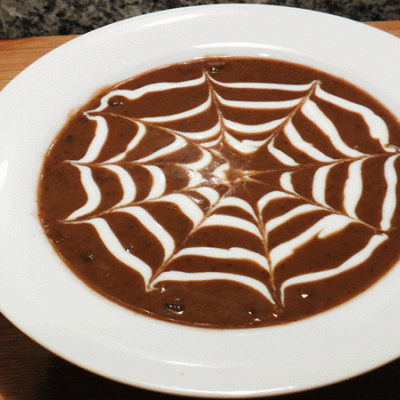 This simple black bean is the perfect backdrop for my "spider web" soup. The recipe is actually very simple and quick to make. Not much more than some vegetables, chicken stock and of course, some back beans. You can easily add additional flavor by adding some bacon or sausage to the soup base. Or to add some "trick" to this soup treat, throw in some hot peppers, or Tabasco sauce for a spicy kick. As you'll see in the video, the spider web is a simple pattern of concentric circles made with sour cream, and then "tied" together with a toothpick. For another twist, add some food coloring to the sour cream to make all kids of colored webs!