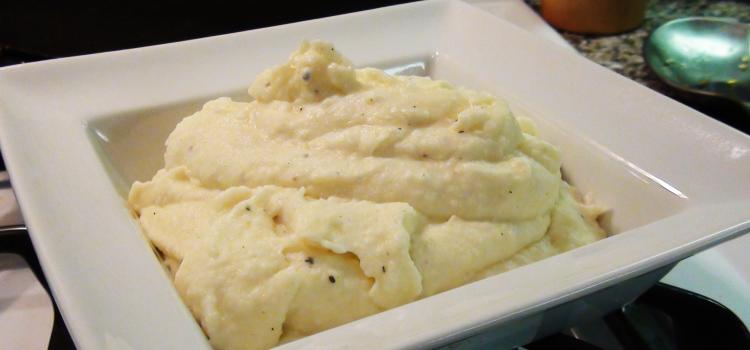 Five Mashed Potato Recipe Twists
With Thanksgiving just about upon us, and Christmas & New Years right around the corner, those of us who are culinary inclined start planning out the holiday feasts.  Growing up the celebration fair was pretty much the same every year, and there are several of those favorites I bring back in there unaltered, comforting state.  However, I also like to bring new dishes into the mix every year, and one of my foods for exploration is the humble, yet delicious, mashed potato.
Below I've got 5 versions of mashed potatoes that are all really easy to make, and of course really taste great.  Without a lot of work,  you can add a bit of a twist to your standard menu and hopefully wow your friends and family.  Take a look and I hope you find one you like (follow the link for the full recipe and how to make video):
Blue Cheese Mashed Potatoes
Perhaps the easiest to make, these blue cheese mashed potatoes are simply your standard recipe with a good bit of tangy, salty blue cheese melted in at the end of the process.  What is normally a rich, smooth tasting dish, takes on a bit more bite, and sharpness from the blue cheese.  They will go well with anything, but if roast beef, or other red meat make it onto your table, this would be my choice!
Cauliflower Mashed Potatoes
 I started making this recipe as a way to get more vegetable into my families diet, but quickly fell in love with it purely for its own merits.  I like to puree the potatoes and cauliflower in a food processor so they get very smooth and silky.  And the potatoes take on a very mild cauliflower flavor that add complexity without overpowering the natural potato.
Celery Root Mashed Potatoes
Like the cauliflower, the celery root in these mashed potatoes adds just a bit more flavor complexity, with just the slightest hint of celery.  Your guests may not even be able to figure out your secret ingredient, they'll simply know they are the best potatoes they've ever tasted. 
Truffle Mashed Potato
If you want to go upscale and fancy for your dinner this year, try these truffle mashed potatoes.  Again, very simple to make as they are based on a very standard mashed potato recipe, that finishes with grating in a bit of fresh black truffle (or you can use some less expensive truffle pate) at the very last moment.  The truffle adds that intoxicating aroma, and will make you feel like your at a fine dining restaurant.
Smashed Potatoes
If you're looking for a bit more rustic/comfort food feel for your potatoes, try this version of smashed potatoes.  Rather than a smooth blend, I leave big chucks of potato mixed in, and then flavor the recipe with sautéed onions, herbs, sour cream…really anything you'd like.  It's kind of like a twice baked potato, without the skin…delish!