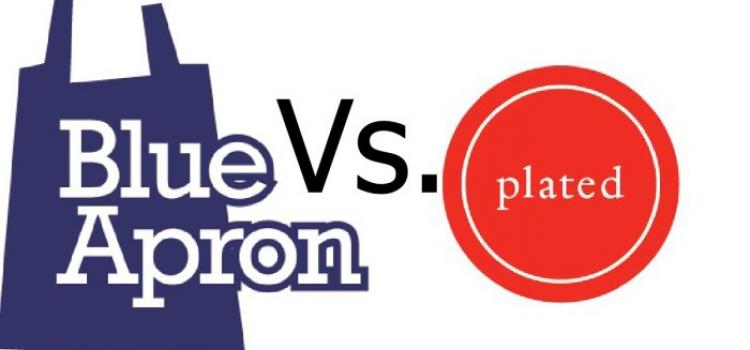 Plated or Blue Apron: Which one is the Healthiest Choice?
Plated and Blue Apron are two of the oldest meal kit delivery services in the U.S. While both offer convenience and creatively tasty comfort food, which of these seasoned delivery services offers the healthiest options? Well, that depends on what you consider healthy. Is healthy low-calorie? Low-fat? High-protein? Low-calorie? Vegetarian? Gluten-free? Sodium-free? Read on, and we'll let you decide.
So, Plated has a category for everything—Low-Calorie, Low-Carb, Vegetarian, No Gluten Ingredients, Seafood, and more. The service offers a variety of dishes under 700 calories and even some that are less than 500. And most dishes are loaded with healthy carbs, proteins, and dark greens and other vegetables. Here are some examples:
Pan-Roasted Pork Chop with Pear-Brown Butter Sauce, Sautéed Kale, and Blue Cheese; 640 calories per serving, 41 grams of protein, 39g carbs, 36g fat; No gluten, low-carb
Kale and Ricotta Frittata with Rosemary Potatoes and Roasted Tomato Vinaigrette; 690 calories per serving, 34 grams of protein, 39g carbs, 47g fat; No gluten, vegetarian, low-carb
Thai Beef Lettuce Wraps with Cilantro Rice; 700 calories per serving, 39 grams of protein, 52g carbs, 37g fat; Low-Carb
Plated doesn't provide sodium content for its meals online*, but Blue Apron does. 

While Blue Apron has fewer categories, the service does offers a variety of vegetarian options, healthy proteins such as fish and seafood, and many dishes that contain vegetables. And a good number of dishes are very low in sodium. Examples include:
•    Togarashi Tilapia over Sautéed Vegetables; 340 calories per serving, 12 grams of protein, 34g carbs, 12g fat, 490 mg sodium
•    Pork Chops & Maple-Sage Pan Sauce with Roasted Brussels Sprouts & Carrots; 510 calories per serving, 42 grams of protein, 41g carbs, 16g fat, 440 mg sodium
•    Sweet & Spicy Glazed Chicken with Jasmine Rice & Sautéed Vegetables; 530 calories per serving, 47 grams of protein, 71g carbs, 4.5g fat, 450 mg sodium
Still can't decide? Well, you can always try before you buy. Plated was purchased by Albertson's, one of the largest grocery store chains in the country, for a whopping $300 million. So you can find Plated in more than 2,300 locations across the country. Blue Apron was available at Costco at one time, but the partnership didn't work out. However, the kits are now available for purchase in New York through Jet.com. 
When it comes to pricing, because both kits provide exact measurements and portions, consumers will end up paying less for a meal kit than they would on buying all of the ingredients individually or on a night out. Plated subscription plans start out at $11.95 per serving with free shipping for plans over $60. Kits are around $9.99 per serving when you buy in-store and they are often buy one get one free or buy one get one 50% off. 
Blue Apron prices start at $7.99, $8.99 and $9.99 per serving, depending on the plan. Shipping is either free or $7.99, depending on the number of recipes per week. 
*From the Washington Post: Average fat and sodium counts for Plated were higher than those of the other services tested.