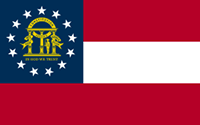 Culinary Schools in Georgia
Georgia stands on its own two feet against any southern food, and its current culinary awareness promotes an understanding of food that detours from well-established southern traditions. Sure, shrimp and grits is a classic Georgia dish but barbeque is equally as famous as well as Spanish tapas and nouvelle French food, soul food like collard greens and black-eyed peas and cornbread and biscuits. But to limit Georgia to these typical foods is to limit your own understanding of this state. The agricultural presence in the state boasts strong poultry, dairy and vegetable sectors that provide Georgia chefs with plenty of fresh ingredients to use.
Georgia is full of educational opportunities at cooking schools, universities and community colleges and jobs are available where ever food is prepared. In addition to all types of restaurants, other venues for culinary students after graduation include research and development, food artistry, the hospitality industry, large corporations, educational institutions, casinos, cruise ships, hospitals and assisted living facilities. There are nearly two-dozen accredited culinary schools throughout the state and its population of 10 million people. According to the Bureau of Labor Statistics (BLS) statewide bakers and pastry workers statewide receive an annual wage of about $22,500, of the 5,000 people employed in this segment. Food Service Managers, about 8,200 of them, can pocket $45,500. Interestingly both short order cooks and cooks in institutional/cafeteria segments are lower on the totem pole earning just under $21,000, but these positions are excellent stepping-stones. 
From established schools like Le Cordon Blue, to the Atlanta Collaborative Kitchen, to the Savannah Technical College, there are all kinds of schools to fit your needs. You can find a variety of degrees offered including Certified Culinarian, Certified Sous Chef, Certified Chef de Cuisine, Certified Executive Chef, Certified Master Chef, and Personal Certified Chef. Additionally you can find culinary arts associate degrees; culinary baking and pastry arts associate degrees, diplomas in both these fields, and even technical certificates of credit for food production workers.  
Where Georgia succeeds as a culinary capital is that there is a deep love of food, and not merely up and coming trends, but a reverence for old style cooking, even with new twists.
Georgia chefs can also test their creativity with interpretations of the classics, but there is a welcome attitude for innovative cuisine and an expectation that traditional ingredients, like okra, cornbread, barbecue, fried chicken and catfish, and even fried green tomatoes, and the Georgia peach, can get new life from well trained and experienced chefs and cooks.
List of Culinary Schools in Georgia by City
Atlanta
Gwinnett Technical College
Lawrenceville GA
Marietta GA
Griffin GA
Atlanta GA
Atlanta GA
Tucker GA
Augusta
Augusta Technical College
Augusta GA
Augusta GA
www.vc.edu/campus/augusta-georgia-college.cfm
Columbus
Columbus Technical College
Columbus GA
Americus GA
Columbus GA
www.vc.edu/college/columbus-georgia-colleges.cfm
Macon
Central Georgia Technical College
Warner Robins GA
Macon GA
www.vc.edu/campus/macon-georgia-college.cfm
Helms College
Macon GA
Savannah
Savannah Technical College
Savannah GA
Savannah GA
www.vc.edu/campus/savannah-georgia-college.cfm
Culinary Schools in Other Cities
Albany Technical College
Albany GA
Waycross GA
Rome GA
Statesboro GA
Valdosta GA
Athens GA
Waco GA
Clarkesville GA