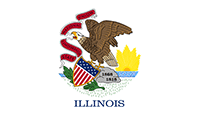 Culinary Schools in Illinois
Restaurants, chefs, and restaurateurs across Illinois continue to garner acclaim from publications like Michelin Guide, Forbes, and Wine and Spectator. This state of more than 13 million people take their food seriously. Dominated by the Chicago metro region, Illinois' culinary arts industry is a $22.4 billion per year industry, according to the National Restaurant Association (NRA). This presents a huge opportunity for prospective students who are thinking about a culinary career. Consider this: Illinois boasts more than 27,000 restaurants and drinking establishments who employ nearly half a million individuals. The state is known for deep-dish pizza, Italian beef sandwiches, and hot dogs, but that only scratches the surface. Illinois' 74,300 farms cover nearly 27 million acres, about 75% of the state's total land area. With 2,640 food manufacturing companies, Illinois turns the state's crops and livestock into food and industrial products. In fact, the state ranks first in the nation with $180 billion in processed food sales.
Whether your goal is to own a restaurant, become an executive chef, sous chef, pastry chef, hospitality director, or sommelier, a degree in the culinary arts can level the playing field when building a career in the food sector. According to employment data from the Bureau of Labor Statistics (BLS) bakers, chefs, and restaurant managers are expected to see job gains throughout Illinois between 2.9% and 5.7% into 2022. Chefs and head cooks can expect a yearly salary around $43,000, bakers around $25,000 and food service managers in the low $50,000s. The Bureau of Labor Statistics also lists the top five paying metropolitan areas in the entire state for chefs including Chicago metro with an average salary of $44,930. For restaurant managers, the top paying metro areas in Illinois included the Chicago-metro region with an average salary of nearly $50,000. For bakers, the best paying areas include Chicago ($24,840), Peoria ($23,290), and Springfield ($22,410). As the state continues to place its mark on the culinary world, Illinois will remain a popular place for graduates of culinary schools to start their careers. 
There are 23 accredited culinary schools in Illinois and traditionally speaking, these culinary schools offer students four professional concentrations: Culinary Management, Baking & Pastry Arts, Hospitality Management, and Culinary Arts. Although Chicago is the epicenter of the culinary movement in Illinois, other cities are continuing to make themselves into foodie destinations. Typically the road to a culinary career begins with graduating from a culinary arts school and in Illinois, even famous chefs such as Chef Grant Aschatz of Alinea attended a culinary institution. 
Illinois holds the promise of a strong culinary movement. Part of that allure is its central location, and easy access from most anywhere in the country will keep demand strong for those in the food service industry. Like many states, Illinois also has a strong mobile chef component, be that food trucks or catering. In fact Illinois has its own food truck association and more and more chefs are opting for the freedoms of this type of venue over traditional sit down establishments.
Culinary Schools in Illinois by City
Culinary Schools Near Chicago Illnois
City Colleges of Chicago-Harold Washington College
Chicago IL
www.ccc.edu/colleges/washington/Pages/default.aspx
City Colleges of Chicago-Kennedy-King College
Chicago IL
www.ccc.edu/colleges/kennedy/pages/default.aspx
The Illinois Institute of Art-Chicago
Chicago IL
Chicago IL
Chicago, IL
www.ccc.edu/colleges/truman/pages/default.aspx
Robert Morris University Illinois
Chicago IL
Chicago IL
Chicago IL
www.ccc.edu/colleges/malcolm-x/pages/default.aspx
Moraine Valley Community College
Palos Hills IL
Palatine IL
River Grove IL
Glen Ellyn IL
Grayslake IL
Elgin IL
Crystal Lake IL
Culinary Schools Near Springfield Illnois
Lincoln Land Community College
Springfield IL
Champaign IL
Joliet IL
Decatur IL
Belleville IL
Culinary Schools in Peoria Illinois
Illinois Central College
East Peoria IL
Galesburg IL
Other Cities in Illinois
Vatterott College-Quincy
Quincy IL
Quincy IL
Danville IL
Olney IL
Ina IL
Centralia IL