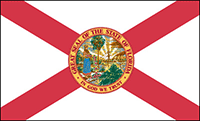 Culinary Employment Trends in Florida
Florida Culinary Jobs, Employment and Salary Trends, Job Opportunities; Culinary Schools and Colleges in Florida 
Overview of Culinary Careers in Florida
Being in the presence of water makes people want to eat. Florida's unmatched beaches are a huge attraction to natives and tourists alike who throng to waterfront restaurants overlooking the surf or any of the many inlets, waterways and marinas along the coast.
Southern Florida's proximity to water clearly calls for cooking and eating fish and seafood. The influence of immigrants hailing from the Caribbean has contributed to a category known as Floribbean cuisine, characterized by the marriage of fruit with seafood dishes, and accented by spices such as red curry, lemongrass and ginger. As the fare is noticeably absent of meat, it's considered a relatively healthy diet. Northern Florida tends to hold to typical southern cooking with its Cajun and Creole traditions, although all parts of Florida have great access to fish and seafood. Cuban residents also leave their mark on the state's go-to foods such as fried plantains and the "cubano" or Cuban sandwich.
To sample some of the best food representative of Florida, don't miss Miami, named by Zagat as one of the top 17 food cities of 2015. Miami enthusiasts say to be sure to try her stone crabs, ceviche, empanadas, Cuban coffee and chapulines (toasted, spiced grasshoppers). But don't overlook some of Florida's other celebrated food cities like: Palm Beach (ranked one of the best food cities by Conde Nast); Tampa (one of the country's most creative food scenes per Travel and Leisure); and Naples, known for its beautiful waterfront dining.
Three of the 100 Best Restaurants in America hail from Florida (according to OpenTable):
Circle Brunch - The Breakers, Palm Beach, FL
Collage Restaurant, St. Augustine, FL
Norman's at the Ritz-Carlton, Orlando, FL
Well known for its seafood industry, Florida is also big on agriculture. She is a huge vegetable producer, second behind California, and grows over half of the country's citrus fruits. Folks may not be aware that the state also ranks high in livestock production. According to the Florida Department of Agriculture, Florida ranked 12th among the states in beef cow production and 18th in total cattle in 2013. This bounty of natural resources offers all a chef needs to create the freshest local fare.
Florida's plethora of food outlets provide culinary professionals:
work that fits each chef's individual style, whether he's more comfortable at casual cafés, outdoor festivals or fine restaurants. 
opportunities to prepare several ethnic cuisines.
work in a field expected to grow by 5.2% over the next year. Over the next ten years, food service management, food service supervision, chef, head cook and line cook jobs are expected to grow more than 10%.
earn an average salary for Florida cooks that is ranked 17th in the nation.
The popular state of Florida employs 254,330 culinary professionals, the third highest number employed in any of the top 10-populated states. This population includes food service managers, chefs and head cooks, food service supervisors, cooks and line cooks, bakers and bartenders among its fine dining establishments, casual diners and other gastro havens. With so many venues available, chefs in Florida may find themselves tempted to work two or more jobs at a time.
Employment and Salary Trends in Florida
Florida employs 254,330 food workers, according to the Bureau of Labor Statistics (BLS). This fertile environment allows skilled talent to try out a variety of culinary occupations, gaining the experience they need for eventual promotion to management.
Florida chefs, cooks, bartenders and their managers earn an average of $30,975 per year (BLS May 2015 data). But as you'd expect, there is quite a bit of variability among job types and employees. 
Food service managers tend to earn the most with an average salary of $67,470, which is up from $64,020 a year ago (BLS May 2014 data). Florida food service managers' salaries rank 5th among the 50 states, ahead of Virginia and behind New York: pretty good company. The top 10% of food service managers earn nearly $104,000, well above the average. Food service managers also see the highest wage variability among the occupations.
Chefs and head cooks earn the next highest average salary of $54,820 which is down from $55,080 a year ago. The top 10% of chefs earn well above average, at over $85,000 per year.
Florida's restaurant cooks' salaries rank 17th among the 50 states, ahead of Maine and behind Rhode Island. Head chefs' and cooks' salaries rank much higher nationally at 4th, ahead of Rhode Island and behind Massachusetts. Experienced restaurant cooks, at the top 10% of the pay scale, earn almost $35,000 per year.
Florida culinary employees can truly appreciate the bounty of their location, earning average annual salaries well over the national average. Food service managers, food service supervisors, chefs, head chefs, cooks and bartenders all receive above the mean within each of their categories.
Culinary Job Opportunities and Employers in Florida
Given the nature of the work, there are not many restaurants in Florida that employ hundreds of culinary professionals. Instead, most food service locations will employ a relatively small number of chefs, cooks and food service managers. That said, there are a broad range of employers available, which include:
Restaurants and Bars
Hotels, B & Bs and Lodges
Schools
Hospitals
Private companies and Individuals looks for private chefs
The State of Florida maintains a database of jobs through a partnership between the Department of Economic Opportunity and CareerSource Florida at https://www.employflorida.com. You can search by job type and location. Among the many employer types offering cooking positions are restaurants, bars, caterers, assisted living facilities and hotels.
Culinary Training, Schools and Colleges in Florida
Although many culinary professionals in Florida go through formal education, still numerous others opt for on-the-job training. Those going the latter route tend to begin with more entry-level jobs such as dishwashing, or even through unpaid internships. With the high employee turnover in restaurants, most managers welcome the help, especially in restaurant-dense cities like Miami, Palm Beach and Orlando. While the work is hard and pays little, it does offer an almost free opportunity to learn the business from the ground up.
Cooks who enter the culinary profession through formal training can choose from one of the state's many culinary arts, baking and pastry or hospitality management schools. Along with its incredible food and restaurant scene, Florida provides dozens of culinary schools and programs, some with degrees awarded. However, not all schools provide the same culinary education, with cost, programs, graduation rates and more varying by school. A few of the better known Florida culinary schools include:
Johnson & Wales University, North Miami, FL
Florida State College at Jacksonville, FL
The Art Institutes in Various Locations
Community colleges throughout the state with culinary training programs