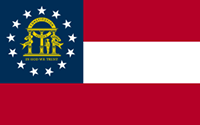 Culinary Employment Trends in Georgia
Georgia Culinary Jobs, Employment and Salary Trends, Job Opportunities; Culinary Schools and Colleges in Georgia 
Overview of Culinary Careers in Georgia
In a state where "sweet tea is our water . . .  and the night has been a success if you ended up at Waffle House" (25 Things You Need To Know About Georgia), you may be surprised that one of her big cities landed in Zagat's "Top 17 Food Cities of 2015": Atlanta, sneaking in at #14. Georgia is a state known for "Gone with the Wind", luscious peaches and iconic southern cooking, featuring dishes like her signature chicken and grits.
After years of endeavor, Atlanta has been faithfully working her way up the ranks to culinary excellence, catching the attention of food critics and garnering media acclaim within the last several years. A conglomeration of diners concurred by placing two Atlanta restaurants among the 100 Best Restaurants in America (according to OpenTable):
Bacchanalia, Atlanta, GA
Bones, Atlanta, GA
Savannah is another city admired for its restaurants, food and style. When Chef Bobby Flay was asked to name his favorite spot for both shopping and dining, he chose Savannah, according to Food and Wine. Celebrity cook, Paula Deen hails from Savannah, having started a sandwich delivery service there years ago and she currently runs the famous The Lady and Sons' restaurant. Savannah even holds its own live culinary show: Eat It and Like It Foodie Awards. Apparently, no awards are actually presented on the show, but the winners are celebrated for their hard work and the event is more like a big party.
With broilers being the number one commodity in the state, it's no wonder Georgia turns out some of the country's best fried chicken. Broilers are followed by abundant beef and cotton production, according to the Georgia Farm Bureau. In fact, agriculture is Georgia's largest industry, employing one out of seven Georgia residents. The bountiful ecosystem with an ideal climate results in production that is number one in the nation for peanuts, broilers, pecans, rye and spring onions. What more can a would-be chef desire than to be surrounded by such a lush spread of natural, local ingredients?
Georgia's rich, cultural food base offers aspiring chefs and cooks:
an eclectic assembly of positions, ranging from work at food festivals to fine restaurants to rockin' juke joints. 
opportunities to work with a culinary style rich in tradition while injecting innovative ideas
prospects in a field expected to grow by 4% over the next year. Over the next ten years, food service supervision, chef, head cook and line cook jobs are expected to grow more than 10%.
Georgia employs 130,750 culinary professionals, ranking 8th among the top 10-populated states. This total includes food service managers, chefs and head cooks, food service supervisors, line cooks, bakers and bartenders throughout the state's restaurants, clubs, inns and other venues. To supplement income and enjoy some variety, many culinary professionals will work at more than one job at the same time.
Employment and Salary Trends in Georgia
As noted, Georgia employs 130,750 food workers according to the Bureau of Labor Statistics (BLS). The abundance of culinary events, restaurants and other venues coupled with the diversity of job types allows the aspiring professional to work at different occupations, eventually find his individual niche and perhaps step up to a management role, where his expected income may advance considerably.
Georgia chefs, cooks, bartenders and their managers earn an average of $27,664 per year. But as you'd expect, there is quite a bit of variability among job types and employees. 
Food service managers tend to earn the most with an average salary of $46,090 (BLS May 2015 Data), which is up from $45,580 a year ago (BLS May 2014 data). Georgia food service managers' salaries rank 47th among the 50 states, ahead of the Virgin Islands and behind New Mexico. The top 10% of food service managers earn over $70,000, well above the average. Food service managers also have the most wage variability.
Chefs and head cooks are next in the salary lineup making $34,880 per year. The top 10% of chefs earn substantially more than average, at over $60,000 per year.
Restaurant cooks' salaries rank 37th in Georgia among the 50 states, ahead of New Mexico and behind Ohio. Head chefs' and cooks' salaries rank much lower nationally at 49th, ahead of the Virgin Islands and behind Iowa. Experienced cooks, at the top 10% of the pay scale, earn over $30,000 per year.
In Georgia, culinary jobs tend to pay less than the national average within each of their categories, but chefs, head cooks and food service managers in Ohio are all paid above the national average for all culinary occupations.
Culinary Job Opportunities and Employers in Georgia
Given the nature of the work, there are not many restaurants in Georgia that employ hundreds of culinary professionals. Instead, most food service locations will employ a relatively small number of chefs, cooks and food service managers. That said, there are a broad range of employers available, which include:
Restaurants and Bars
Hotels, B & Bs and Lodges
Schools
Hospitals
Private companies and individuals looking for private chefs
The Georgia Department of Labor provides a database of jobs at: http://employgeorgia.com. You can search by location and specific search criteria. Numerous employer types are represented, including hotels, learning academies and hospitals.
Culinary Training, Schools and Colleges in Georgia
Most culinary hopefuls in Georgia either undergo formal education or decide to learn their craft on the job. Those who opt for the latter must generally pay their dues through entry-level jobs such as dishwashing, or even unpaid internships. Restaurant managers facing high turnover commonly welcome the help, particularly in restaurant-dense cities like Atlanta. Though the work is hard and yields little pay, ambitious chefs are grateful for the opportunity to learn the business from the ground up.
Students in Georgia embarking on a full culinary education can select from one of the state's many culinary arts, baking and pastry or hospitality management schools. The lively food and restaurant scene drives the high number of cooking schools, with and without degree programs. However, not all schools provide the same culinary education, with cost, programs, graduation rates and more varying by school. A few of the better known Georgia culinary schools include:
Atlanta Technical College, in Atlanta, GA
The Art Institute of Atlanta, in Atlanta, GA
Virginia College, in several cities, include Macon, Savannah, Columbus, & Augusta, Georgia
Le Cordon Bleu in Atlanta, GA
Community colleges throughout the state with culinary training programs