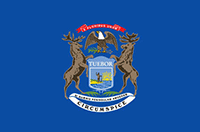 Culinary Employment Trends in Michigan
Michigan Culinary Jobs, Employment and Salary Trends, Job Opportunities; Culinary Schools and Colleges in Michigan
Overview of Culinary Careers in Michigan
Michigan: the Great Lake State, the Wolverine State, home of the car capital of the world: Detroit. But a culinary state? Wine Spectator says yes, deeming 67 of her restaurants honorees in their annual restaurant awards, eight of which qualified for the 'Best of Award of Excellence' designation for their wine lists' thematic match to the menu. The state's production of wine from its four AVAs (American Viticultural Areas), including rieslings, ice wines and fruit wines, attracts fine diners and chefs alike, longing to create imaginative food-and-wine pairings.
But Michigan's everyday home cooking reflects some of the state's top, locally grown crops, like the apples and cherries that highlight Michigan Chicken Salad. Simple, hearty dishes define the cuisine and popular items include coneys (hot dog), pasties (meat-stuffed pastry shell), pannukakku (Finnish pancake) and the many varieties of fudge. 
Detroit's economic plight and ultimate bankruptcy filing in 2013 drove an effort for turn-around and new growth. Much of this energy focused on culinary aspects, and the city has seen numerous restaurant start-ups with multiple locations. Detroit is still in transition, but is a city to watch. Detroit chef, James Rigato told Open Table "It's a very opportunistic time to be a chef in Detroit . . . We have a captive and supportive audience. There's definitely competition and camaraderie — all the good and correct ingredients for a food scene to emerge." 
Upon your visit to Michigan, don't overlook Ann Arbor, cited by Buzzfeed as "The Best Food Town in All the Land". Must-try items include her truffle fries, gyros, pizza, fish & chips, and macaroni & cheese, among other delicious fare.
Michigan's culinary scene is undoubtedly supported by her impressive agricultural muscle. The state is number one in the nation in the production of blueberries, tart cherries and squash, along with eight other commodities. Fish is big in the state due to its proximity to four of the Great Lakes. Many of Michigan's major goods are featured as the main guest at the hundreds of food festivals held throughout the year, such as the National Blueberry Festival, the International Cherry Pit-Spitting Championship, and the annual Troutarama. These events all offer cooks and chefs interesting options for part-time work.
With an ever-growing food landscape blossoming in Michigan, ambitious chefs and cooks may look forward to:
a variety of occupations, ranging from work at diners to cafés to fine dining establishments.
working with traditional Midwestern cuisine while infusing their fresh ideas
an expected 10% growth in the number of restaurant cook and food service supervision jobs in the next ten years
earning an average salary for cooks that is ranked 30th in the nation.
Michigan employs 120,820 culinary professionals. The number comprises food service managers, chefs and head cooks, food service supervisors, line cooks, bakers and bartenders throughout the state's restaurants, diners, bars and other settings. With all the varying venues, many professionals hold different types of cooking jobs at the same time. For example, a chef may cook a private client's breakfast in the morning, teach classes by day and supervise a kitchen at night.
Employment and Salary Trends in Michigan
As stated above, Michigan employs 120,820 food workers, according to the Bureau of Labor Statistics (BLS). The number of jobs available allow experienced workers to float among the different occupations, eventually landing management roles after several years of experience. 
Michigan chefs, cooks, bartenders and their managers earn an average of $27,874 per year. But as you'd expect, there is quite a bit of variability among job types and employees. 
Food service managers earn the most with an average salary of $ 52,450 (BLS May 2015 Data), which is up from $ 50,540 a year ago (BLS May 2014 data). Michigan food service managers' salaries rank 25nd among the 50 states, ahead of Minnesota and behind Washington. The top 10% of food service managers earn over $85,000, well above the average. 
Chefs and head cooks earn the next highest average salary of $45,780 which is up from $43,730 a year ago. The top 10% of chefs also earn over $85,000 per year. Chefs and head cooks also have the most wage variability.
Michigan restaurant cooks' salaries rank 30th in the nation, ahead of Texas and behind South Dakota. Chefs and head cooks' salaries rank higher nationally at 24th, ahead of Arizona and behind California. Experienced cooks, at the top 10% of the pay scale, earn over $30,000 per year.
Generally speaking, culinary jobs in Michigan tend to pay less than the national average within each of their categories, but chefs, head cooks, food service managers and food service supervisors in Michigan are all paid above the national average for all culinary occupations.
Culinary Job Opportunities and Employers in Michigan
Given the nature of the work, there are not many restaurants in Michigan that employ hundreds of culinary professionals. Instead, most food service locations will employ a relatively small number of chefs, cooks and food service managers. That said, there are a broad range of employers available, which include:
Restaurants and Bars
Hotels, B & Bs and Lodges
Schools
Hospitals
Private companies and individuals looking for private chefs
The Michigan Workforce Development Agency maintains a database of jobs at https://jobs.mitalent.org/job-search. You can search by keywords, job title and location. Employers offering food service jobs include restaurants, department stores, senior living facilities and hospitals.
Culinary Training, Schools and Colleges in Michigan
Many aspiring cooks and chefs in Michigan decide to devote their time to on-the-job training rather than getting a formal culinary education. And while this decision rather forces them into entry-level jobs such as dishwashing, they feel their hands-on experience learning from the ground up is more valuable than time spent with academia. And managers well aware of the turnover in restaurant-dense cities like Detroit welcome the help.
But cooks in Michigan who opt for formal training do have quite the collection of culinary arts, baking and pastry or hospitality management schools from which to choose, some with degrees awarded. However, not all schools provide the same culinary education, with cost, programs, graduation rates and more varying by school. A few of the better Michigan culinary schools include:
The Art Institutes of Michigan, in Novi, Michigan
Northwestern Michigan College, in Traverse City, Michigan
Baker College, with locations throughout Michigan
Community colleges throughout the state with culinary training programs