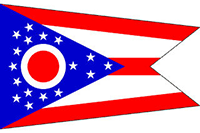 Culinary Employment Trends in Ohio
Ohio Culinary Jobs, Employment and Salary Trends, Job Opportunities; Culinary Schools and Colleges in Ohio
Overview of Culinary Careers in Ohio
The state that is the birthplace of the first automobile, first chewing gum and first hot dog is also home to several cities shaking things up in what was formerly considered a meat-and-potato environment. Ohio, like other Midwestern states, initially attracted thousands of German and Polish immigrants, contributing their own food favorites like pork sausages, kielbasa, sauerkraut and pierogies. But newer restaurants in cities like Cleveland and Cincinnati are introducing fresh, modern slants on traditional fare. And in 2010, The Ohio State University Office of Academic Affairs and Office of Research launched the Food Innovation Center to gather the best information across academia, government and industry in the interest of health and sourcing around food. Chefs at Ohio dining venues have gradually subscribed to the farm-to-table effort, realizing the use of local, seasonal ingredients maximizes sustainability and saturated, optimal flavor in their creations.
Three of the 100 Best Restaurants in America (according to OpenTable) reside in Ohio:
Chez Francois - Vermilion, Vermilion, OH
Orchids at Palm Court, Cincinnati, OH
Umami, Chagrin Falls, OH
Although Cleveland restaurants definitely take full advantage of their hearty food past, offering the best of stuffed cabbage, pizza, pierogi and Chicken paprikash, they have also jumped on the farm-to-fork bandwagon offering fresh, seasonal items like the popular tempura-fried green beans at The Flying Fig. Cleveland's culinary scene is flourishing and Time.com (a subsidiary of Time magazine) declared the city #7 in its list of "America's Best Food Cities". Thrillist named Cleveland #30 out of 40 in the piece "The 40 Biggest US Cities, Ranked by Their Food".
Two other Ohio cities not to be overlooked are Cincinnati and Columbus. Cincinnati is hailed for its chili (known as Cincinnati Chili) and National Geographic Traveler included the city among its Top 10 Food Cities listing. Columbus made a name for themselves with their hamburgers, claiming origination of Wendy's and White Castle. Thrillist also included the city in their "40 Biggest US Cities, Ranked by Their Food listing", ranked at 36.
So what are these local ingredients being utilized by Ohio chefs and cooks following the farm-to-table movement? The state's top crops are corn and soybeans, but tomatoes are ranked 5 in the nation and the state leads the country in the production of Swiss cheese. Beef and dairy cattle, hogs and sheep dwell in large numbers among the Ohio pastures. Other commodities include eggs, apples, grapes and mushrooms. Culinary professionals have abundant material to work with for designing endless combinations of healthy flavors.
In Ohio, culinary professionals can expect:
to choose from a number of occupation types ranging from work at hotels to bars to fine dining settings. 
to work with Ohio's traditional meat-and-potatoes cuisine, as well as modern, farm-fresh-focused meals.
prospects in a field expected to grow by 1.1% over the next year. Over the next ten years, restaurant cook and food service supervision jobs are expected to grow more than 10%.
to earn an average salary for Ohio cooks that is ranked 36th in the nation.
Ohio employs 152,020 culinary professionals, the 7th highest number employed in any of the top 10-populated states. The number comprises food service managers, chefs and head cooks, food service supervisors, line cooks, bakers and bartenders throughout the state's hotels, universities, restaurants and other venues. Numerous professionals choose to work at more than one job at a time, gaining diverse skills to secure broader future prospects. An example of a cook's day might include serving breakfast to retirement folks in the morning, teaching a class in the afternoon and running a fine dining kitchen at night.
Employment and Salary Trends in Ohio
As noted, Ohio employs 152,020 food workers, according to the Bureau of Labor Statistics (BLS). The number of available jobs allows professionals to float among different job types affording many go-getters management positions with the extensive experience they gain in the field.
Ohio chefs, cooks, bartenders and their managers earn an average of $27,843 per year. But as you'd expect, there is quite a bit of variability among job types and employees. 
Food service managers tend to earn the most with an average salary of $53,380 (BLS May 2015 Data), which is up from $48,700 a year ago (BLS May 2014 data). Ohio food service managers' salaries rank 23rd among the 50 states, ahead of Washington and behind Illinois. The top 10% of food service managers earn nearly $81,000, well above the average. Food service managers also have the most wage variability.
Chefs and head cooks earn the next highest average salary of $44,170 which is up from $43,480 a year ago. The top 10% of chefs earn a lot more than the average, at nearly $69,000 per year.
Restaurant cooks' salaries rank 36th in Ohio among the 50 states, ahead of Georgia and behind Missouri. Chefs and head cooks' salaries rank lower nationally at 29th, ahead of Missouri and behind Illinois. Experienced cooks, at the top 10% of the pay scale, earn over $30,000 per year. 
In Ohio, culinary jobs tend to pay less than the national average within each of their categories, but chefs, head cooks, food service managers and food service supervisors in Ohio are all paid above the national average for all culinary occupations.
Culinary Job Opportunities and Employers in Ohio
Given the nature of the work, there are not many restaurants in Ohio that employ hundreds of culinary professionals. Instead, most food service locations will employ a relatively small number of chefs, cooks and food service managers. That said, there are a broad range of employers available, which include:
Restaurants and Bars
Hotels, B & Bs and Lodges
Schools
Hospitals
Private companies and individuals looking for private chefs
The State of Ohio maintains a database of jobs at OhioMeansJobs: http://jobs.ohiomeansjobs. You can search by job title, keywords, location and radius. Among employer types listed are hotels, senior living facilities and steakhouses.
Culinary Training, Schools and Colleges in Ohio
While numerous culinary hopefuls attend formal education and training in Ohio, a large percentage opts for on-the-job training. This latter path often means entry-level jobs like dishwashing or unpaid internships, but the free training and ability to learn the business from the ground up proves well worth the hard work to these inspired food creatives. And opportunities to take these positions are plentiful, especially in restaurant-dense cities like Cleveland and Cincinnati. Restaurant managers are indeed grateful for the extra help.
But students who do decide to embark on formal education enjoy a broad selection of programs through Ohio's many culinary arts, baking and pastry or hospitality management schools. Along with a compelling food scene, the state provides dozens of culinary schools and programs, some with degrees awarded. However, not all schools provide the same culinary education, with cost, programs, graduation rates and more varying by school. A few of the better known Ohio culinary schools include:
University of Cincinnati, Cincinnati, Ohio
University of Akron, in Akron, Ohio
The Art Institute of Ohio-Cincinnati, in Cincinnati, Ohio
Community colleges throughout the state with culinary training programs