Chef'd Meal Kit Review
Review Summary
Chef'd is no longer operating. To see other providers, please visit our Compare Page.
------------------------------------------------------------------------
Options. Options. Options.
Part of the Chef'd launch story, is the founder thumbing through a magazine, seeing a gorgeous plate of food and wondering, "Why can't I just push a button and get that meal delivered?" Today, Chef'd seems to thrive on providing customers a massive variety of choices, that are highly customizable to their likes and dietary needs. And based on my sampling, their meals taste fantastic.
Unlike most of the meal kit services out there, with Chef'd you don't have to subscribe to a weekly delivery. While they will happy provide you weekly menu choices based on your preferences, you can order as much or as little as you'd like each week. Of what you want. Those with a deep seated fear of commitment will really like that.
However, for anyone that want's to take all the planning out of their weekly eating, there are plans that you can sign up for - and Chef'd will do all the picking based on your preset preferences.
There are several ways to pick and choose meals. You can sort based on cuisine type, cooking method, time to cook, rating...and more. Dishes are also grouped into collections...some by famous chefs, some by diet categories like Atkins or Vegan.
The meals I tried, came packaged up very much like all the other kits I've tried. The box is delivered to your door step, no signature required. Mine sat outside all day, and when opened, the ice packs were still frozen, the proteins nice and cold, and the all the produce looked super fresh.
I was happy with the quality of everything that came and with the recipes themselves, I tried two Aktins recipes, beef bolognese with zucchini & chicken cauliflower mac & cheese, that were well composed and interesting.
All this variety and quality does come at a price. A fairly high price. Looking through their dinner options, the lowest cost meals are ~$12 per serving, and they go up north of $20 per serving. A typical shopper will probably be able to beat Chef'd prices at their local grocery store. However, you're paying for the convenience of not have to plan, shop or conceive of some pretty tasty recipes.
Overall, it's pricey, but I really loved the flexibility, variety and the quality of Chef'd. If you don't mind spending a few extra bucks, then you should certainly give them a try.
Pros of Chef'd
Chef'd offers a ton of variety
Categorized meals for easy selection
No subscription required
Cons of Chef'd
One of the most expensive kits around
The choices may be overwhelming
Shipping is not always included
Chef'd's Cost
| Prices Vary Per Meal | Average Breakfast Meal | Average Lunch Meal | Average Dinner Meal |
| --- | --- | --- | --- |
| 2 Servings | $11.57 | $14.30 | $15.47 |
| 4 Servings | $10.35 | $11.25 | $12.50 |
How Chef'd works
Getting started with Chef'd begins on their website. Which is beautifully designed, pretty easy to navigate, and full of insanely good-looking pictures of food. Once there, it's easy to browse and sign up for the service.
Unlike many of the meal kit services out there, Chef'd doesn't force you into a specific meal plan. While there are some some options for those who are looking for automatic delivery, the site seems to be set up primarily for the "a al carte" buyers - where you can order as many, or as few, meals you'd like. And there are hundreds of meals to choose from every week.
Is Chef'd Organic?
Chef'd dose use organic ingredients and when possible buys from organic producers. However, it does not state that all the ingredients are organic.
Registering and Ordering
There are options for breakfast, lunch and dinner meals. And to find the meal that really tickles your fancy, you can sort by cuisine type, cook time, cooking method, ingredients, and even spice level. Most everything seems to come packaged in 2 or 4 servings. You can browse through to select your own meals, or choose from Chef'd curated choices, that includes selections from Atkins, NY Times & Weight Watchers.
Upon registering you put in the usual sign up information (name, address, payment info, etc), and set your various meal preferences.  From there, you can sort and browse through hundreds of recipes for breakfast, lunch & dinner. 
Simply add meals into your cart, as you find the meals you want (just like a normal online shopping experience), and when ready go ahead and check out. There you'll get the delivery day. And you are good to go.
Where does Chef'd Deliver?
Sorry Hawaii and Alaska you are out of luck. However, everything else in the lower 48 is open to delivery from Chef'd.
Once you place your order, you'll be billed & given a delivery date. No need to be home when the package arrives. The food comes boxed in an insulated package, with ice packs keeping everything cold.
Each box also comes with recipes cards for each recipe ordered. Each card has detailed instructions on how to make the recipe step by step. Pictures which show how things should look. Useful tips and tricks and nutrition information.
Shipping is included for orders over $50.
How much does Chef'd Cost?
Each meal is individually priced, and range from a low of about $12 per serving to a high of over $20 per serving. While that tends to be more expensive than some of the others, remember you're not in a subscription, and won't get auto delivered meals you won't use.
I also like that fact that the meals are priced individually. Some ingredients (like steak) is more expensive than others, (like pasta). But "right pricing" each email, Chef'd should be better able to manage the quality of each ingredient.
Chef'd's Quality
Everything in my box came fresh and looked great. The proteins are packed separate from the other ingredients, on the bottom of the box, closest to the ice packs. All the other ingredients are bundled together by recipe, in separate bags - eliminating the need to sort the ingredients out when it's time to cook.
The two meals that I tried - A Beef Bolognese and a Chicken Cauliflower Mac & Cheese - came with a good amount of vegetables. All of them were fresh and tasted great. As good as I'd get in any grocery store.
The meals also tasted really good. With a good balance of flavors. They where both Atkins meals - so no carbs. But they had creative substitutions for the absence of pasta...and I didn't really miss it.
Chef'd's Variety
One the strongest points about Chef'd is the diversity of recipes that are offered. Frankly, I'm not sure how they do it.
Many providers will offer a few breakfast, lunch or dessert options, in addition to dinner meals. Chef'd offers dozens of each.
There is also a huge variety of different proteins and cuisines to choose from. You can easily sort between various Asian, Latin American, US, and European meals. As well as prep times, spice level, cooking method, and skill level. At each level you find dozens of options.
If you're something that wants to explore different options, and doesn't mind browsing to find the most interesting options; Chef'd is perfect.
Chef'd's Simplicity
Because of the variety that Chef'd offers, the meals you prepare can be as simple or complex as you want. Along with other options, meals are sorted by skill level, so it's easy to choose the easier or more complicated ones to cook. And again, there's a lot of options in every category.
My cooking experience with Chef'd meals found that the recipe cards that came with the box, were well written, and provided a clear and concise description of what I needed to do. They stayed away from complicated terms, and provided simple tips that are critical to making sure the food tastes as good as it can.
Is Chef'd Kid Friendly?
Again, Chef'd diverse selection, and large number of options, really play to their advantage if you happen to be feeding a kid.
While it seems to me that most of the recipes are focused on the adult eaters, the fact that you can choose from hundreds, means it should be pretty easy to find something that is going to work for picky eaters. And because you're not locked into what Chef'd chooses for you, you're less likely to get something automatically delivered, that won't work for your family.
Overall
Based on the pricing, the diversity of options, and the flexibility, I see the Chef'd meal option as the "luxury" brand. And there is a lot of great things that come with that.
You've got more choice
You've got more flexiblity
The ingredients and great
The meals are exciting and interesting
Of course, as with all luxury brands, you do end up paying a bit more. On average, the meals tend to be $2 - $4 per serving more expensive than other meal kits.
I thought the meals I got were fantastic, and I really appreciate the choice & options available. I think the little bit of extra money is well spent...but ultimately, you'll need to decide if that's worth it or not.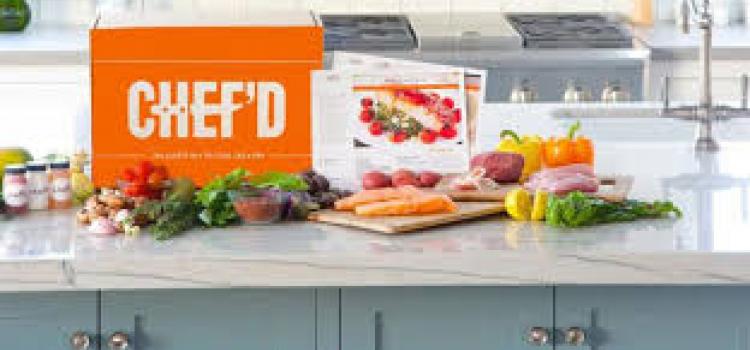 About Chef'd
The idea for Chef'd was hatched as the founder was looking at a recipe and wondered, why it wasn't available with simple push of a button.
Today, the service seems built around the notion of convenience and personalization. Unlike most meal kit companies there is not subscription. You simply order what you want. You're not bound by weekly meal options, and there is a wide variety of choices for multiple likes/dislikes and dietary restrictions.