Dinnerly Meal Kits Review
Review Summary
Dinnerly is "the working mans' meal kit service. Crafted to be a low cost & simple to cook, Dinnerly meals get the job done without a lot of fuss or fancy. 
Part of their message, printed on the box ingredients are shipped in, calls back to "...a land far away when there was a moment in the day called dinnertime" (it's actually a very funny box to read).  And the notion that families should be able to sit down to a good wholesome meal, that doesn't take an entire day to cook. It also shouldn't break the bank. And those points come through loud and clear in their meals.
Dinnerly recipes have about six ingredients each. All of which, you're very likely to be familiar with. Recipes are designed to be cooked in about 30 minutes - and in my experience that holds true. Two of the three I tested (a burger recipe & a pasta recipe) were very kid friendly.
Dinnerly is also friendly on the budget. The cost per serving is $5, for all Dinnerly meals. That makes them far cheaper that just about every other meal kit provider.
Now, that low cost does carry a few trade offs. In my testing, portion sizes varied by meal. One recipe was more than enough for two people; but two others I tried where fairly skimpy. If you've got some big eaters, at times, you won't have enough.
Dinnerly meals are also really simple. That's great for time savings, and non-foodies, who just want to get a simple home cooked meal on the table. However, food lovers are likely to be underwhelmed. The ingredients and complexity of the dishes just are not likely to wow anyone.
Everything that came shipped in the box was high quality and tasted like it should. And the ordering process was simple - exactly what you'd expect.
So, if you're looking for a no-nonsense meal kit. That has you cooking fresh meals, at a low cost. But aren't all that interested in exploring new ground or making "exciting" new recipes...then Dinnerly could be just the one for you.
Pros of Dinnerly
Low cost option at $5/serving
Simple recipes you can cook in 30 minutes
Kid friendly & very familiar meal options
Cons of Dinnerly
Portion sizes are a bit on the small side
Nothing that's going to excite food lovers
Not a lot of variety to choose from
Dinnerly's Cost
| Cost Per Serving | Family Plan | Two Person Plan |
| --- | --- | --- |
| 3 Recipes per Week | $4.99 | $4.99 |
How Dinnerly works
Dinnerly works like most meal kit services out there in that it is a subscription service. Also like most meal kit services there is no obligation and you can cancel anytime, but you generally get a box delivered once a week.
They offer both a "Family Plan" and a "Two Person Plan", and both of those options contain ingredients for 3 different recipes per week.  The difference obviously is quality, with the family plan providing enough for 4 servings vs only 2 servings.
For either option, the cost per serving is $4.99 and each box comes with a shipping fee of $8.99. 
Registering & Ordering
When you decide to register for Dinnerly, you first select the plan type (Family or two person) that you're interested in.
You provide your zip code to ensure they can ship to you, as well as a contact email. Once you've confirmed you're in a delivery zone, you select the delivery day & time that's best for you. Boxes come packed cold & insulated and can sit outside until you pick them up; but you may want to deliver to work.
Once you provide your delivery details and payment information, you're ready to pick your meals.
Dinnerly offers six different choices every week, which isn't a ton of options, particularly since you're choosing three. I assume that is partially how they keep their cost low. At the time of this writing, the week's choices included:
Meatloaf with caramelized cabbage
Grass fed stuffed cheeseburger
Moo shu turkey tacos
Roasted sausages and tomatoes
Fettuccini Alfredo with broccoli
Cheesy black beans & rice
Boxes come packed with the raw ingredients mixed together, as opposed to separated out by recipe, requiring you to sort through them. The box is also absent a printed recipe card, although the cards with complete directions are available on the website. Both those things require a bit of extra work, but again, it's a concession for paying about half what other meal kits cost.
Where does Dinnerly Deliver?
Unfortunately, Dinnerly does not deliver everywhere in the US.
However, it does deliver an awful lot of places. As part of the registration process you'll enter your zip code to ensure you are in a delivery area. At the time of this review, they were able to deliver to the following states: California, Washington, Oregon, Nevada, Utah, Idaho, Texas, Illinois, Iowa, Wisconsin, Georgia, Colorado, Oklahoma, Louisiana, Arkansas, Indiana, Kentucky, Tennessee, North Carolina, Virginia, New York, Maryland, Connecticut, New Jersey, Massachusetts, Rhode Island, Pennsylvania, D.C., and Florida
Is Dinnerly Organic?
I could not find any info on Dinnerly's website about the sourcing of ingredients, organic or GMO designations. So, I would assume they are not.
How Much Does Dinnerly Cost?
One of Dinnerly's primary value propositions is it's low cost. They frequently promote that they are "always half off", as their cost per serving of $4.99 is among the least expensive out there - many other kit providers are priced well above $10 per serving.
There is a shipping cost of $8.99 per box, but that covers 6 meals in the two person plan, or 12 for the family plan. Not a big add-on to the per serving cost. The cost is comparable to a lot of fast food and I feel much better about cooking and eating these fresh meals.
Dinnerly's Quality
I tried three recipes from Dinnerly, and all the ingredients that came were good quality, with nothing out of the ordinary. Certainly what I would expect to get at most grocery stores.
The meats that came smelled and tasted fresh, and were well packaged, kept cold by the ice packs. And the fresh produce and panty items were exactly what I expected. The ingredients are simple, and there's only 6 per recipe. Everything met my expectations.
There are small touches (like sorting ingredients & having to print recipes cards) that add a bit of work to cooking Dinnerly meals. But that's a trade off that cost conscience customers are likely willing to make.
While the ingredients that came were of good quality, I do think the recipes were a bit plain/ordinary, and there was nothing about the finished dishes that makes you think you're getting a higher quality, complete meal than what you can do on your own. Two of three meals I tried, were perfectly fine, simple meals. But not impressive. The 3rd, Asian Turkey Lettuce cups, was down right weird, and while it didn't exactly taste bad, it also didn't make a lot of sense.
If you're looking for meals that will excite...I don't think Dinnerly is going to be for you.
Dinnerly's Variety
Variety is not what Dinnerly is all about. Each week they have 6 options to choose from, and since each box contains 3 recipes you don't have a ton of options to choose from.
In the weeks that I've looked, I've seen at least two vegetarian options. And while they tag their recipes with useful information (like vegetarian, kid-friendly, etc) there is no ability to sort through options for specific dietary needs. It's very much, what you see if what you get.
Again, this is likely a compromise/trade off with the low price point. 
Dinnerly's Simplicity
While Dinnerly doesn't provide a ton of variety, for the recipes they offer, they do focus on simplicity. There is a limited number of ingredients for each recipe, and they tout that each can be cooked in 30 minutes or less.
That claim holds true based on my testing. The cooking steps were not complex and could be done by just about any novice. Now, that said, simple process/cooking techniques also means the finished recipes are awfully simple too.
For example, for a burger recipe, I'd have loved it if Dinnerly included a piece of cheese to make it a cheese burger...and suspect that quite often an extra ingredient or two would be really nice jazz things up a bit.
Is Dinnerly Kid Friendly?
Based on my tests, and looking at other recipes on the site, I do think most of Dinnerly's meals are going to appeal to the kiddos.
Because the ingredients are, for the most part familiar, and the meals largely seem to be "typical American fare", I think you'll be able to get your kids to eat and even enjoy them.  Two of the three recipes I tried (a burger & pasta) were happily welcomed by my kids.
In fact, the kit itself may be perfect for parents who want to cook separate meals for kids - kinda like a do it yourself "kids meal".
Overall
Dinnerly is the no frills meal kit service.
You're unlikely to find ingredients and recipes that are going to excite the foodie crowd, or even aspiring foodies looking to up their game. The meals and the ingredients are too simple & traditional.
The meals do seem designed to have broad appeal, and to be cooked quickly. And, at $5/serving, they are the budget friendly option.
If new an interesting food isn't your (or your family's thing) and you're looking for budget friendly help, getting quick, home cooked meals on the table, this is the meal kit for you.
Give it a try and let me know how it goes.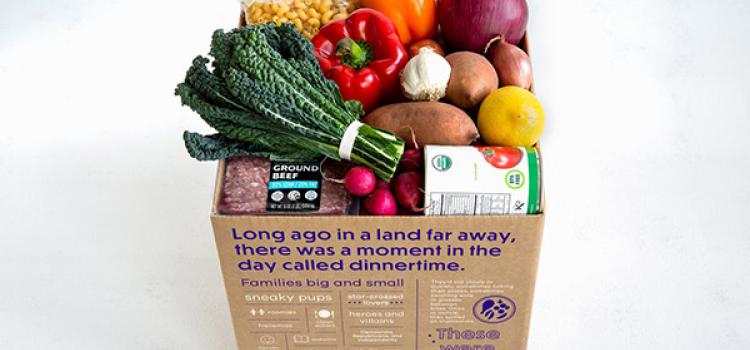 About Dinnerly
Launched in 2017, Dinnerly is a meal-kit delivery service created by Marley Spoon that promises the lowest prices per serving than any other brand. Entirely separate from the company's premium brand "Martha & Marley Spoon," (a partnership between Martha Stewart and Marley Spoon), Dinnerly promotes itself as "the meal kit that's always 50% off," making it the "most affordable meal kit around." 
The company says that it uses the same quality ingredients as other kits, but it keeps costs low by taking a simpler approach: digital recipe cards instead of paper, fewer ingredients per dish (which means less chopping and cleaning), simple packaging, and no fancy marketing campaigns.
Customers have their choice of low-calorie, vegetarian, kid-friendly, meat or poultry-lovers, and other recipes that have just six ingredients per dish. The price for 30-minute meals such as Black Bean & Cheese Tostadas, Crispy Pan-Fried Gnocchi, and Ginger Caramel Chicken is $4.99 per person. Shipping is not included. 
Meals are sold in "boxes" as follows:
Two-Person Box. 2 Portions per recipe, 3 recipes per week, $4.99 per portion + $8.99 shipping. Total per week: $38.93. 
Family Box. 4 Portions per recipe, 3 recipes per week, $4.99 per portion + $8.99 shipping. Total per week: $68.87. 
Dinnerly meals are delivered in insulated boxes on weekdays and the company said there is no commitment. Dinnerly's meal plan is designed to allow customers to choose exactly when they do (or don't) want a box, so customers can skip weeks (with notice) whenever they like.