Freshly Meal Kit Review
Review Summary
Freshly sets itself apart by providing fully cooked meals (you just need to heat and serve) that are crafted with all natural, whole foods, designed to enable a healthy diet and lifestyle.
Each of their recipes is gluten free. As well as free of refined or artificial sweeteners/ingredients, or preservatives. In fact that company touts it's list of 85 banned ingredients. While I don't have any problem with gluten, I love the company's commitment to whole foods.
The other somewhat unique factor about Freshly is the meals arrive cooked. Of course, you'll have to unpackage, heat and serve them up; but no cooking required. That of course saves time. But those who like cooking...or those who'd modify the recipe a bit while cooking, are out of luck.
Freshly does a great job categorizing meal plans into lifestyle categories like High Protein, Low Calorie, Vegetarian, Paleo and more. It's a great service for those who don't want to cook but want detailed control over what they eat.
If you're looking for an easy option to eat well, without having to cook, give Freshly a try.
Pros of Freshly
30% off your first order
Meals come fully cooked
Clear focus on healthy, whole foods, and no gluten
Cons of Freshly
Meals come fully cooked
If you like bread (or other wheat based foods) you're outta luck
Freshly's Cost
| | 4 Servings per Week | 6 Servings per Week | 9 Servings per Week | 12 Servings per Week |
| --- | --- | --- | --- | --- |
| Cost Per Serving | $12.50 | $9.99 | $9.99 | $8.99 |
How Freshly works
Like most other meal kit providers, Freshly is a subscription service, that will provide a regular weekly shipment.
Unlike some of the other services with specific "plans" Freshly keeps it a bit more simple - order 4, 6, 9 or 12 meal servings per week. As meals come packaged in individual servings, you can order all the same meal...or all different meals. That's an option you don't have with most providers, who package each recipe in quantities of 2 servings.
Each week you'll have the option of choosing from 25 dinner recipes (sure you can eat them for lunch too), 4 breakfast recipes and a dessert or two. The menu is very diverse, and with that many choices even picky eaters shouldn't have a tough time finding recipes they're excited about. The week I looked, some of the recipes included:
Pork Carnitas
Chicken & Rice Pilaf
Homestyle Meatloaf
Turkey Meatballs and Spaghetti
Southwest Veggie Bowl
All of the recipes are well labeled and categories into dietary groups (Paleo, Vegan, etc…) to help you choose. And you can easily get more info on specific ingredients and nutritional information.
Meals are delivered weekly in a box delivered to your doorstep. You don't need to be home, and the ingredients are shipped with cold packs, so everything will stay fresh until you get home.
Registering & Ordering
The Freshly registration process starts with entering your email address and zip code, to see if you are in their delivery area.
Assuming you're in the delivery area, you'll complete the registration process in just a few minutes. While getting set up, you'll select a plan for how many meals you'd like per week, choose any specific recipe types you'd like (Veggie, Paleo, etc) and provide your payment info.
You'll be enrolled in a subscription and will get meals sent to you every week. You can modify or skip a week by logging into the site.
Shipping is free.
Where does Freshly Deliver
Unfortunately, their delivery areas are among the more restrictive in the category. Given the meals are cooked and shipped fresh (never frozen) Freshly needs to have a kitchen relatively close buy.  As of this writing, Freshly delivered in these 26 states:
Alabama, Arizona, Arkansas, California, Colorado, Idaho, Indiana, Iowa, Kansas, Kentucky, Louisiana, Mississippi, Missouri, Nebraska, Nevada, New Mexico, Oklahoma ,Oregon, South Carolina, South Dakota, Tennessee, Texas, Utah, Washington, Wisconsin, Wyoming
Is Freshly Organic?
According to their website, Freshly does "take care to use organic and non-GMO ingredients whenever possible." However, they don't certify that it is all organic. They do insist they they are using high quality ingredients, and they are always free of additives, chemicals, artificial ingredients, and refined sugars.
Freshly's Quality
Based on my experience, as well as researching multiple points of feedback, Freshly gets high ratings for quality.
Whenever you order pre-cooked meals, there's a risk that something one be to your preference. Even if it's cooked well, you may simple prefer more or X, or a little less of Y. Leaving aside personal preferences, I've found Freshly's meals well prepared and flavorful.
Freshly's Variety
Variety and flexibility are Freshly strengths. Of all the services I've looked at Freshly has by far the most options to choose from.
There is a good mix of of both traditional and more exotic recipes with an international flavor profile.
Being a gluten free service, recipes obviously stay away from any flour based products/ingredients. And many meals are protein heavy. However, the week I looked there are 4 pasta recipes (made with gluten free pasta)...and I see rice, beans, quinoa, and other ingredients taking the place of pasta is many other recipes.
Freshly's Simplicity
Things don't get more simple then pre-cooked meals. Signing up is super simple.
Meals come individually wrapped in packages that are easy to re-heat. It takes very little time to prep the meal, and you're ready to go.
Is Freshly Kid Friendly?
While it's always hard to figure out what a kid's gonna eat, given there are 25 dinner options to choose from, you should be able to find something for just about everyone in the family.
That fact that each recipe some individually packaged, means not everyone at the table needs to eat the same thing.
Overall
Freshly is the service for folks that want to eat healthy...but don't have the time or inclination to do any cooking.
The variety of options should keep things interesting week to week, and you'll always be able to feel good about what you eating.
I personally, would miss the cooking, and the creativity that comes with it. So if you're looking to actually use the stove, and maybe put your own twist on the recipes, I'll look elsewhere.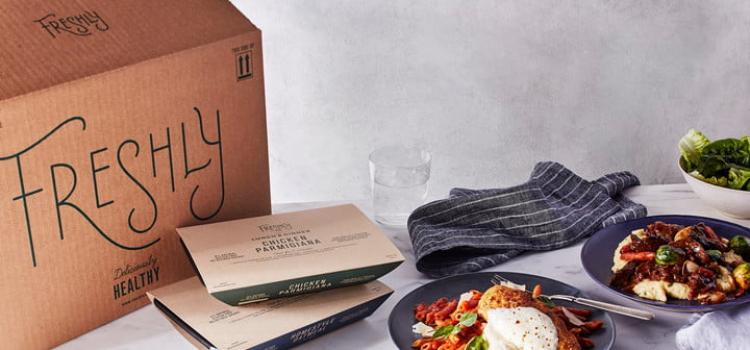 About Freshly
Established in 2015, Freshly is a New York-based, weekly subscription meal service that promises to deliver fresher and faster meals. Meals do not contain artificial ingredients, hydrogenated oils, refined sugars, artificial preservatives or items from Freshly's list of over 85 banned ingredients. Meals are fully prepared and ready to eat in just three minutes, so customers don't have to deal with prep or clean up. Meals can also last up to a week refrigerated. 
Besides using only fresh, all natural ingredients, Freshly uses biodegradable recycled denim insulation as an eco-friendly alternative to Styrofoam to keep meals cool and fresh. Containers are 100% recyclable and meals are perfectly portioned to avoid contributing to landfill waste. 
Freshly's weekly rotating menu offers 30+ different chef-inspired preparations with both new choices and favorites. The menu is 100% gluten-free, making freshly the largest producer of fresh, certified-gluten-free meals in the U.S. Besides never having to worry about gluten in their meals, customers never have to worry about their waistlines. The average Freshly meal contains 30 grams of protein and just 500 calories. 
Sample meals include Jamaican-Style Chicken, Three Bean Ancho Turkey Chili, and Korean-Style Shrimp. Breakfast options and vegetarian meals are also available. Plans include:
4 Meals/Week: $12.50/meal, $49.99/week
6 Meals/Week: $9.99/meal, $59.99/week
9 Meals/Week: $9.99/meal, $89.99/week
12 Meals/Week: $8.99/meal, $107.99/week
Shipping is free for all plans and skipping weeks or canceling is easy. Users can skip a week or cancel anytime as long as they notify Freshly before the weekly deadline prior to shipping.