Plated Meal Kit Review
Review Summary
Plated has been around since 2012, and has evolved in the one of the best meal kit services for foodies. Their believe is "the world is a better place when it's easy for people to eat well." I agree.
Plated has some of the more extensive menu selections I've seen. They have options for meat and seafood eaters, and several choices for the vegetarians among us. They have gluten free, low cal, and low carb options. And they have a couple dessert options to satisfy the sweet tooth (a rarity among the other providers).
Like most providers, Plated is committed to sourcing local & organic products when possible (although they admit it not always possible), and packaging is eco-friendly.
The subscription service allows members to choose amongst any of 20 recipes, with each coming in 2, 3, or 4 servings. You can order 2, 3, or 4 recipes per week. And again like most providers, you can skip boxes or cancel your subscription any time.
Plated prices start at $9.95 per servings, and go up to nearly $12/serving at lower volume plans. When I tried Plated, I got a box with 2 recipes: Seared Steak with Cherry Tomato Vinaigrette, and Fontina Stuffed Chicken. 
I thought the quality of the ingredients was very good (as good as most grocery stores), and the recipes where will designed and composed. The quantity of food seemed right, and the taste was what I'd expect.
My only serious fault was with the directions. In both cases there were unclear directions, for instance "Roast the vegetables" without any oven temperature specified. And in some cases I would have cooked things in a different order to either save time, or serve food hotter.
Pros of Plated
Meals for folks who love food
Wide selection of choices including dessert
Gluten free, low cal, and low carb meals are available
Cons of Plated
About $1/serving more than several other providers
Shipping costs are not always included
Plated's Cost
| Cost Per Serving | 2 Recipes | 3 Recipes | 4 Recipes |
| --- | --- | --- | --- |
| 2 Servings | $11.95 | $9.95 | $9.95 |
| 3 Servings | $11.95 | $9.95 | $9.95 |
| 4 Servings | $11.95 | $9.95 | $9.95 |
How Plated works
Plated divides their meal plans into three categories, based on the number of servings….with plans to feed 2, 3, or 4 people.  Once you decide how many people you want to feed, and have 2, 3, or 4 meals sent to you every week.
One of the nicest things about Plated, and that all the meal options are open for all the plans. So you don't feel limited or "cheated" if you spot a recipe on a plan you're not signed up for.
You can choose from about 22 different weekly recipes, with options to go gluten free, vegetarian, low calorie or low carbs.  The week I looked some of recipes you can choose from included: 
Soy Glazed Chicken

Creamy Mushroom Linguine

Italian Stuffed Peppers

Seared Steak with Roasted Beet Salad

Green Curry Scallops

There is an easy to use (although a bit hard to find) filtering menu on the page, where you can sort recipes based on ingredients, gluten free, calories, prep time and more. 
Per serving prices for Plated varies based on the number of servings per recipe. For 2 serving packages, expect to pay ~$11.95 vs $9.95 for meals with 3 or 4 servings.
Boxes are delivered weekly with your order, in a package that is recyclable and eco-friendly. And in addition to having recipe instructions online, recipe cards with step by step instructions are included. All ingredients you'll need are included, except some basic pantry ingredients, like eggs, oil, salt and pepper.
Recipes will keep for a few days, some once unpacked, you can start cooking right away, or put into the fridge for later in the week.
Is Plated Organic
According to their website, Plated proteins are all sourced from GMO free and Antibiotic free farms, or sustainable fisheries. Which is great for those who are concerned with GMO's. They also state they try to source as many organic ingredients as possible, and work to ensure all their proteins are sustainably and respectively farmed/raised.
Registering & Ordering
The registration process for Plated is much what you'd expect it to be.  
You first decide the meal plan option you'd like, and then go to enter your shipping and billing info. While I did not see an option to use Facebook/Gmail data, it's easy to sign up with your name, address and contact info.
The website automatically applied a discount to my order.
I found the registration and ordering process simple. Once you create an account you are guided through a series of questions, where you provide details about your culinary tastes (and dis-tastes).  From that process you get defaulted into a meal plan that selects recipes for.
It's easy to click into recipes to learn more about what you'll get. And it's also easy to change your recipe choices from amongst about 10 other choices. Categorization for meat, seafood, vegetarian and dessert options make it easy to sort and find options.
Once registered, your pick your meal plan, and select your recipes. You'll then be prompted to choose a delivery window. You do not need to be home for the delivery, unless you've ordered some wine (more on that later).
Plated gives you the option of picking your delivery day. You'll do so, when you first register, but you can also change that day, in case you've got travel, other commitments….or any damn reason you want. In fact I had to reschedule my first box, and it was very simple to do.
You can also skip or re-order boxes anytime up until 6 days prior to delivery on your account page or in the app.
Where does Plated Deliver
Plated has a nice little widget on their site, and in their registration process, where you input your zip to confirm your eligible for delivery. I have not tested every zip! But they say their service covers 95% of the country. Obviously, they need to be able to get your box to you, while food is still fresh and cold.
Cost of Plated
Cost for Plated meals range between $9.95 per serving to $11.95 per serving. That tends to be on the higher side of comparable meal kits services, but remember Plated is all about the food, and the flexibility/variety. So an extra $1 - $2 may be well worth it to you. And there is not added cost per serving going from 4 servings, to just 3.
Desserts are offered at a discount to the above prices.
Plated's Quality
Plated gets consistently high scores for quality consistently among all reviews. The meals are conceptually sound with good and logical flavor combinations that naturally go together. The ingredients are high quality and sourced from small organic farms whenever possible.
I've personally cooked two recipes, a steak with tomato vinaigrette and a stuffed chicken fontina. Both of the recipes came with very fresh, high quality ingredients.  The one exception being a small package of parmesan cheese, which was not "the real stuff"...and may have started life in a green can. It didn't taste bad at all, but there's not substitute for the real deal.
The recipes where will thought out and composed. Had very good contrasting flavors and textures, and I'd be happy to serve them to family and friends.
Plated's Variety
Compared to other meal delivery services, Plated tends to really shine. Most other services offer 4 - 10 meals to choose from (depending on the plan), but Plated offers more than 20. 

Chicken, one of the most common proteins on the dinner table, was featured seven times, the week i looked. Each version had different international spins and/or flavors to keep it interesting if you wanted it a couple times a week. Several other meat, fish and veggie options exist for all eaters. 
Also going for it, Plated in one of the few services that offer dessert. The week I looked at two choices; Berry Tostada and Chocolate Cherry Truffles.
Plated's Simplicity
While I liked Plated's recipes and ingredients, I found at least one of the dishes I tried (Fontina Stuffed Chicken) to be complex dish for the average home cook. Further, I thought the recipes cards for both recipes I tried to be pretty poor.
The time estimates on both cards, for certain steps were way off. I found my cooking times, were nearly double what the suggested times were.
In addition to the timing, several of the directions, I'd would have done either differently, or in different order. I think a novice would probably have gotten really frustrated trying to follow the directions and end up with a finished dish as it's advertised.
Is Plated Kid Friendly?
For the pasta with butter crowd, Plated may be a bit of a tough sale - at least making the recipes as advertised.
While I'm sure various components would be really well received, most of the finished Plated recipes are fairly sophisticated. That said, if you've got small ones, who may not need a massive plate of food for their, these meal may be a great way to get exposure to new food.
Bottom line, I don't Plated is the service for young kids, or those with very plain pallets.
Overall
Overall, I give Plated high marks. Particularly for foodies, who have a sophisticated palate, and love to try cooking new things. Sense you're not locked into any one plan, and there are so many different recipes to choose from, Plated is also good for "heavy" users that are going to want several recipes to week. There's less likelihood you'll be bored with them. If you're cooking for kids who, aren't too willing to go off the standard course you may want to look elsewhere.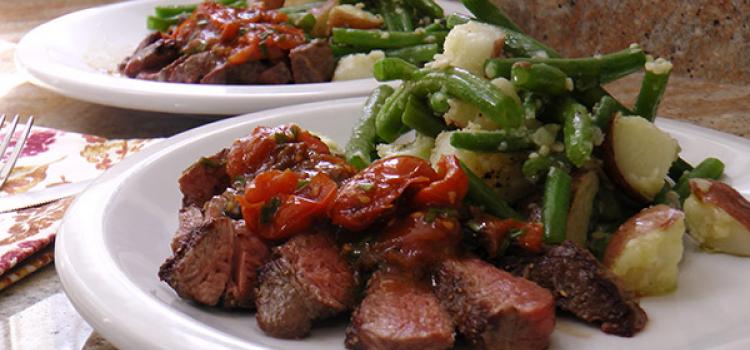 About Plated
Founded in 2012, Plated is one of the meal-kit industry's most successful companies. Since its inception, Plated has appeared on Shark Tank, Beyond the Tank, and NBC's Today, and it has been featured in major publications such as Vogue and The Wall Street Journal. Located in New York's Flatiron District, Plated was also recently acquired by grocery store giant Albertson's, making its meal kits more accessible to all. This "anytime you want" option sets Plated apart from other meal-kit companies that are subscription only. 
Plated's subscription service has become much more flexible over the years, however, with plans to fit just about any table. Customers can choose from 20 weekly recipes (vegetarian or non-vegetarian, Italian, Asian, gluten-free), plus dessert, in any combination, and they can adjust their plan options and delivery day from week-to-week. Plans include:
"2 Servings Per Night" with two, three and four nights per week options at $47.80 for two nights, $71.70 for three nights, and $95.60 for four nights. This plan is suitable for one adult + two kids or two adults.  
"3 Servings Per Night," for two adults + two kids or three adults at $59.70 for two nights, $89.55 for three nights, and $119.40 for four nights. 
"4 Servings Per Night" for families (two adults + two teens) at $79.60 for two nights, $119.40 for three nights, and $159.20 for four nights.
Plated meals are super-healthy and perfectly portioned and there are no strings attached, meaning customers may skip weeks or cancel their subscription at any time.