Review of Dinnerly's Turkey Stir-Fry Lettuce Cups with Gingery Jasmine Rice
Review Summary
So...I gotta say that I'm typically a bit fan of "Asian style" lettuce cups, but this recipe confused me, and left me disappointed.
It did hit on several of the major themes that Dinnerly focuses on - It was easy to make, with few ingredients. It was healthy, and like all Dinnerly meals it's really affordable at $5/serving.
But I did not like the flavors, texture, or even some of the ingredient choices. I don't understand the choice of Turkey as the protein, instead of chicken - a far more common ingredient in Asian cooking, and IMO, one that picks up flavors far better.
Try Dinnerly - Always Discounted
Garlic, ginger and jalapeno (all very nice) give some flavor the turkey, but would I have loved to see a package of soy sauce, or hoisin or some other Asian sauce that would have added a more complex flavor. 
Finally, the most confusing part of the cooking process comes at the end, where you add a slurry of flour and oil  to the turkey at the end of the cooking process. This creates a gravy (more akin to southern sausage/biscuit gravy), which makes the turkey mixture heavy and a bit odd on the lettuce. I'd just didn't get it.
The ingredients that came with the dish were all of good quality. And the dish wasn't hard to make. It didn't even taste bad necessarily, it just didn't taste anything like any lettuce cup I ever had.
Thumbs down on this one, I'd skip it for sure.
Ingredients
The Dinnerly box showed up, with all the ingredients packed on cold packs. Everything in the box looked and tasted fresh & was good quality. 
Included in the box was:
1 oz of fresh ginger
1 jalapeno pepper
Garlic
5 oz jasmine rice
12 oz ground turkey
1 green leaf head of lettuce
To those ingredients you need to grab salt & pepper, flour and oil from your own panty.
Making the dish
Like every one of the Dinnerly recipes I've made, this one is quite simple to make. The recipe card says it takes about 30 minutes to make. It took me all of that time, perhaps a bit more, but it did come together quickly.
The steps where quite simple, and as there are only a few ingredients you're not spending a ton of time prepping or cooking.
Making the dish is divided up into 5 steps:
Prep the ingredients: For prep you need to peel and chop the ginger for both the turkey mix and for the jasmine rice. Halve and slice the jalapeno (I like to give it a taste to see how hot it is and use more/less accordingly). You'll also finely chop 2 garlic cloves and prep the lettuce leaves
Cook Rice: The rice is cooked in some salted water, as well as a few pieces of ginger. I really liked the technique, as a bit of subtle ginger flavor does come off into the rice. And jasmine rice cooks up fluffy and nice.
Prep the turkey: Here you mix the ground turkey with the chopped jalapeno, garlic & ginger, and season with salt & pepper. In another bowl, you combine flower & oil. Those are the components to a roux - a common thickening agent.
Cook the turkey: Add the turkey to a hot pan, coated with oil. Take about 10 minutes to get the turkey browned throughout. The directions then have you adding some water, which deglazes the pan. I'm not sure that step is needed, but the next step, where Dinnerly has you add the flour/oil mixture I really don't get. It combines with the water to create a thick, gray gravy - again similar to a southern sausage gravy.
Serve: Into the lettuce cups, you add a layer of the cooked jasmine rice and then top that with the turkey mixture, as well as with some jalapeno. Then it's ready to serve up.
Taste
So...as noted above I was not a fan of this dish.
The individual components didn't taste bad, they just didn't taste like what I expected in a Stir-Fry lettuce cup.
The rice was nice, has a subtle ginger flavor to it, and it was easy to cook the following the included directions.
The turkey mixture though, didn't taste particular Asian, and would have really benefited from a soy, hoisin, plum, or just about any other Asian Sauce. The flour and oil slurry added at the end, made a gravy that made the whole thing very heavy. Again, it didn't taste bad necessarily...just plain, heavy, and did not belong on a lettuce cup at all.
Dinnerly's Turkey Stir-Fry Lettuce Cups with Gingery Jasmine Rice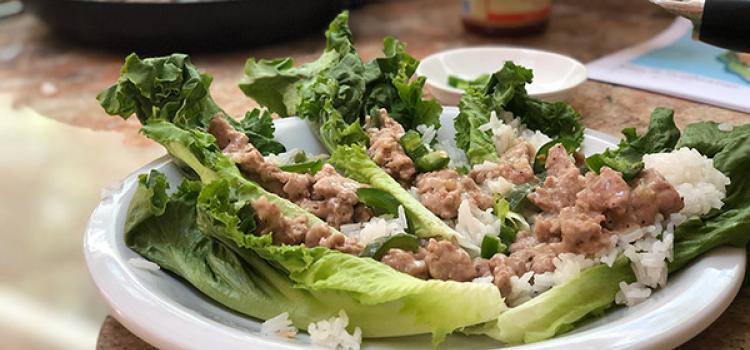 Overall
I've tried a few Dinnerly meals now, and this is the only one I'd emphatically say you should skip. Honestly it just didn't make sense to me.
I'd have suggested using ground chicken instead of turkey. The flavor was very very mild. And the step where you make a turkey gravy, make it really odd to put on a lettuce cup.
While it's simple and affordable, I think you're going to be better off with a different recipe from Dinnerly.
Let me know what you think. And if you want to try Dinnerly (the always discounted kit), use the link below.