Review of Freshly's Three Bean Turkey Chili
Review Summary
Chili is one of the best suited foods for Freshly's fully cooked meals model. And their Three Bean Turkey Chili is a winner.
Like all Freshly meals, this one comes fully cooked, packaged in a microwavable plastic container. Three minutes in the microwave, a couple minutes to rest, and you're ready to eat. Obviously there is no beating that for convenience. But like any and all prepared meals, before eating, my concerns were primarily around the flavor.
Their turkey chili comes topped with a good amount of cheese, which melts into the chili as it's heated. The beans held their shape and had a bit of firmness to them (that's a good thing) and there were clear pieces of turkey throughout. The flavor was rich and complex, which I'd expect from a good chili. The heat was pretty mild, but that's easily rendered by adding a bit of hot sauce or red pepper flakes.
Chili is one of those dishes that reheats very well...in fact some would argue it's better the next day. And that kind of food is going to fit with the Freshly model very well. This chili was significantly better than what I usually see coming from a can or other pre-packaged options. I'd be happy to keep ordering and eating this chili.
Ingredients
As I mentioned above, the Freshly meals come fully cooked, so there's no prepping or cooking the individual ingredients. And this one, chili, is essentially all mixed together, so there isn't any separate components to the dish.
That said, the ingredients for their three bean turkey chili are:
Turkey
Crushed tomatoes
Tomato paste
Kidney beans
Pinto beans
Black beans
Onion
Bell pepper
Cheddar cheese
Celery
Garlic
Spices
Vinegar
Making the dish
One of the core value propositions for Freshly is there isn't really any "Making the Dish". Since the meals come pre-cooked you're really only heating up the food and serving.
For the three bean turkey chili, you simply remove the microwavable tray from the cardboard package, and poke a few holes in the plastic film covering the food. That allows steam to escape.
You put the chili into the microwave for 3 minutes, then allow it to rest for 2 (which also allows the heat to re-distribute) and then you're good to go. You can eat right out of the container, or plate it up.
I added a bit of sliced avocado to mine, chives or cilantro would be nice too. And you can add all kinds of hot sauces to kick it up a notch.
Taste
For me, a good chili comes down to two things 1) consistency/texture and 2) Flavor. And Freshly delivered on both.
The chili had the right consistency. It was thick, but not "stand a spoon straight up" thick. Of course, if you did want it a bit thinner you could add a bit of hot sauce, chicken stock, or even water. The individual beans, and pieces of turkey all held onto some of their shape and firmness so the chili had a variety of textures. To add even more, I ate mine with some tortilla chips.
The flavor was what I'd call a "standard good chili". While there was nothing shocking or out of the ordinary, the chili was rich and had a good amount of spice to it. Very good on it's own, and if you had a favorite "hot sauce", you can easily add to it.
Freshly's Three Bean Turkey Chili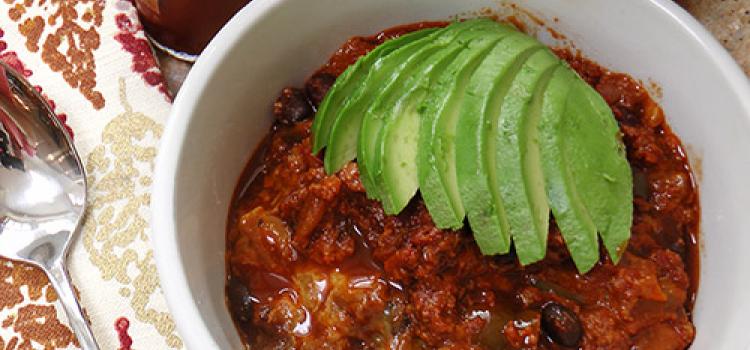 Overall
Overall, I'd give Freshly high marks for their chili. This is the kind of food that is going to work really well with Freshly's model of delivering pre-cooked meals.
The chili doesn't suffer at all from re-heating and the flavors are bold. Obviously, you can't beat getting to eat a meal with only 5 minutes of prep time. So if I'd suggest you give this one a try.