Review of Green Chef's Chicken with Enchilada Sauce with Pinto Beans & Corn, Cabbage-Carrot Slaw
Review Summary
My first batch of recipes from Green Chef (the all organic meal kit provider) came the other day, and included in the box were ingredients for their Chicken with Enchilada Sauce. For this recipe, chicken breasts get slathered in enchilada sauce (it's in the name after all) then covered in melted Monterey Jack Cheese.
The chicken is then served on a bed of pinto beans, which are sautéed up with some onions and corn, and then served on the side is some cabbage & carrot slaw dressed with a cilantro vinaigrette.
The recipe is fairly simple, and is likely to be a crowd pleaser. There was nothing that blew my socks off in terms for flavors or uniqueness, but everything tasted nice and went together very well. The sauce and cheese brought plenty of flavor to the chicken. And the beans provided what would normally the "starch" component of the recipe. The side dish of slaw is really what made this dish. It was tangy/acidic and created contrast in both texture and flavor, that lightened and brighten everything up.
The suggested cook time on this dish is 30 minutes. However, I think it took me a bit closer to 40, as my chicken needed a bit more time in the oven, and I let the chicken rest for a few minutes (a step Green Chef fails to suggest) before eating. None of the cooking techniques or equipment were very complicated, and I think just about every home cook should be able to handle this one pretty easily.
Overall, I was really happy with the Chicken with Enchilada sauce, and I'd happily order it again.
Ingredients
The ingredients for this recipe came packaged together in a separate bag in the Green Chef box, which makes sorting through the ingredients a non-issue. I simply popped the entire bag, along with the separately packaged chicken breasts into the fridge, and cooked the recipe few days after I received the box.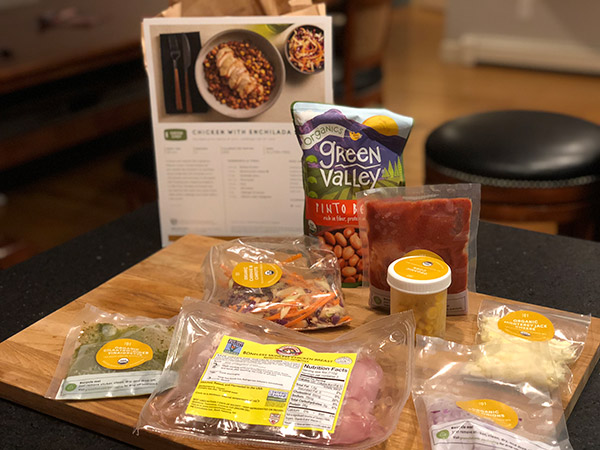 All the ingredients that came were organic (and labeled such) and looked great. I'm not sure if Green Chef does this every time, but the vegetables where also already prepped for me, chopped and ready to go. That's a big time saver.
Included in this recipe were:
2, 6 oz chicken breasts
1 3/4 oz Monterey Jack Cheese
1/2 cup enchilada sauce
15 1/2 oz pinto beans
1 1/2 oz corn
1 1/2 oz red onions
3 oz cabbage & carrots
1/4 cup cilantro-cider vinaigrette
The meal is intended to serve 2 and I'd say there was plenty of food. I could have used maybe touch more of the coleslaw, but there was enough to get by.
Making the dish
The meal came with a detailed recipe card that has pictures, as well as written descriptions for getting the meal cooked. Green Chef breaks down the process into 7 Steps:
Season & Sear Chicken: During this step you pre-heat the oven to 400, season the chicken with salt & pepper (both sides) and then sear it for 3 minutes per side in a hot pan. One step they neglect to mention is patting the chicken dry after un-wrapping it. Every time I've gotten proteins "shrink-wrapped", they tend to get a bit wet with their own juices. It's important to use some paper towel and get them dry before seasoning
Bake Chicken: Once seared, Green Chef has you move the chicken to a baking dish, drizzle the enchilada sauce over them, and then finish the chicken in the oven. I think this is the step I had got wrong - and which cost me extra cooking time. The ingredients on the card lists a 1/2 cup of enchilada sauce, but they provided a can which (I'm going by memory) was way more than that. And I used the whole can of sauce. More sauce means more time in the oven. Now frankly, I'm ok with that, I liked the extra sauce and can spare the extra 5 - 10 minutes, for a bit more in the finished dish. However, it's an area I'm not sure the recipe card is completely clear on.
Prep Beans: Here you simply open a bag of organic pinto beans, and drain them into a colander.
Saute Beans, Corn & Onions: Bring the same pan you seared the chicken in (which I like, it helps capture more flavor), up to medium temp, add some oil, and the red onions & corn. Season with salt & pepper, I very much like the notes to season, as you cook. Once softened, you add the beans and a 1/4 cup of water, to get the yummy brown bits off the pan, and to keep the beans from drying out. Here you'll want to be careful not to overcook or work the beans too much, of they'll turn into mush.
Finish the Chicken: After the chicken is in the oven for about 10 minutes, you'll take it out, and then sprinkle the cheese over the top before putting it back into the oven to melt. And you'll also want to make sure you get the chicken fully cooked before taking it back out.
Make Slaw: The final cooking step is to make the slaw. The cabbage & carrot is already prepped, so you simply add the cilantro-vinaigrette to taste, season with salt and pepper and you are good to go.
Plate Your Dish: The recipe has you slicing each piece of chicken before serving, which you can do; or I have no problem serving it whole, and letting each person slice it up. It will tend to stay both warmer and juicier unsliced. The beans get served as a base for the chicken, and the slaw plated up on the side.
Green Chef suggests that this is a 30 minute meal. It did take me about 10 - 12 minutes longer to get the dish done, I think because I used more enchilada sauce than suggested. But I'd do it again. I ended up mixing some of the extra sauce with the beans, which gave them more flavor, and I don't see a need to waste any of the sauce.
Taste
The flavors on this dish are pretty straight forward and I liked everything. Interestingly, I thought it was the coleslaw side that really made this dish.
The chicken, is a chicken breast. We've all had chicken. The meat itself was tender, and tasted as it should (you need to make sure you get a good sear, and season well, and don't over cook). And the enchilada sauce provided a nice mildly spicy bite to it. I didn't expect much out of the cheese, but found it to be richer, and stronger (in a good way) than I expected.
I liked the beans & corns, although I think it could have used a bit more corn, and even a bit more of the onion. Again, seasoned right, the beans taste good, and provide "bulk" to the recipe.
But until you take a bite of the slaw, just about everything is a similar texture and flavor profile (salty, rich, spicy). The cabbage/carrot, picks up the tangy/acidic flavor of the cilantro vinaigrette, and provides the only crunch in the dish. I actually ended up eating just about every bite of chicken/beans, with a bit of the slaw on on the same fork.
So, while this one isn't likely to blow anyone away to exotic, sophisticated flavors, you've never had before; it is a simple tasty dish, that has good contrast in flavors and texture, and I'd happily make it again.
Green Chef's Chicken with Enchilada Sauce with Pinto Beans & Corn, Cabbage-Carrot Slaw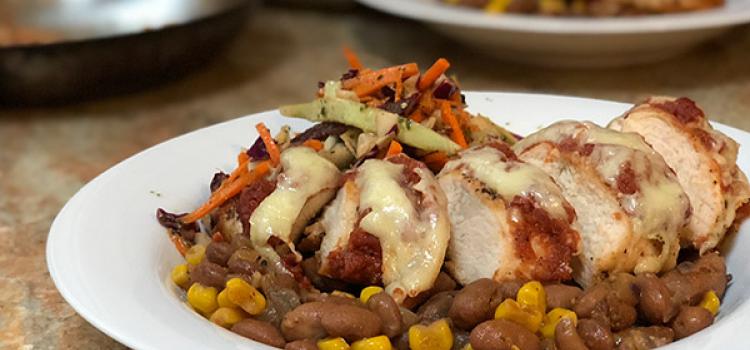 Overall
This was a nice simple dish, and I'm sure most people would really like. To me, this kind of meal should be "the work horse" of a meal kit service.
It's a fairly simple dish. Easy to make. With common ingredients. That just about everyone will like.
It's not exotic, and you don't get the vibe that you've just created a master piece. And that's fine. Most days, you just want a good simple meal. And that's what this one is.
I love there was almost no prep work needed. A couple things were left off the recipe card, but nothing to serious; and if you watch my video, you won't even need to read it!!