Review of Green Chef's Thai Tuna Sandwiches Spiced Carrot Fries, Red Cabbage, Yellow Curry Aioli
Review Summary
It often takes me a moments pause, and deep consideration, before I click the mouse and finalize a purchase of mail order fish. And it was not any different when I ordered Green Chef's Thai Tuna Sandwich.
I love fresh fish. I hate old fish. And just about any time I'm buying it, I really like to look it over, and often give it a sniff test before laying down my hard earned cash.. With meal kits like Green Chef, there's no such option - so I'm putting my faith in the provider.
I'm happy to say in this case, that trust was well placed. The piece of tuna I got looked, smelled and tasted as fresh as can be. The texture was firm, and it cooked up perfectly.
Green Chef's ingredients are all organic, and everything else that came with the tuna, was fresh and tasted great. You do need to do a bit of prep to make the carrot "fries", but nothing is very complicated and most won't have any problem making this dish.
I do wish the recipe card provided a bit more detail about cooking the tuna. It suggests cooking the tuna all the way through - which for me is over cooked. There's a nod to "desired doneness" written, but really the best way to enjoy it is still very rare on the inside. Thats about a 2 minute sear on each side.
The card suggests it should take about 30 minutes to make the whole dish, and that's pretty much exactly how long it took me.
The finished sandwich is nice. The bun was perhaps a bit dry, but not so bad, and you've got plenty of aioli to provide fat & flavor to the sandwich.
Give it a try and make sure to let me know how it goes!
Ingredients
Green Chef provides organic and non-gmo ingredients - unless they need to substitute something due to shortages. Everything that came in my box was labeled organic. It was all very good quality and several of the ingredients were already prepped, meaning I spent less cooking time.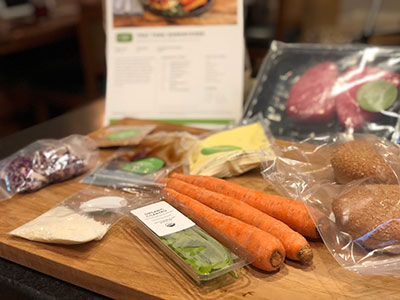 The ingredients for the sandwiches were packaged together in a separate bag, so sorting was a snap, and it was clear what belonged in this recipe vs the others I ordered. Included with this recipe was:
6 oz Yellowfin tuna steak
2 Whole wheat buns
Tamari sauce
Yellow curry aioli
Red cabbage
3 whole carrots
Shredded coconut
Cilantro
Thai-style spice blend
Making the dish
The recipe card suggests that this meal should take you about 30 minutes...and I think that's very reasonable. The only part that takes some time is roasting the carrots, and you can be working on other things, while the carrots are in the oven.
Directions are broken down into seven steps, none of which are terrible complicated. The only step, I'd suggest you be very careful with is cooking the tuna. I prefer it just barely seared on both sides, and still raw in the middle. That means about 2 minutes (max) cooking time on each side. While the recipe card tells you too cook to your desired doneness, it also says to cook it all the way through, about 3 - 4 minutes per side. I think that's too much, and you'll end up with a dry piece of tuna.
The steps for cooking these sandwiches are:
Prep Carrots & Cilantro: Prepping the cilantro is very simple. Just take the leave off the stems and do a quick chop on them. The carrots require a bit more knife work, where you want to get them into 3 - 4 inch long french fry shapes.
Season & Roast Carrots: Once cut, you'll add the carrot sticks to a bowl, add in a drizzle of oil, the thai spice, some salt and pepper; and then toss to coat. Spread them in a single layers on a cooking sheet, and roast in a 400 degree oven for 12 - 15 minutes, You want to take them out when they are a bit caramelized, but still slightly firm.
Marinate & Coat the Tuna: You make a quick marinate with the tamari sauce by adding it, along with the tuna to a bowl. Toss to coat. After about 5 minutes, you spread the coconut on a plate and then press both sides of the tuna into it; creating a crust on the tuna.
Cook the tuna: Heat a non-stick pan over med-high heat until it's hot and add a drizzle of olive oil. Then lay the tuna down to sear on the first side. You should hear a strong sizzle, and cook for about 2 minutes. Then turn and cook for another 2 minutes; to get the tuna rare in the center. Cook longer for well done.
Dress Cabbage: Green Chef prepped the cabbage, so there's not chopping needed. But you do need to take about 1/3 of the aioli and dress it. Season with salt and pepper and toss together.
Toast Buns: While they weren't bad, the buns where the weakest ingredient sent, and it's critical to "bring them back to life" a bit with a toasting. Since the oven is on for the carrots, you can toss them in for just a few minutes - a little butter would make them even better!
Plate your dish: You'll want to slice the tuna into ~1/2 inch thick pieces. I found I had plenty for two good sized sandwiches. Spread some of the aioli on the bun, lay on the tuna, and then top with the cabbage and cilantro. Plate up with the carrot fries and you're good to go!
Taste
The fact that I got a good piece of tuna is what made this dish. If the fish was tough, or old/smelly, nothing any of the other ingredients could do would make this any good.
The coconut crust added a bit of flavor, but less than I would have expected. It was really the combination of the crunchy cabbage, the savory/sweet aioli and the tuna itself that made the sandwich. They combined to create a nice combination of flavors and textures.
As I mentioned above, the bun wasn't the best piece of bread I've head (bread that's been refrigerated is often not great) but the toasting helped out quite a bit. The carrots are most definitely not "fries". There's nothing crunchy or "fry like" about them - other than the shape. But they did taste nice, and provided you don't over cook them into a squishy mess, I think you'll like them.
Green Chef's Thai Tuna Sandwiches Spiced Carrot Fries, Red Cabbage, Yellow Curry Aioli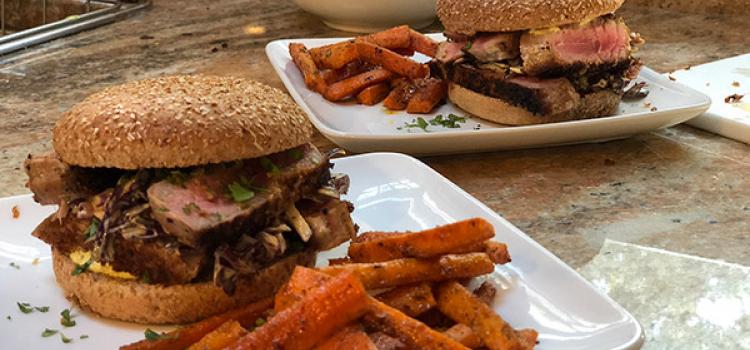 Overall
I'd happily give these Thai tuna sandwiches another go.
I liked the flavor a lot. Was very impressed with the quality of the fish. And thought the textures of the sandwich ingredients worked really well together. The "carrot fries" are not really fries, but they were tasty spiced carrots.
The prep was easy to do, and the cooking did only take about 30 minutes, so I'd don't think you'll have much trouble cooking this one after getting home from work.
Give it a try, and if you do, please let me know how it goes. And make sure to use the discount code below.