Review of HelloFresh's Juicy Lucy with Tomato Onion Jam & Arugula Salad
Review Summary
I first ran across the Juicy Lucy when I was doing research for my series of NFL Burgers and found that not only is it a staple of Minnesota...it's also a damn fine way to make burger.
For those unfamiliar, the Juicy Lucy is a cheeseburger - with the cheese stuffed on the inside. As people are quite creative, the recipe has evolved to include all kinds of cheese and non-cheese stuffings alike. Most importantly, when done right, the Juicy Lucy is simply delish!
HelloFresh's version is stuffed with cheddar cheese, paired with a tomato-onion "jam" and an arugula side salad. Of course, the most important questions - Is it any good?
I liked the flavors and the quality of everything that came. The onion jam had a rich flavor, and was a great topping for the burger (one that you can leave off if you don't like it). The side salad was nothing special, but fine - I like a simple arugula salad. I alway worry about the quality of bread that comes in kits, but after a quick toast in the oven, the bun came out nice; tender with crispy edges.
So the flavors were all good...but that said, my chief complaint was there just wan't a lot of food for two people. There's enough beef for two 5oz burgers, which is obviously a bit bigger than a quarter pounder, which sounds like enough, but there's little else of substance on the plate - no starch. So I left the table wanting a bit more, and next time would probably make of some of my own fries, or rice, or pasta...something else to provide a bit more filler.
The other impact of amount of meat, is there is just barely enough to get full coverage around the cheese your stuffing - in fact, I could not use all the cheese. I was able to make it work, but did have one minor cheese blow out on one of the burgers when cooking.
The tomato onion jam was the star for me, and will likely become something I regularly make on my own.
Cooking time for this meal is advertised as 40 minutes, and it took me just about that amount of time. None of the directions where complicated or ambiguous. Sealing in the cheese within the burger, is the only tricky part that I think some people with have a bit of trouble with.
Overall, I was happy with the flavors and the quality of this meal. I just wish the burgers where bigger, or maybe they threw in a couple potatoes to make some oven roasted wedges. It would have made it more complete/filling.
Ingredients
All the ingredients that came from HelloFresh were good quality, fresh, and tasted nice. I just which there was more ground beef for bigger burgers.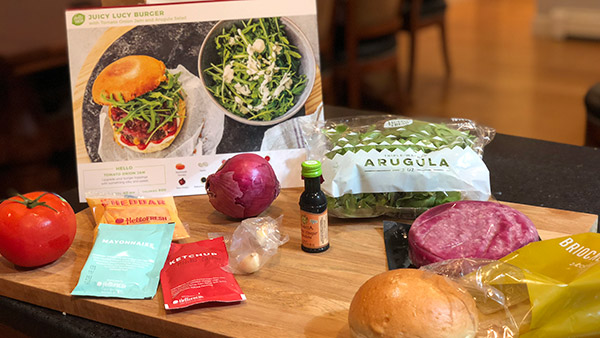 The ingredients were packaged together, making sorting a non-issue, with the ground beef sandwiched between still frozen icepacks. Included with this recipe was:
Beefsteak tomato
Red onion
Garlic
Balsamic vinegar
Ground beef
Cheddar cheese
Brioche buns
Mayonnaise
Ketchup
Arugula
The only things that you'll need from your pantry are salt, pepper, sugar and oil (I used olive oil).
Making the dish
HelloFresh says that you should be able to make this recipe in 40 minutes - which I think is very reasonable. In fact with a bit of practice, I'm thinking you could do it in 30. The only tricky part, and where you can spend a lot of time, is stuffing the burgers.
In my opinion, where was more cheese than you can reasonable stuff in the amount of meat they gave you, and I ended up not using all of it. I'm sure if I took extra time I could have made it work, but I don't think anyone wants to spend 15 minutes making two burgers. And the more you stuff in, the more you risk a cheesy "blow out" when cooking. Take your time, make sure you get a good seal around all the stuffing; don't be afraid to leave out some of the cheese.
HelloFresh breaks the recipe down into 6 steps:
Preheat & Prep: Set your oven (or toaster oven) to 400 degrees to toast the buns. Then dice & slice the tomato & onion. You also start roasting the garlic by wrapping it in foil with some olive oil, and popping that in the oven. In 20 minutes it will soften and get a bit sweet - ready to make a dressing.
Make the onion jam: In a pan on the stove top, you cook the onion & tomato with salt & pepper until broken down, then add a bit of sugar and balsamic vinegar. You then reduce until it reaches "jam" consistency.
Shape Patties: You divide the beef and then flatten into thin patties. Place the cheese in the center of each and fold over the edges to seal. This is going to be a bit tricky for some...and you may not be able to get all the cheese stuffed in there. It's important to make sure the meat is sealed everywhere so the cheese doesn't leak out.
Cook Patties: Clean the pan used for the jam, and re-heat with some olive oil. Fry the burgers for about 3 minutes per side.
Toast the Buns & Make Dressing: Split the buns in half and toast in the oven for few minuets until browned. Take the roasted garlic and smash with a fork, and then combine (to taste) with mayo, vinegar, oil and salt and pepper - that's the dressing for the salad.
Finish & Toss Salad: Toss the arugula in the dressing. Serve the burgers with the ketchup, jam, mayo...all to taste, and you're good to go!
Taste
I did really like the flavors HelloFresh put together. The Juicy Lucy is a way to make a burger a bit more exciting...and the cheese and the beef where both good quality and good flavor. As you bite into the burger, you get the flavor and texture of the gooey cheese...which I really love. And visually it's a very cool dish.
The reality is the onion jam was both the most prominent flavor & the star of the burger. It had a nice balance of sweet and tart; and of course the flavor of the caramelized red onion - which you gotta love.
I am a bit of a sucker for a simple arugula salad, but admittedly, there was nothing special about it. It was a nice fresh, clean tasting side - but not very substantial.
I wish there was more food and I'd probably call this a box for 1.5 people vs 2.
HelloFresh's Juicy Lucy with Tomato Onion Jam & Arugula Salad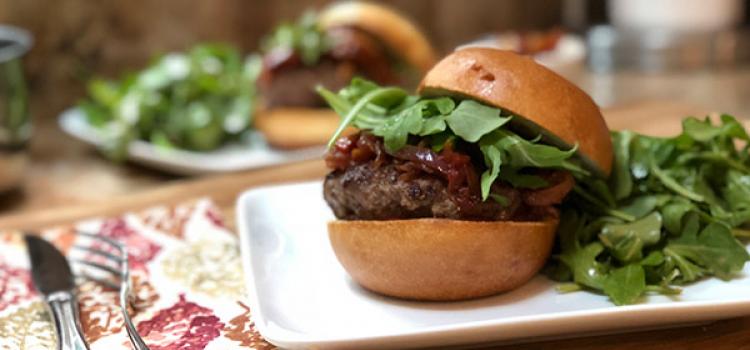 Overall
So, I generally liked the flavors and quality of this meal a lot, but was disappointed in the quantities. It would make a great lunch, but only a small dinner.
The ingredients were good. The directions simple and clear. And not too time intensive. But it's also one that would be pretty easy to make on your own.
I'm a big fan of HelloFresh & am regularly impressed with the options they provide. Based on the fact that there's probably better things to choose in the weekly menu, I'd probably give this one a pass, and make my own Juicy Lucy when I'm jonesing for one.
Let me know what you think of the Juicy Lucy. Let me know what you think of HelloFresh. If you're interested in subscribing to HelloFresh, make sure you get a discount by clicking below.