Review of HelloFresh's Sriracha Cha-Cha Chicken with Hoisin, Roasted Sweet Potatoes, and Broccoli
Review Summary
Sriracha is all over the place today, from candy to chips, and I was intrigued to give HelloFresh's take on sriracha chicken a try. Along with the chicken, they have you roasting up some sweet potatoes and doing a quick roast on some broccoli (my favorite way to cook it). Of course, most importantly, was it any good?
Yeah. It was pretty solid. There wan't anything that blew me out of the water with this dish. While it's a bit more exotic than your average chicken + potato + vegetable; it's still chicken + potato + vegetable.
Smartly, HelloFresh pairs the spicy sriracha with some sweet hoisin sauce that balances out the heat. In fact, I'd actually say this is more a "spicy" hoisin chicken than a sriracha chicken. You do a final garnish of sesame seeds for the chicken, along with some green onions. Both add a bit of texture & flavor, but mostly make the dish more visually appealing. They successfully jazzed up a boneless skinless chicken breast - normally a very boring cut of meat.
The sweet potatoes are nice roasted in the oven with crispy edges that added a nice texture to them. And the olive oil coated broccoli got nicely charred. I love the texture of the florets when it's cooked this way. The ingredients worked ok together but it still very much felt like three separate components vs an integrated dish.
The recipe card was clear and didn't have anything I'd call a mistake. It doesn't say to peel the sweet potatoes, but I did.  It does say this dish should take 35 minutes to make, and it took me just about that amount of time. Some of the timing components will vary depending on your oven and speed of prep.
Overall, I'd call this is a simple, straight forward dish, based on a pretty standard fare, with a couple nice twists. If you're a chicken breast eater, this would be a great way to get a different version in the rotation. It makes a nice meal that most should be able to do after getting home from work.
Ingredients
Everything that came in the HelloFresh box for this recipe was good quality, fresh, and tasted good. They were also packaged together in their own bag, making sorting super simple.
The chicken breasts where good, but they were a bit smaller than what I'd normally get in the grocery store - about 6 oz each.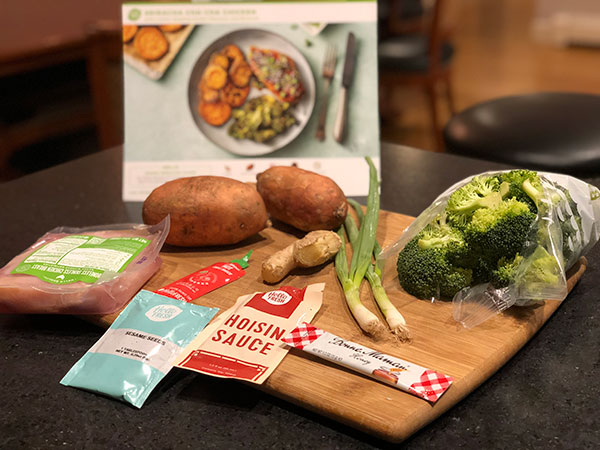 Included with the recipe was:
Ginger
Scallions aka green onions
Sweet potatoes
Broccoli florets
Chicken breasts
Hoisin sauce
Sriracha
Honey
Sesame seeds
From your own pantry, all you'll need to add is salt, pepper and olive (or other cooking) oil.
Making the dish
HelloFresh splits the directions for this recipe into 6 steps, and suggests that it should take 35 minute to make. Based on my cooking, that time is reasonable, but you do need to keep things moving along. And make sure you're roasting the veggies and cooking the chicken at the same time.
The recipes cards that HelloFresh provided are slick and nicely written & designed, so you can keep them and easily go back to the recipe on your own.
The six steps for making this dish are:
Preheat & Prep: The oven needs to be set to 450 (which I love, high heat is great). While it heats, you peel and chop the ginger, the scallions, and cut the broccoli into bite size pieces. You also prep the sweet potatoes, which per the directions you simply cut into rounds. It does not say to peel them, but I don't love the skins, so I did.
Roast the Veggies: Separately, the broccoli and potatoes get coated with olive oil, seasoned with salt and pepper and put on roasting trays. Line them with foil for easier clean up. The suggested cooking time is 20 - 25 minutes, but I'd check a bit before that in case your oven runs hot. Both should brown nicely and become tender. While they roast, you need to be working on everything else (if you want to get done in 35 minutes)
Cook the chicken: The chicken needs to be taken out of it's package, patted dry and seasoned with salt & pepper. You then heat a frying pan over medium high heat, drizzle with olive oil and then sear the first side of the chicken for 4 - 7 minutes. I prefer to go a bit higher on the temp, and did my first side for about 5 minutes. Flip the chicken over to sear the other side. I think the total cooking time should be about 8 - 9 minutes. Much longer you'll have over cooked chicken - but you do need to make sure it's cooked through.
Mix the glaze & check the veggies: While the chicken cooks, stir together the hoisin, sriracha, honey, and a bit of water. It will be added to the frying pan later. The direction to check the veggies is a good one, and you should probably turn the potatoes over, and give the broccoli a stir after they've been in about 15 minutes.
Glaze the chicken: Once the chicken is cooked through you removed it from the pan and kill the heat. If needed, put the heat back on, and add a bit of oil if needed. Add the whites of the scallions to the pan and saute until softened (2 - 3 minutes) and then add the glaze to the pan. Scrape up the brown bits from the pan, and allow the sauce to thicken as it simmers. Return the chicken to the pan and toss to coat.
Finish & serve: Take the veggies out of the oven (if not already done), and give them a final seasoning if needed. Serve up a chicken breast per person with the extra glaze drizzled over the top, and the potatoes and broccoli on the side
Taste
While I wasn't blown away or "taken over to flavor town", I found this dish tasty enough to order again. While there was some spice from the sriracha, the sauce tasted more of hoisin than anything else. Which I was ok with me, with as I like hoisin sauce.
The chicken itself was tender and tasted like a fresh, high quality piece of chicken.
In general, I'm not a huge fan of broccoli, but this is actually my favorite way to cook it. The florets, cooked under high heat, coated with olive oil, essentially "fry", which gives them great texture and flavor. You need to make sure to season with salt and pepper, but it's easy to overdo the salt - so be careful.
Similarly, the potatoes, roasted in the oven, got nice crispy edges, while staying soft and creamy in the center. The broccoli and potatoes eaten together were very nice.
Overall I was happy with this one. it's a simple, nice chicken dish, that would be easy to make after getting home from work.
HelloFresh's Sriracha Cha-Cha Chicken with Hoisin, Roasted Sweet Potatoes, and Broccoli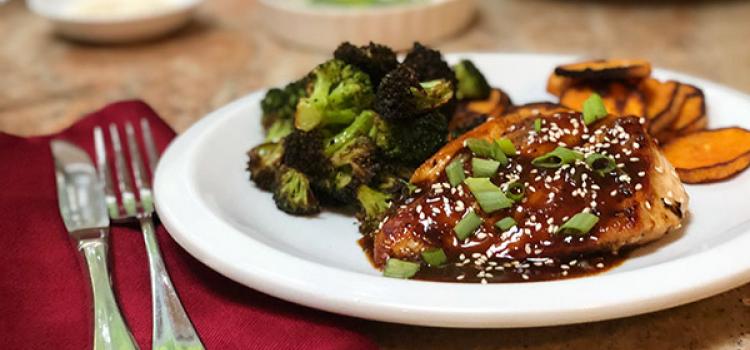 Overall
So, I'd suggest you give this one a try. It's simple. It's tasty. it's a crowd pleaser.
While it's not the recipe that's going to impress and make anyone go gaga for HelloFresh, it goes the job done.
All the ingredients that came were good quality, and I didn't have any major issues with the directions. I think most beginner cooks won't have too much trouble with this one.
If you try it, make sure to leave me a comment and let me know how it goes!