Review of Home Chef's Chicken Kiev with Parsley-garlic Butter and Green Beans
Review Summary
While Home Chef's Chicken Kiev is not a traditional version, it still captures the essence of the recipe. And most importantly, is a really tasty chicken dish. Of course, just about any fried chicken is going to be a pretty tasty dish.
This version starts off with a chicken breast, which is pounded out flat. That breast is seasoned & coated in a layer of panko breadcrumbs. It's then fried in canola oil until cooked through and perfectly browned on both sides. So far, I'd call this is a chicken cutlet.
The "kiev" part comes with the addition of a garlic/parsley compound butter that is slathered on top just after cooking. The butter melts into the hot chicken, adding some delicious buttery, garlicky flavor to the meat. The chicken is served along with roasted green beans, which (if cooked right) are tender yet firm.
I really liked the flavors.
The directions on the recipe card were easy to follow, and nothing was too hard to do. There is a frying step, and you've got to be careful anytime you're frying in oil (see my tips below). But it's a novice to intermediate level dish, and it took me about 40 minutes to make.
All the ingredients came fresh, clean and nicely packaged. The ingredient quality was what I'd expect from the grocery store, and while the portion sizes where not huge, there was enough food for a complete dinner. There's no starch (potato, rice, etc) that comes with this recipe...but considering the chicken is fried, I can probably do without the extra calories.
Provided you make sure to season the chicken well, and don't over/under cook it, i think you're really going to like this one.
Ingredients
There are not a ton of ingredients in this recipe and everything that came in the Home Chef box, was packaged together & simple to prep for cooking. The produce and chicken were good quality, and there was plenty of food - particularly the beans.
Included in the box from Home Chef was:
3/5 oz butter
2 garlic cloves
2 boneless skinless chicken breasts
6 oz canola oil
1/4 oz parsley
12 oz green beans
1 oz flour
1/2 cup panko bread crumbs
In addition to the ingredients included in the box, you're going to need Salt & Pepper, olive oil and some cooking spray (you can use olive oil if you don't have it).
Making the dish
The recipe card has the prep and cooking time for this recipe at 35 - 45 minutes, and when i cooked it i was right around the 40 minute mark (of course i was filming my cooking, which slows me down). If you are not used to frying in oil, it may take a bit longer, as you should take some extra time to make sure you're doing things right.
While the recipe card breaks the process down into 5 steps, there really three things you're doing. Making the compound butter, cooking the beans, and cooking the chicken. Make sure to use high heat on the beans to cook them quickly, and make sure your frying oil is at the right temp to get the chicken cooked through & browned.
Home Chef breaks down the cooking process as follows:
Prepare the ingredients: Finely chop the garlic and the parsley. Trim the ends off the green beans, and unwrap and dry off the chicken beasts.
Make the butter & pound the chicken: To make the butter, you add the parsley and garlic to the butter than came in the box, and at room temp, stir to combine. If the butter is cold, let it warm up, but you don't want it melted. Pounding out the chicken breast can be a bit tricky, but try using my technique with a wine bottle. The idea is to get the chicken the same thickness throughout.
Roast the green beans: Unfortunately, it's easy to overcook green beans in the oven. The directions have you tossing them with olive oil, seasoning with salt and pepper and sliding them into a 400 degree oven. I agree with all of that...may go as high at 450 degrees. The suggested time is 11 - 15 minutes, but I'd test them at about 9 minutes in, as I like the green beans just barely cooked.
Bread the chicken: This is a two step process. You make a thin batter with water and the included flour. Then you take the battered chicken and coat with the bread crumbs. Before doing any of that, you want to make sure to season the chicken with salt and pepper. Get as much of panko coating as you can on the chicken, and once coated, you want to quickly get them into the frying pan
Fry the chicken: You want to use a frying pan with high enough sides so the oil won't splatter over the sides. Then, before adding the chicken, test the temp by dropping in some extra panko. It should sizzle and bubble. If not, you need the oil to be hotter. Once the temp is right, gently add the chicken in, and cook 3 - 5 minutes per side. Once cooked, drain on a paper towel. Go ahead and plate, and lay 1/2 the compound butter on each check breast.
The directions were clear, well written, and easy to follow.
Taste
At the end of the day, we're talking about a fried chicken with butter. Unless it's burned (really un-likely) or overcooked, it's going to taste great.
Critically important, is that you season the chicken on both sides with salt and pepper. Chicken doesn't have a ton of flavor and a bit of seasoning goes a long way. If you do that, you'll find the whole thing tastes great...but the area that the butter melts into will be absolutely wonderful.
By frying, it is pretty easy to keep the chicken juicy and tender. It cooks quickly in the oil, so don't over cook it. It won't take more than 5 minutes per side for sure.
The green beans help cut through the rich coating on the chicken. Again, you need to make sure that you season them well with salt and pepper. They tasted fresh and clean. I don't like them soft or mushy, so I'll tend to cook them shorter, and keep them a bit firmer than most recipes call for.
A quick add-on that love for green beans is a little squeeze of lemon juice to brighten up the flavor,
Home Chef's Chicken Kiev with Parsley-garlic Butter and Green Beans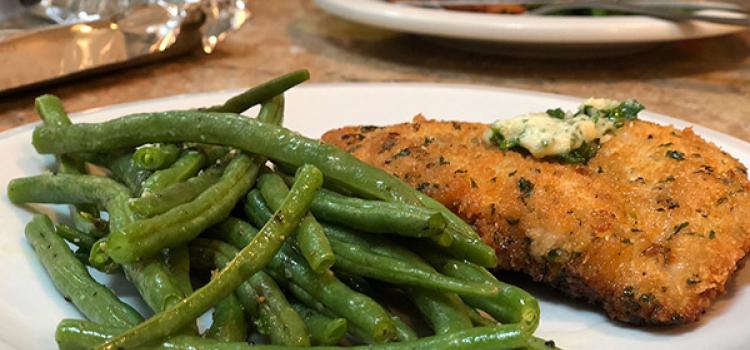 Overall
Really a very solid dish from Home Chef. 
The flavor of the chicken is great. When cooked right, the side of green beans is crunchy and fresh tasting. Some people may be bummed that there's no starch, but I didn't really need it. The two portions were not huge, but enough for my wife and I (although i would have happily eaten some more!). And this is a dish that kids would recognize and enjoy.
The directions and the recipe card were clear and the techniques were solid. Frying is a cooking method that not everyone is going to be comfortable with, but it's not that hard, and described well so a novice can take it on. Just take your time, remain calm and all will be well.
I'd give two thumbs up to this one. I think you'll really enjoy it.