Review of Home Chef's Italian Wedding Soup with Pork Meatballs with Parmesan Ciabatta
Review Summary
When I unpacked the Home Chef box and saw the ingredients for Italian wedding soup, my first question was whether we'd have a match made in heaven, or be headed to divorce court?
Well, after about 40 minutes of prep and cook time, happy to say, that this one is a winner...and little soup babies are probably in the future.
Essentially, this is a chicken soup with kale, pork meat balls, and tiny little pieces of pasta called Ditalini. On the side are some parmesan croutons, which provide a great crunch/texture element to the dish (and are nice to dip into the soup).
The flavor is not the most robust I've ever had, and I actually would have liked more broth in the soup. I would have loved to have another package of chicken base so I could get that stronger flavor, and create some more broth.
It's a very simple dish to make, in fact there's almost no cooking. You do need to form and sear the meatballs on the stove top, but just about everything else happens in the soup pot.
The directions were clear, and as i did the steps, everything was coming out as described. When finished, there was plenty for two portions (and a bit more) but as mentioned above, I wish I had some more broth. And next time I make this, I'll probably have some of my own chicken stock on hand to add to the dish.
If you like soup, you're going to like this one, so I'd certainly add it to the rotation. Thumbs up.
Ingredients
The ingredients for Home Chef's Italian wedding soup came bundled together into the box they shipped. I was able to simply move them all to the fridge and ended up cooking the soup the next day.
Everything that came was good quality and fresh, I didn't have any issues with any of the ingredients. The ciabatta bread, was a bit stale, bread rarely travels well, but because we were making toasted parmesan croutons, that didn't matter at all.
Included in the box was:
1 oz grated parmesan cheese
1 tsp. Italian seasoning blend
1 Ciabatta
12 oz ground pork
3 oz Ditalini pasta
1 tbsp cornstarch
1 shallot
4 oz kale
4 tsp chicken base
In addition to the ingredients that Home Chef provides, you'll need to get olive oil, salt, pepper, and cooking spray from your own pantry.
Making the dish
I found this to be a very simple dish to make. There's really only one "cooking" step, where you sear the meatballs on the stove top, prior to putting them into the soup. Just about everything else is done in the soup pot.
It took me about 40 minutes to make it, while I was also filming, so most people should be able to get it done in a bit less time. This is also a dish that I think could be better the next day. So if you wanted to make it at night, and have it ready for dinner later that week, that would work great.
Home Chef breaks the cooking down into 5 Steps:
Prepare the Ingredients: Here you're dicing up the shallot, slicing the ciabatta, and taking the large stems off the kale and give it a course chop
Form the meatballs: Home Chef has you add cornstarch to the meatballs, and I'm not sure why...I've not heard that trick before, but go ahead and do it. Critically important (and it is in the directions) is seasoning the meatballs with salt and pepper. I'd use a bit more than they suggest to make sure the flavor shines. They also suggest 8 meatballs, which for me turned out a bit big. I might suggest 10 or even 12, so they are smaller and bite size.
Sear the meatballs: Here, you cook the meatballs in olive oil over high heat on top of the stove. This process browns the meat, which creates additional flavor. And you use the soup pot, which ends up putting more flavor int he soup. Use high heat. The meatballs won't cook all the way through, but that's ok, they'll finish cooking in the soup.
Start the soup: In this step you sautee the shallot, and then combine the chicken base & Italian seasoning with 4 cups of water. I would have liked more broth, but if you simply add more without more chicken base, the flavor will be pretty flat - I'd love Home Chef to give a bit more of that base.
Bake Ciabatta and Finish Soup: As the soup comes up to a simmer, you drizzle olive oil and parmesan cheese on the sliced ciabatta and toast them in a hot oven until browned - about 10 minutes at 400 degrees. You also add the pasta, kale and meatballs into the simmering soup base. Taste and then season with salt and pepper. To thicken the soup, Home Chef has you use some remaining cornstarch & water to thicken the soup just slightly. All the flavors will blend together. You need to get the pork meatballs cooked through, which shouldn't take more than 10 minutes. If you over cook them, they will dry out.
Make sure to check on the bread in the oven after the 7 or 8 minute mark. It can go from toasted to burnt pretty quickly. And make sure to taste the soup for seasoning and adjust as needed.
The whole process took me about 40 minutes, and the steps were well written and clear.
Taste
This is a good simple soup. Fundamentally, it's just a twist on chicken soup with the main flavor of the broth coming from Home Chef's chicken base.
I was happily surprised that base was not overly salty (often a problem with concentrates). I actually wish there was a bit more, so the broth could pack even more flavor. The package of Italian seasoning brings notes of oregano & thyme to the soup. It's not the rich broth that you only get from cooking chicken bones and vegetables for hours...but it's good, and it takes 40 minutes!!
The pork meatballs were tender, and provided you season them well, with salt and pepper, are quite tasty. They provide good body for the soup, as does the kale and the pasta.
I also really liked the croutons on the side. Bread, toasted with olive oil and parmesan...how could you go wrong? They provide a great texture contrast to the soup, and I liked dipping mine in the soup.
Home Chef's Italian Wedding Soup with Pork Meatballs with Parmesan Ciabatta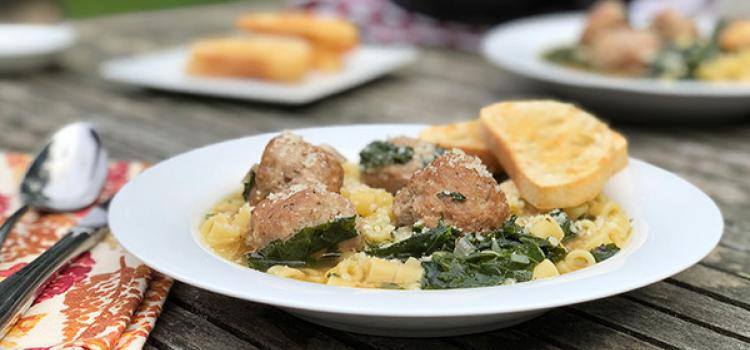 Overall
This was a good soup, and I'd give the recipe a thumbs up.
At its essence, it's a simple chicken soup. The chicken base & Italian seasoning from Home Chef do a good job of bringing flavor to the soup. Now, if you're used to an Italian grandma slowly making her version all day in the kitchen...No it's not the same, but this will only take you 40 minutes!
I do wish there was more broth as my bowl was heavy on meatballs, pasta and kale, and a bit light on liquid. The good news is that there's plenty of pork and pasta for this to be a filling dish, and I was very happy with the portion sizes. In fact we had left overs. When i make it again, I'll have some extra store bought chicken stock on hand and add it to the pot.
I'd also suggest making more, smaller meatballs, which would make them closer to bite size and bit easier to eat.
All and all, I really liked this one, I'd give it two thumbs up. If you give it a try, let me know what you think.