Review of Medifast's Turkey Meatballs Marinara
Review Summary
Before getting into the merits and weaknesses of Medifast's Turkey Meatballs Marinara, I want to point out what (IMO) are the key selling points of all Medifast meals. Weight loss & Convenience. 
On those to points, these Turkey Meatballs score well. The meal could not be simpler to make. It comes fully cooked AND shelf stable, so you don't need to keep it in the fridge. And it means it would be super easy to take one to work, or when traveling, and you don't need to keep it cool. Hell, you could keep a dozen in your desk at work. It literally takes about 3 minutes to get it fully prepared.
The meal contains 6 ping pong ball size meatballs, in plenty (probably a full cup's worth) of tomato sauce. It'd call it a reasonable lunch size portion, for someone on a diet. And it's only 290 calories.  That's a small fraction of what I pound down anytime I make a trip to the deli for a sandwich & chips.
So…now on the flavor. I have to say, that I had low to moderate expectations going into this meal. I'm not a huge fan of pre-packaged food, and diet oriented doesn't help my expectations.
The reality is, I can say that the meatballs & sauce were OK.  And probably a bit better than I expected. The meatball itself had a smooth/homogenous texture, similar to other pre-packaged meatballs I've had.
The sauce was plentiful, and again tasted like a decent jarred/canned sauce from the grocery store. There were a few vegetables that I could identify, as well as bits of turkey integrated into the sauce.
If I've got a need/desire to get a very simple meal cooked, that was easily calorie controlled, and tasted ok, this definitely gets the job done.
Ingredients
Because Medifast's Flavors of home come as fully cooked & packaged meals, the notion of "ingredients" in the sense of a meal kit, doesn't really apply. You're not cooking anything. That said, what goes into the food we eat is obviously pretty important. So, into these turkey meatballs marinara goes:
Water (fascinating this is the first ingredient!)
Cooked turkey meatballs
Onion
Salt
Spices
Cooked ground turkey
Tomatoes in juice
Onions
Crushed tomatoes
Mushrooms
Tomato paste
Red bell pepper
Canola oil
Many other things, I don't really know anything about, like "xanthan gum"
Making the dish
One of the best things about these Flavors of Home meals, for many people, is there is no "making the dish". The meals come shipped fully cooked and packaged in a microwaveable tray.
They don't need to be kept in the fridge, making it really easy to bring them with you wherever you go. Each meal comes in a light cardboard wrapping that has nurtrition and heating info. It's easily removed and you're left with a microwave ready container.
Simply poke a few holes in the plastic cover to allow steam to escape and microwave on high for about 2 minutes. Obviously times may vary a bit.
Once it rests for a minute you're ready to eat – either out of the tray, or you can plate it up.
 
Taste
While these are not gourmet meatballs, they are pretty decent. The texture is very similar to any other frozen/pre-packaged meatball you've ever had.
I tend to call it a "smooth" texture, as there are no pockets of firmer or softer meat, like you'll normally see with hand rolled meatballs.
The flavor of the meat itself is clean, and fairly mild tasting. Most of the flavor comes from the sauce.
Fortunately, tomato sauce is something relatively easy to make taste good. Medifast's sauce has a good consistency, perhaps just a bit on the thin side. There are a few pieces of veggies (I saw mushroom & red pepper) visible in the sauce, as well as, what I think were small bits of ground turkey.
It's not an Italian Grandma's sauce, but I'd say it's the equal to just about any jarred grocery store sauce I've had. The combo works pretty well, and while I was in no way wowed by the flavor, it tasted fine.
Medifast's Turkey Meatballs Marinara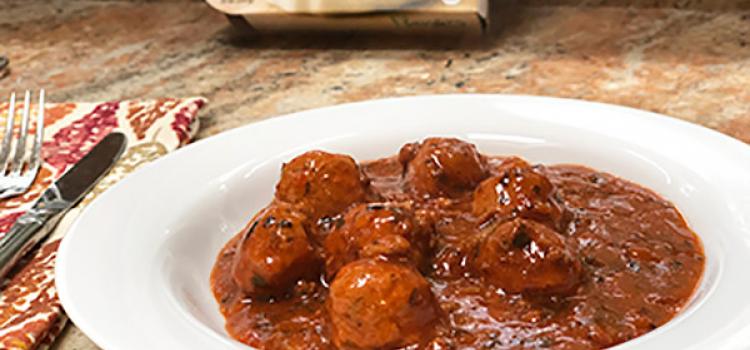 Overall
I went in expecting something akin to the canned spaghetti & meatballs of my youth. I was pleasantly surprised to find the meatballs were significantly better than that.
I wasn't blown away with the flavor. And I don't think I'd make this a normal meal UNLESS, I was highly motivated by either the convenience or the portion size/calorie count.
If you're looking for a decent meal, that you can take anywhere, and be eating in 2 minutes, this would be a good one. Or if you've got the desire & discipline to keep your meal to around 300 calories, this is also right for you.
Give it a try and let me know how it goes.