Review of Purple Chef's Skillet Fettuccine with Chickpeas & Tomato Butter
Review Summary
I recently ordered and cooked, three Purple Carrot recipes recipes, and while I liked them all, this Skillet Fettuccine was my clear favorite. Now for those that don't know Purple Carrot, it is a meal kit company based out of the Boston area that specializes in 100% plant based meals...ie no meat.
As a meat eater myself, I'd say I'm a fair, but tough critic, whenever I hear 100% plant based; and the fact that I really like this recipe says a lot.
The dish itself is relatively simple. A quick sauce, made from tomato paste and (vegan) butter, coats the freshly cooked fettuccine. To add some body, texture and protein to the dish, Purple Carrot provides chic-peas, which are separately fried (on the stop top) until browned with crispy edges. While subtle, those chic-peas also add some additional flavor.
The final major component to the dish is a bunch of asparagus, just barely cooked, which lightens everything up. The asparagus is finished with lemon juice, and that acid really helps add a new dimension to the recipe.
All the ingredients that came from Purple Carrot were clean, fresh and tasted like they were supposed to. And the quantities where good. There was plenty for two healthy servings; if anything the full can of chickpeas was perhaps more than I needed.
The recipe was simple to make and everything came together quickly; in about 30 minutes. And you're only using one pan and one pot, so clean up isn't too bad either.
Generally, pasta dishes are great for omnivores looking to cut out meat. I didn't feel cheated at all, and there was no "mock" meat, that drew my attention to the fact that I wasn't eating meat.
I'd give this recipe a thumbs up for sure, and suggest you give it a try. If you do, please let me know how it goes in comments.
Ingredients
The box from Purple Carrot arrived at my house mid day and sat outside until I got home. When I did unpack it, the ice packs were still frozen and all the ingredients were bagged together by recipe, making sorting them easy.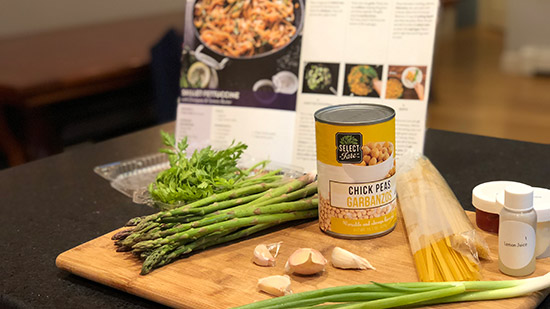 The Skillet Fettuccine didn't have a ton of ingredients, which is good. Everything looked and tasted fresh, and I was happy with everything. Included in the box was:
1 can of chickpeas
4 cloves of garlic
2 scallions
Fresh parsley
6 oz of asparagus
6 oz of fettuccine
3 tbsp vegan butter
2 tbsp tomato juice
1 tbsp lemon juice
The quantities were good on everything. If anything, there was more than enough chickpeas - I would probably only use about 3/4 of the can if I made this again. Also, if I'm nitpicking, I would have liked a fresh lemon (and used the zest) in addition to the juice. But it still worked out just great.
The only things you need to provide are olive oil, salt and pepper.
Making the dish
Purple Carrot puts the cooking time for this recipe at 25 minutes. It took me a few minutes longer, closer to 35, but I was filming at the same time. However, I do think most home cooks are going to be closer to my time. Getting the chickpeas crispy takes a bit of time and attention - more so that I think Purple Carrot allows for.
The recipe card that comes with the box has detailed directions and pictures to explain each step of the process. It's well written, and I didn't see anything that's going to throw off the average cook. They break cooking down into 6 steps:
Prepare the Chickpeas: Not super complicated, this step has you opening a can and draining it's contents. Not hard. The chickpeas are packed in water, and since oil and water don't mix, you do want to take some time, and paper towels to dry them off well.
Prepare the Vegetables: As the chickpeas dry, you clean and prep all the vegetables. Slice the garlic & scallions. Chop the parsley leaves, and trim the bottoms (tough side) of the asparagus.
Cook the Pasta: You cook the fettuccine in salted (important) boiling water to al dente, and then reserve about a cup of the water to make the sauce. Rinse the pot and add some fresh water, put the pot back on the heat, to quickly steam the asparagus in the final step.
Crisp the Chickpeas: In a non-stick skillet, with some olive oil, you add the dry chickpeas and allow them to cook over high heat until browned and crisp. This step is advertised as 4 - 6 minutes, but it actually took me 10 - 12. You want them nicely browned. Once crisp, you remove them, allow the pan to cool (so the next ingredients don't burn) a bit before adding a bit more oil, the garlic & scallion whites.
Create the tomato butter: Add the vegan butter & tomato paste to the pan, and allow them to melt together. It looks like a LOT. But it actually is just fine. Add the cooked and drained fettuccine and the reserved pasta water; tossing everything to coat. Season with salt - I would add pepper too (for some reason Purple Carrot often leaves out the pepper). In a few minutes the sauce with thicken, then add back the chickpeas, parsley and scallion greens.
Serve: Add the asparagus to the pot of boiling water, and allow it to cook for 1 minute. Drain, and then add in the lemon juice. Season with salt (and pepper). Serve up the asparagus with finished fettuccine.
I'd make sure to hit this dish with fresh ground black pepper in a few places. But all the other directions were clear and straight forward. As mentioned above, I'd have loved a fresh lemon. And would have added some zest to the pasta. I may also add a bit of the juice to the pasta...as the best bites were when I had the tangy asparagus on the same fork as some pasta.
Taste
I really liked this recipe. In fact, my kids really like this recipe as well - which is saying a lot.
There's nothing about it that suggests "100% plant based" and any negative connotations that may come with that. The flavors are not overpowering or intense, but there's a complexity nonetheless. The sauce provides a mild background flavor that goes very well with the nuttiness of the crispy chickpeas; which also provide a nice texture contrast.
Where the pasta is rich, the lemon asparagus provides some lightness to the dish, that is needed and appreciated. In fact I'd say it's the spike of lemon that made the dish - without it, it would have been pretty flat.
It feels like a complete, interesting, tasty and healthy meal.
Purple Chef's Skillet Fettuccine with Chickpeas & Tomato Butter
Overall
Ordering this Skillet Fettuccine again would be a no-brainer for me. The dish was well put together, creative and tasted really nice.
It took about 30 - 35 minute to make, which (IMO) is completely doable if you're cooking when you get home from work. And none of the directions or cooking techniques were all that hard to follow. Most novices won't have much trouble with this one.
If you do try it, please leave me a comment and let me know how it goes.