Review of Take Out Kit's Indian Butter Chicken
Review Summary
For those who don't know them, Take Out Kit specializes in "exotic" food kits - Chinese, Indian, Southeast Asian, etc - that you associate with take out. Pretty obvious from the name, when you think about it.
This was the second Take Out Kit meal that I've tried.  And I'm happy to say, that with my second kit, I got a second winner.
The Indian Butter Chicken is a coconut curry like dish, served over basmati rice. The whole dish took me about 35 minutes to make, and exceeded my expectations for flavor. I'd happily order it again.
Take Out Kit's meals are shipped with shelf stable ingredients...meaning you don't need to refrigerate anything. I kept mine in the panty for about a week before I cooked it...and not having the pressure to get to the box is nice.
The version I had, contained chicken, which is packed in a pouch (similar to tuna), that also doesn't need refrigeration. If anything was less than ideal, it was the chicken. But honestly, it was better than I expected, and worked just fine in the dish. Next time order, I'd probably pass on the chicken (an option that will save you a couple bucks), and add some of my own - or even another protein like pork, shrimp or beef would work well.
The meal kit costs $34.99 (or $29.99 w/o chicken) and serves four people. I found there was plenty of food.
Cooking was easy as there is almost no prep work, and everything cooks in just two pots.
I really liked this dish, and I hope you give it a try.
Ingredients
Like all Take Out Kit meals, the box comes shipped with shelf stable ingredients, so no refrigeration is needed. Even better in my book, is that you don't feel any pressure to get the meal cooked before ingredients spoil.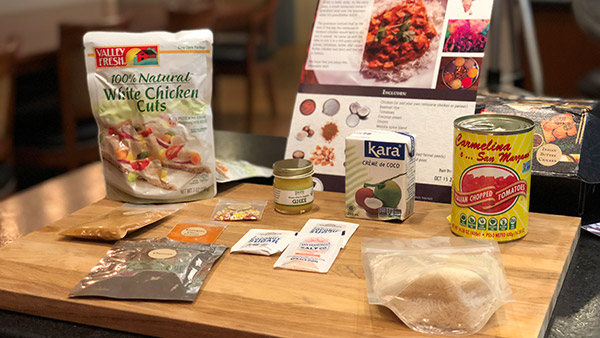 This box came with two pouches of cooked chicken. The chicken is diced into about 1/2 inch cubes and packed in a bit of liquid (similar to a can of tuna). As I've never had it, I had serious doubts about "chicken in a pouch". And I'm not going to lie, it was hardly the quality of freshly roasted chicken. However, the chicken tasted fine. It was slightly dry. But this dish is essentially a stewed chicken. And once added to the sauce, the texture and flavor of the chicken worked well.
Included in the box from Take Out Kit was:
2 pouches of cooked chicken breast
1 can of tomato
1 box of coconut milk
Basmati rice
Ghee
Coconut sugar
Marsala spice blend
Kashmiri chili powder
Dehydrated onions
Himalayan pink salt
Take Out Kit also provided a little after dinner treat called Mukhwas - they are candied fennel seeds, a nice little touch.
Making the dish
The Indian butter chicken took me about 30 minutes to make and I had no surprises or issues with the recipe card. The directions are clear and concise, and give you some tips/options to customize to your tastes.
The card breaks cooking the recipe down into 6 steps:
Cook the rice: Cooking the basmati is the longest step in this recipe, so you start there first. After doing a quick rinse on the rice (something I don't normally do) you start it in a pot/rice cooker with 2 cups of water, half of the ghee and half of the salt. In about 20 minutes you've got perfectly cooked, fluffy rice.
Prep Ingredients: The reality is there is very little prep to this recipe. The entirety of the prep work involved opening up the package of dehydrated onions, and adding a bit of water to rehydrate them. Then opening the tomatoes & coconut milk. Finally, opening and draining the chicken.
Create the Masala: You start the sauce by cooking the onions in the remaining Ghee for a few minutes, and then adding the Marsala spice blend and chili powder (to taste) to the onions. Toasting the spices like this brings out more flavor.
Add the Chicken & Seasonings: After a few minutes, the tomatoes, coconut milk, sugar, chicken and salt all go in.
Develop the Flavors: Everything is in the sauce, you just need to allow it to simmer for about 10 minutes. That will cook the rawness from the tomato and allow the flavors to blend. After 10 minutes you should taste the sauce and make any seasoning adjustments. I added the rest of the chili powder, a pinch more salt, and some pepper.
Plate: Right before serving, you fluff up the rice with a fork, and then plate a generous portion into a serving bowl. Spoon the butter chicken over the top and you're ready go.
I thought the dish tasted great as is, and there was plenty to serve 4. If you'd like, it would super easy to add some quickly cooked veggies or a different protein to the sauce.
Taste
Once again, i was impressed with the flavor I was able to get with this kit. Clearly, Take Out Kit has done their research & testing, as I would expect to spend hours of cooking time to get the results that I tasted.
The sauce is smooth and creamy, and has a very nice depth of flavor from the spice blend. As I mentioned, the chicken is not bad, but it is the weakest part of this dish. I might keep order the box sans chicken, and keep it in the panty until I had some left over roast chicken to mix in.
If you'll looking to add some fresh veggies, a quick saute on some bell pepper or eggplant would be a great addition of flavor and texture.
The rice cooked up very nicely and worked really well with the chicken.
Take Out Kit's Indian Butter Chicken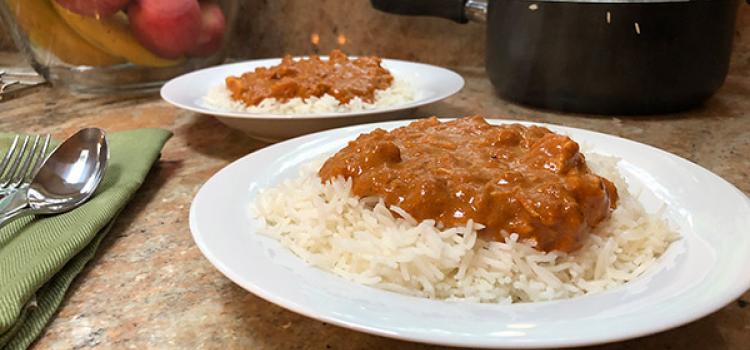 Overall
I would happily buy another Indian Butter Chicken kit from Take Out Kit.
The meal was easy to make. Tasted great. And it's actually hard to fine a Indian food either at a restaurant or in the grocery store where I live.
For some, the absence of fresh meat and vegetables is a bit of an issue. But, both would actually be pretty easy to add. What I think made this meal special is the quality and ease with which I was able to get some fantastic flavor. That alone is worth the $.
So, I'd suggest you give it a try. And if you do please make sure to let me know how it goes in the comments.