Review of Take Out Kit's Vietnamese Pho Noodle Soup
Review Summary
Living in San Francisco for nearly 20 years, more than a few times I enjoyed an incredible bowl of steaming hot Pho, served in a hole in the wall restaurant. And since moving to the burbs, I find myself thinking back to those meals, and regularly longing for something more exotic than Applebee's, and significantly better tasting, than a jar of something, bought in the Asian isle at the local grocery store.
With Take Out Kit, I've found what I'm looking for.
Now, their Pho admittedly is not as good as the truly authentic versions I've gotten in my hole in the wall shops, but I was honestly blown away with the flavors I was able to get with this kit.
Take Out Kit meals are shipped without fresh proteins or veggies. Which sounds odd. But I've found out it actually works pretty well. My Pho came with canned tofu, but there are directions for adding your own protein if you'd like. All the other ingredients are either dried (mushrooms), spice blends, or flavor packets that you add to water to form the stock.
The ingredients really did come together, and I didn't notice the lack of fresh food in the finished product. I did notice, that there is almost no prep work, and I had everything cooked in about 30 minutes.
The kit costs $32.99 and comes with four servings. I found there was plenty of food for 4 adults.
Bottom line, I really enjoyed this meal. It was simple. It was tasty. And was it far better tasting than what I'm able to get anywhere close to my house. So please, give it a try and let me know how it goes.
Ingredients
As I mentioned above, Take Out Kit does not ship fresh ingredients, and each box you get is shelf stable. That's nice, in that you don't have to unpack anything right way, and there's no pressure to get a meal cooked before the end of the week and the ingredients go bad.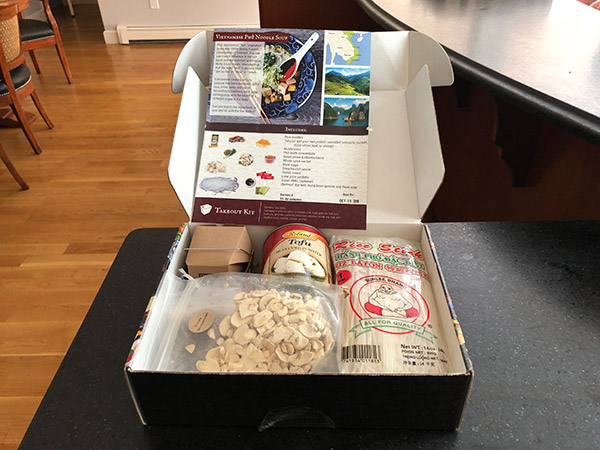 Essentially all of the ingredients you'll get are spices, flavor packets and canned/boxed goods. Everything in the box looked and tasted great. Everything seemed high quality and was well packages and cared for. The Vietnamese Pho box included:
Whole spice packet
Pho concentrate packets
Rice noodles
Rock sugar
Sirracha
Hoisin
Lime juice packets
Dried mushrooms
Dried green chili
Dried scallion and cilatro
Tofu (optional)
Making the dish
Since there is no fresh ingredients shipped in the box, there is relatively little in the way of prep work. That makes cooking this dish really quite simple.
There's a recipe card that comes in the box, that provides some nice pictures, context about the origins of the recipe, and of course directions (and tips) for cooking the Pho. They break the process down into six steps:
Prep the lime juice & tofu: The (optional) can of tofu is easily opened and drained. The pieces are then cut (usually in half) to make them bite size. The more interesting step is "making" the lime juice. Take Out Kit provided packets of powder, which when added to a few tablespoons of water, make lime juice. And not chemical/bad/Kool-aid tasting lime juice, but juice I'd happily use. That is a plus.
Toast the Spices: This is probably the only part of the recipe you might mess up. There is a small sachet of whole spices, that you are supposed to toast in a dry pan on medium heat. It's a common and smart technique to get more flavor out of them. But if you don't watch it, the spices could burn, which will give the broth an odd flavor. So don't walk away while you're doing it. After toasting, you put the spices back in the cloth bag, and give them a gentle crush, so they add more flavor to the broth.
Create the Pho Broth & Cook the Noodles: This step is super easy. 10 cups of water + the Pho flavor packets + the toasted spices over the heat. You then bring a separate pot of water to the boil to cook the noodles.
Add the Tofu & Mushrooms: Here you add the tofu & mushrooms (so it's an aptly named step) to the broth, and let everything simmer together. You'll also add the rock sugar to the broth.
Cook the Rice Noodles: The noddles are easy to cook, you simply add them to the boiling water and then shut the heat off. They soften in about 7 minutes. You can then drain, and they are ready to serve.
Plate & Enjoy: After a total simmer time of about 20 minutes you can plate by putting the noddles in the bowl and then ladle the broth over them. You then have lots of garnish for the soup...lime juice, sriracha, hoisin, green chili, herbs....so you can customize it to your taste.
The whole process was really very simple. I was considerably skeptical about not having any fresh ingredients, but they did a great job making a kit that's easy to make and tastes great.
Taste
As I already mentioned, I really like the flavors of this dish. I'm sure if I had 8 hours, and lots and lots and lots of experience making Pho, i could develop better, richer, more complex flavors. But let's be honest, that's never going to happen.
In 30 minutes I was able to make a dish that I really don't know how to make at all. And it tasted not only good enough, but really good. I'd order this kit again in a second.
The basic broth, the flavor of which comes from the Pho packets, has a deep, rich flavor that provides the base/body for the whole soup. The mushrooms, tofu and noodles really just add some different texture components.
The "character" of the soup really comes from the garnishes that you're able to add on (to each individual bowl) upon serving. If you like it spicier, that's easy to do. Like it sweeter, that's easy to do. Like it more tart, that's easy to do.
Because you have so make options, i think just about everyone will be happy.
Take Out Kit's Vietnamese Pho Noodle Soup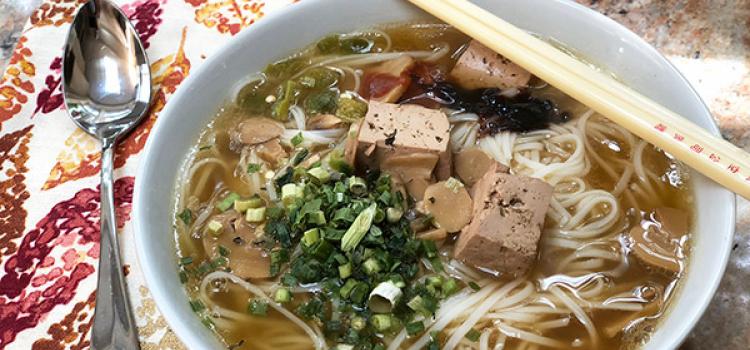 Overall
If you've read this far (congratulations, you're probably the only one), you already know that I'm a big fan of this recipe.
It's NOT very typical that I get a meal kit cooked, and after tasting it, feel there is no way I could do it better on my own. That's the case for this Pho. And it was easy to do.
I'd highly recommend this kit. I hope you give it a try. I know that I'm going to be ordering some more.
Let me know how it goes.