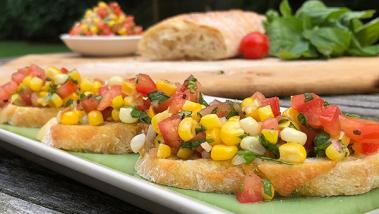 Corn & Tomato Bruschetta
One of my all time favorites during Summer when both the corn and the tomatoes are perfectly in season. The quickly cooked corn provides great texture and sweetness to balance the acid in the tomatoes. Dressed with a bit of balsamic & olive oil, it's a perfect "salad", that's even more perfect served on some toasted baguette
Recipe Overviews of Keys to Success
Most important is to use good, fresh corn & tomatos
Almost as important, is to use a good, fresh baguette - lousy bread will make it all bad
Add a bit of oil, vinegar, salt and pepper at time, tasting until you get everything just the way you like it.
Ingredients
Fresh roma tomatoes
Fresh Corn on the cob
Fresh basil
Olive oil
Balsamic Vinegar
Fresh French bread - a baguette
How to Make Corn & Tomato Bruschetta
Remove the husks from the corn and slice off the kernnels
Heat a non-stick pan on the stove until very hot
Add olive oil to coat, and the corn
Cook from about 1 - 2 minutes, until corn is just barely cooked through
Remove to a bowl to cool
Pre-heat you oven to 400 degrees
Slice the baguette into 1/2 inch slices and drizzle each slice with olive oil
Put the slices on a foil lined baking sheet and put into the hot oven for ~5-7 minutes until toasted, but not browned
Core and dice the tomatoes
Add the tomatoes to the corn
Finely mince about 2 tablespoons of fresh basil; add to the tomato and corn
Drizzle the tomato & corn with about 1 tablespoon each of good olive oil and balsamic
Season with salt and pepper
Taste, and adjust the oil and vinegar as needed
Serve with the toasted baguette, spooning heaping piles on as eat.
Enjoy!