Sun Basket's Moroccan Lamb Tagine with Artichokes and Tomato-Poached Eggs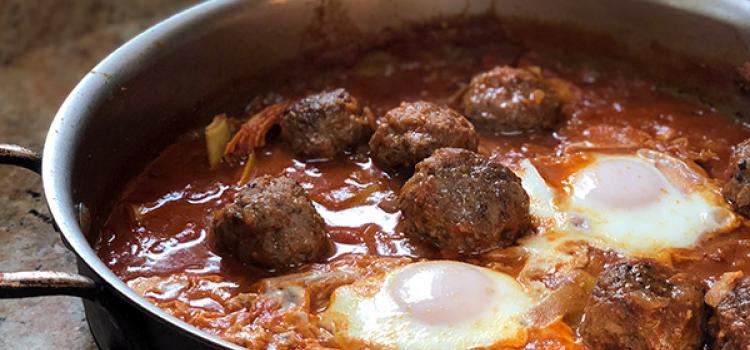 Review of Sun Basket's Moroccan Lamb Tagine with Artichokes and Tomato-Poached Eggs
Review Summary
A recipe like this one is what most interests me about meal kits in general. While I'm a foodie & an avid home cook, I still sometimes find it hard to stray from the same beaten path. Particularly when I'm cooking for my whole family.
This Moroccan stew from Sun Basket basket "forces" me to work with different flavors, combined in different ways, and I always get excited when something like this arrives.
But the most important question is, as always, is it any good?
The short answer is YES! The total cooking time on this recipe is 30 - 45 minutes, so admittedly, you are not developing the rich, complex flavors that come from hours of loving and tender care. But that's ok. Many people (like myself) don't always have hours to cook.
The dish is very tasty. The meatballs are a bit tough, without the addition of any breadcrumbs or veggies, but they are decent. The tomato based sauce, peppered with artichoke is tangy and flavorful, although I would have liked a bit more heat (maybe some optional chili flakes). For me, the star was the poached eggs - I'm a sucker for a poached egg. They added richness, flavor, and frankly fun, to the recipe.
The tagine is served over fresh cooked pearl couscous, which helps bulk up the dish to where there is plenty of food for two people.
It took me about 35 minutes to make the dish, which is right in line with the expectations on the recipe card. And nothing is too complex or confusing. The directions are well written and clear. The one area some home cooks may have trouble with is getting the eggs poached to the desired doneness - it's easy to over cook them.
Overall, I was quite happy with this one, and I'd definitely order again.
Ingredients
When I unpacked the box from Sun Basket, all the ingredients for this recipe were packed together except for the ground lamb, which was sandwiched between two frozen ice packs.
The produce that came was all organic, and was good quality & fresh. The only things I had to have on hand were oil, salt, pepper, and butter as optional.
Included with this recipe is:
Couscous
Ground lamb
Baharat (a spice blend)
Organic onion
Cooked artichokes
Fresh parsley
Tangine spice blend
Tomato sauce base
Organic eggs
Making the dish
Per the recipe card, this dish takes 30 - 45 minutes to make and it took me about 35.
Sun Basket breaks the cooking down into 4 steps, none of which are very complex or difficult.
Cook the CousCous: Sun Basket provided pearl couscous, which is larger than traditional. Too cook, you drop it in salted boiled water, cover the pot and let stand for 5 - 6 minutes. That's it. Before serving, you fluff it up with a fork. Depending on timing you may need to do a quick reheat on it right before serving.
Make the meatballs: After removing the lamb from the package and patting dry, you season the meat with the baharat, salt and pepper. Then form little meatballs. Very easy to do. I think the meatballs turn out a bit tough without adding breadcrumbs or some other "filler", but they are still pretty good.
Brown the meatballs: In the pan you'll make the tangine in, you add a bit of oil over medium high heat and sear the outside of all the meatballs. Once browned, you move them to a plate and prep the other ingredients.
Prep the Veggies & cook the tangine: For some reason, Sun Basket has you chop the artichokes, onion and parsley now. That's fine, but I would do it first and have them standing buy. Once chopped you go back to the pan, reheat and add oil if needed. Saute the onions with salt and pepper and cook for a few minutes until softened. Add the tangine spice blend, and then the tomato base, with 1 1/2 cups of water. Season with salt and pepper. The directions are too cook for 5 - 7 minutes until thickened, but I had to let mine go for closer to 12 minutes. Add back the meatballs and artichokes. You then create two "wells" with a spoon and crack the eggs into them, cover and cook for 2 - 3 minutes until the eggs are cooked to desired doneness.
The only timing piece I found off, was it took significantly longer than 5 - 7 minutes for the tomato sauce to reduce. Which is fine. The longer it goes, the more the flavors will develop. I think the only tricky part for most people, is going to be cooking the eggs. If desired, crack them in a separate bowl to ensure no shell gets in the tangine. If you have a glass lid, that will help you figure out when they are done - I like set whites but very runny yolks.
Taste
As mentioned above, I'm sure with more time, more ingredients, one could come up with a more complex and rich tangine. But for the time and effort, this one is pretty dam good.
The sauce itself has a nice tangy flavor that is offset by the creaminess that comes from the eggs. The lamb meatballs are not the best, as they are a bit tough, but the texture contrast is needed.
With the couscous, there is plenty of food for two people, and we had a bit of leftovers.
I would have loved a bit more spice/heat in the dish, but if you've got some spice/sauce in your own pantry, you can easily add that.
Overall
I'd say give this one a try for sure. And it's the kind of dish that I really appreciate a provider like Sun Basket can deliver.
As I mentioned above, I love it when I get dishes that are bit (or a lot) exotic, and this one fits the bill. It was both tasty and interesting.
It may be a bit complex for some home cooks to do after a long day at work, but if you move it along, you can get it done in less than 45 minutes. And the directions are pretty clear.
Give this one a try, and let me know how it goes. Give Sun Basket a try with the discount code below.