Blue Apron Meal Kit Review
Review Summary
Blue Apron is one of the larger, more popular meal delivery services on the market today. With good reason. Our experience overall was very good, and exposed a simple to use sign up/registration process, reasonably priced meals, that were delivered on time, and met our expectations.
Blue Apron's mission is to "build a better food system", and they are committed to delivering high quality, environmental friendly food, direct to consumers. By going direct they believe they can do so at competitive costs, and with chef designed recipes, compelling interesting emails.
Blue Apron is also one of the few meal delivery services that allow you to include wine purchases along with your standard meal orders (something this home cook greatly appreciates!).
Pros of Blue Apron
High quality ingredients that are sourced from GMO Certified farms
Receive $40 off your first order
Among the lower cost meal kit providers, with options as low at $8.99 per serving
Will deliver just about anywhere in the contiguous 48 US states
Cons of Blue Apron
Limited selections of "niched" meal kits (Vegan, Paleo, etc)
Shipping costs are not always included
Smaller weekly meal selection than several providers
Blue Apron's Cost
| Cost Per Serving | 2 Recipes Per Week | 3 Recipes Per Week | 4 Recipes Per Week |
| --- | --- | --- | --- |
| 2 Servings | $10.99 | $10.99 | N/A |
| Family Plan (4 servings) | $9.99 | $8.99 | $8.99 |
How Blue Apron works
Blue Apron has two basic meal plan options, The Family Plan & The 2 Person Plan.
The Family plan offers meals delivered in servings of 4, which based on my experience with the 2 servings package will be plenty for 2 adults and 3 - 4 small kids (under 9ish); for 2 teenagers, I wouldn't count on any leftovers. You can order, 2, 3, or 4 meals per week, and it's at the 3 & 4 meals/week tier that Blue Apron offers it's lowest price per serving at $8.99.
You can choose from 4 different weekly recipes, which are mostly kid friendly. At the time of this writing, the choices are: 
Beef Bolognese
Hosin Chicken Buns
Shrimp Tacos
Party Pizza
The 2 Person Plan, as its name would suggest offers meals portioned for two people, and you can order either 2 or 3 meals per week. There are more choices under this plan, with 8 different recipes to choose from. Meals in the two person plan cost $10.99 per serving.
Most of the recipes are tagged with easy to understand labels that make selection easier, and you can choose from any within your plan to make up your box.
Boxes are delivered to your door (or office) weekly, in a cardboard box, that is packed with insulated material and ice packs to keep the food at the right temperature. Detailed step by step cooking instructions are included for every meal.
Once you get the box, you can open up and cook that day, or keep things in the fridge a few more days until your ready to cook them.  Shipping is $7.99 or free for orders over 3 recipes per week.
Is Blue Apron Organic
According to their website, Blue Apron meals are all stocked with GMO free ingredients. Which is great for those who are concerned with GMO's. They also state they try to source as many organic ingredients as possible, and work to ensure all their proteins are sustainably and respectively farmed/raised.
Registering & Ordering
I found the registration and ordering process simple. You do need to create an account, but you can do so with your Facebook ID. When starting up, you'll need to provide all your shipping and billing information.  If it's your first time registering, looking for a discount offer, as Blue Apron will often offer up to $30 off your first order.
Once registered, your pick your meal plan, and select your recipes. You'll then be prompted to choose a delivery window. You do not need to be home for the delivery, unless you've ordered some wine (more on that later).
Blue Apron will default you into some recipe picks depending on your plan. And it is a subscription service, where if you do nothing you'll get delivered the selected recipes. However, it's easy to go in and customize your choices, and they allow you to skip weeks, or cancel your subscription any time.
Where does Blue Apron Deliver
According to their website Blue Apron delivers just about everywhere in the continental United States (sorry HI and AK). Before you buy, you'll be asked to put in your address to make sure they can deliver to you.
Cost of Blue Apron
Cost for Blue Apron meals range between $8.99 per serving to $10.99 per serving. Depending on your location that may be seem high or low compared to a grocery store; but either way, you're getting quite a bit of convenience in not shopping or menu planning for that price.
Blue Apron's Quality
After trying two different Blue Apron recipes at home (Stove Top Chicken Parm, and Parmesan Crusted Steak), I give them high marks for quality. Typically, when there's a quality problem it shows up in the produce first. My box contained garlic, potatoes, broccoli, a zucchini and a lemon. The zucchini looked like it has been banged up a bit in transit, but was still firm, and tasted as a zucchini should. Everything else was as good as I'd pick in the store myself. 
The meat portions (chicken & steak) where probably smaller than I'd get in the grocery store, but frankly, where plenty to make a good portion with, and of good quality.
Blue Apron's Variety
Compared to other meal delivery services, I think the variety of recipe options is fair to middlin'. If your in the family plan, you have 4 recipes to choose from. In the two person plan, you have 8.
While most of the recipe do look quite good & interesting, if you're a person with food hang-ups you may have a tough time finding enough choices. For instance the week, I looked at, for the 2 person meal, had 2 chicken options, 3 vegetarian, 1 beef, 1 pork, 1 shrimp.  If fish is your jam, you're outta luck.
Many of the recipes are tagged with useful labels...like "30 minute meals" or "mediterranean diet" to quickly highlight things you may find useful. But there are no dedicated plans for lifestyle choices like paleo, gluten free, etc.
I do give mad props to Blue Apron for bundling in a wine delivery service. Recipes come with a suggested wine pairing, which you can add on to your order. But note, if you do, you'll need to stick around and sign for deliveries when they arrive.
Blue Apron's Simplicity
The Blue Apron recipes I've made came with simple to understand, well written directions. The meals were designed to be interesting, with a least a couple components adding some unusual flavors or textures.
But those components where not unfamiliar or intimidating to a novice cook. 
There were a couple steps that many home cooks probably would not have thought to do on their own...and some may call them un-needed, but I thought all the directions/steps contributed significantly to delivering a great meal.
In fact, I'd argue in some cases, more advanced cooks will find themselves re-ordering or combining steps, which adds some complexity, but will speed up the overall cooking time.
Is Blue Apron Kid Friendly?
Kid friendly is a very tough one to judge, as many of our waist high friends, turn their noses up at just about anything but pasta with butter. 
Blue Apron, does not seem to be the meal delivery kit that going to have mac 'n cheese and burgers on the menu every week. This week's Family menu has Hosin Chicken Steamed Buns, which would be iffy with my 5 year olds...but honestly give them the chicken and carrot, or call them Chinese Sloppy Joes and we might be good.
Bottom line, I don't think your kids are gonna starve on a Blue Apron box, but the recipes are a good bit more sophisticated than most will be used too.
Overall
Overall, I give Blue Apron high marks. Particularly for people who have a fairly adventurous palate, and are not too sensitive about trying different things. While there's good diversity in the available recipes, there's not a wide breadth of options. So in a given week, you may be have Latin America Shrimp Tacos, Thai Curry Chicken, and some Steak & Potatoes. You won't get stuck in a rut.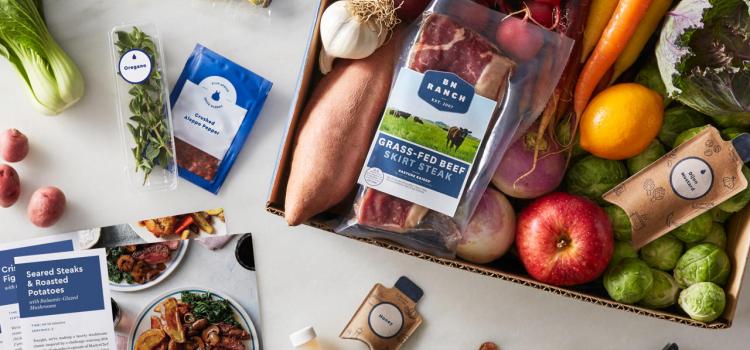 About Blue Apron
Established in 2012, Blue Apron is one of the nation's first meal-kit delivery services. Headquartered in New York City, with fulfillment centers in California, Texas, and New Jersey, the company serves roughly 750,000 subscribers across the U.S. In May 2018, Blue Apron began selling its meal kits at Costco stores in the Pacific Northwest and San Francisco Bay Area, marking the company's entrance into the physical retail market. Customers interested in trying Blue Apron without a subscription will pay $24.99 for a kit that feeds four people. 
Blue Apron subscribers choose meals from dozens of chef-designed recipes including Asian, Mediterranean, and Mexican-inspired cuisine. Vegetarian, gluten-free and quick one-pan meal options are also available and each kit is packed in recyclable packaging (including recyclable ice), to ensure that ingredients remain fresh until you're ready to cook. Plan options include:
"Family Plan" for four with free shipping. Two recipes per week at $71.92/week, three at $95.88/week, and four at $119.84/week. 
"Classic Plan" for two. Two recipes per week at $47.95/week (includes $7.99 for shipping) and three recipes per week at $59.94/week with free shipping. 
"Vegetarian Plan," for two. Two recipes per week at $47.95/week (includes $7.99 for shipping) and three recipes per week at $59.94/week with free shipping. 
Blue Apron meal kits include responsibly sourced ingredients such as produce, sustainable seafood, and exclusive spice blends. Meals are perfectly portioned to avoid waste, and easy, step-by-step instructions help customers re-create restaurant-quality meals at home. There's no commitment and subscribers can skip meals or cancel at any time.