Martha & Marley Spoon Meal Kit Review
Review Summary
Martha Stewart lent her name to the Marley Spoon company in 2016, when they launched their meal kit delivery service under the brand Martha and Marley Spoon.
Based on our experience reviewing our first box, the influence Martha has had on the company (or perhaps the reason she joined forces) is clear. The two recipes we tested (Sheet pan pasta and Buffalo Chicken breast) had a distinctly home style feel to them - but with a unique twist that made them more interesting than a "standard" version.  The recipes from Martha & Marley Spoon for the most part feel approachable and wholesome, and with Martha's catalogue of recipes, there seems to be a good variety.
The delivery itself seemed warm and caring, delivered with a note welcoming me to the product, as well as some information about where ingredients are sourced and useful cooking tips; in addition to the two detailed recipe cards, and the ingredients for my two meals.
Most impressive, I found their step by step directions to be the most clearly written of any services I've tested. And they contained tips, seemingly simple, but critical to making a better meal.
For subscriptions at 2 recipes/week, the cost in a bit higher than some competitor products. However, ramping up to 3 or 4 recipes per week, the cost per serving drops quite a bit, and is under most comparable options. That, along with the types of recipes themselves, would make this a great options for families.
Get Martha & Marley Spoon Discount
Pros of Martha & Marley Spoon
Home style meals from Martha Stewart
Vegetarian options at each subscription level
Low cost per serving at higher recipe quantity
Very good & clear directions make cooking easy
Cons of Martha & Marley Spoon
Meals may repeat week to week
10 Choices may be limiting for adventurous eaters
High cost for 2 servings packages
Martha & Marley Spoon's Cost
| Cost are per serving | 2 Recipes Per Week | 3 Recipes Per Week | 4 Recipes Per Week |
| --- | --- | --- | --- |
| 2 Serving Plan | $12.00 | $10.25 | $9.50 |
| 3 - 4 Serving Plan | $9.50 | $8.90 | $8.20 |
How Martha & Marley Spoon works
Like most meal kit delivery services, Martha & Marley Spoon is a subscription service that will send you a box every week. You pay as you go. And you can skip weeks or cancel anytime.
When you decide to sign up there are 2 plans to choose from, a 2 person plan, and a 3 - 4 person plan. As the names would suggest, the amount of food included in the large plan is meant to serve 3 to 4 people. Based on my experience with a 2 person box, I suspect it would be plenty for 4.
Both plans have a different cost (see below) depending on the number of recipes shipped to each week.  And both plans offer about 10 choices each week including a variety of meat, fish and vegetarian options.
At the time of this writing, the options include:
Southern fried chicken tenders
Seared steak and rice
Cheesy turkey meatballs
Brown butter cheese ravioli
Shrimp cocktail salad
Vegetarian pad Thai
Pinto & cheddar quesadilla
Spinach & artichoke panini
Buffalo chicken breast
Cumin pork tenderloin
Each recipe is labeled with tags like "Dairy Free" or "Vegetarian" or even "customer favorite" to help guide the selection process. Click on any of the choices and you can see more detailed info about each recipe.
For either of the plans you can have 2, 3, or 4 recipes delivered every week.  
You pick the delivery day, and they will leave the box outside your door. Everything is packaged in cold packs, and will stay fresh for 24 hours after shippings, so it can wait until you get home - but don't go for more than a day, or even overnight.
Once you get the box, you can open up and cook that day, or keep things in the fridge a few more days until your ready to cook them.  Shipping is free.
Registering & Ordering
The registration and ordering process simple. You do need to create an account, but that only takes a minute. And the first step is to enter your zip code to ensure you are in their delivery are (most people are).
For first time subscribers Martha & Marley Spoon will usually offer a discount. At the time of this writing, it's $30 off your first order.
Once registered, your pick your meal plan, and select your recipes. You'll then be prompted to choose a delivery window. You do not need to be home for the delivery.
You can set you recipes to default to vegetarian. And you can log in anytime prior to a few days before delivery to swap out recipes and/or skip weeks. They will also send email reminders.
Where does Martha & Marley Spoon Deliver
According to their website Martha & Marley Spoon delivers just about everywhere in the continental United States (sorry HI and AK). Before you buy, you'll be asked to put in your address to make sure they can deliver to you.
Is Martha & Marley Spoon Organic
I couldn't find anything on the website about the use of organic ingredients. However, there is quite a effort made towards using "local" ingredients, sourced by well respected producers like Pat LaFrieda and Murray's Cheese.
Martha & Marley Spoon's Quality
Based on my trials, the quality of the ingredients has been high - at least as good as what I'm able to find at my local supermarket. Produce is almost always the bellwether for quality and everything I got was fresh and tasted good.
Some of the herbs that came looked a bit banged up, but nothing too bad. And the proteins were good quality and average portion size.
Aside from the food itself the quality of the recipe cards and directions were very high. I had no trouble following the steps, and thought they were laid out in the right way.
Martha & Marley Spoon's Variety
Each week customers have about 10 options to choose from. That's right about average for most of the meal delivery kit providers I looked it.
It sounds like a lot, but as I looked ahead a few weeks, I noticed that several recipes tend to repeat.  So over time it may become a bit more difficult to find something new. That said, it's more likely you'll be able to reorder a past favorite - and I'm sure they try hard to keep a balance between the two.
The variety of weekly meal choices, I think the Martha & Marley Spoon meals tended to be a bit less "outside the box" or "adventurous" than some of the meal kits I've seen. I tend to see relatively few ingredients and flavor combinations that outside a "normal mainstream American home".
While there are of course occasional exotic options, meals tend to focus on traditional Northern European and Americanized standards. In my tests, those recipes have had a unique twist, and been quite tasty, but you're not going to be transported to the spice markets of Morocco very often.
Martha & Marley Spoon's Simplicity
Martha & Marley Spoons recipes, were the epitome of Simple, Simple, Simple.
Everything that came in the boxes, was easily recognizable, and simply by looking at the pictures, I had a good idea of what needed. The directions where very clearly written. The timing was just about what it took for me to do. And there were added tips, and advice along the way, that really helped the meal taste as good as it could.
Part of the simplicity, came from the fact that the recipes themselves where basically, traditional homestyle meals. They had enough of of a twist to make them interesting, but you're not breaking new culinary ground.
Is Martha & Marley Spoon Kid Friendly?
Kid friendly is a very tough one to judge, as many of our waist high friends, turn their noses up at just about anything but pasta with butter. 
While Martha & Marley Spoon does not seem to overtly try to plan meals for kids, I think it does rank highly on this front. Since many of the meals are spins on what is already very common in the average home, and even local restaurant, I think kids would have a relatively easy time with most of these meals. Or at least, it would be relatively simple for a parent to "adapt" one of the recipes for a kid.
Overall
Overall, I found Martha & Marley Spoon to deliver very good, very accessible meals, that were really simple to prepare following super clear directions. As I cooked the food, and as my family ate it, it felt like modern home cooking.
While it may not be the kit for the adventure eater, if you're looking for a regular set of delicious meals, give it a try.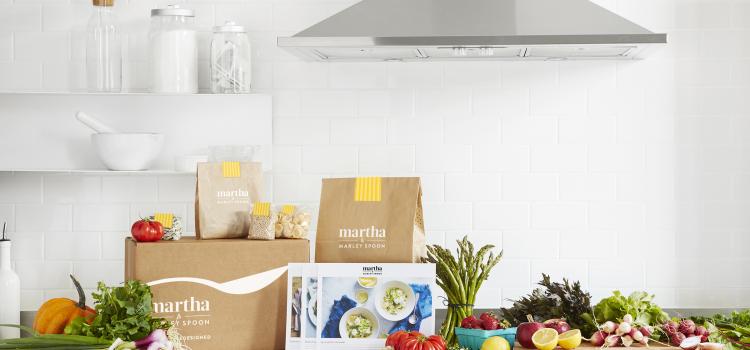 About Martha & Marley Spoon
Founded in 2014, Marley Spoon is a Berlin, Germany-based company that began its expansion into to the U.S. and Australian markets beginning in early 2015. In 2016, Marley Spoon partnered with household name Martha Stewart and Sequential Brands Group, Inc. to launch Martha & Marley Spoon, a meal kit delivery service featuring Martha Stewart's "award-winning recipes" and "smart cooking techniques." The company has been featured in Fortune, The New York Times, Epicurious and on the Today Show 
Martha & Marley Spoon customers choose recipes for two to four people from a new menu each week. Ten recipe options are available from an archive of more than 18,000 Martha Stewart recipes. Martha & Marley Spoon has recipes for carnivores, vegetarians, and seafood lovers as well as individuals seeking gluten-free or kid-friendly meals. 
Meals are pre-portioned to prevent waste and each kit includes six simple steps with photos that "take the guesswork out of cooking." Sample dishes include Beef-Mushroom Yaki Udon, Curried Lentil & Arugula Salad, and Shrimp Fajitas.
Plans for two include:
$48/week, $12/serving for two meals per week
$61.50/week, $10.25/serving for three meals per week
$76/week, $9.50/serving for four meals per week
Plans for three to four include:
$76/week, $9.50/serving for two meals per week
$106.80/week, $8.90/serving for three meals per week
$131.20/week, $8.20/serving for four meals per week
With the exception of seafood, which must be cooked within 48 hours, food stays fresh for four days after delivery, customers can skip any week until five days before delivery, and delivery is free.