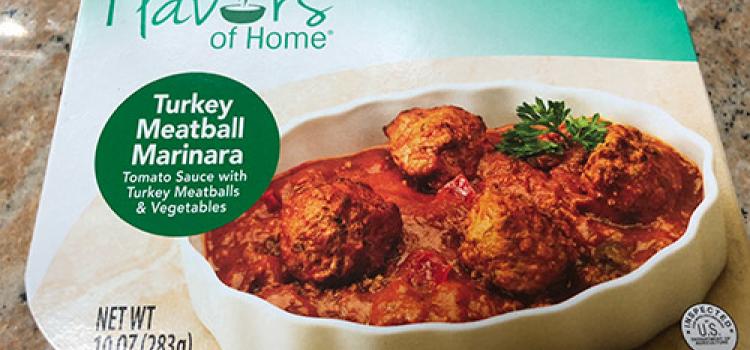 Medifast's Flavors of Home
Review Summary
Medifast is a large company with a TON of food options - all centered around diet/weight loss. Unlike many of the meal kit & meal delivery providers, Medifast seems to focus more on shakes, snacks, bars, cookies...and more, that are essentially meant to replace much of your grocery store bought food...and so the theory goes, lose weight.
We at NoRecipeRequired, have NOT reviewed all those various products, since we're really focused on reviewing complete meals. Instead, we only took a look Medifast's "Flavors of Home" product.
Flavors of Home, are fully cooked entree style meals that are delivered direct to you. Like some other providers no cooking is required. Simply un-box them and then go right into the microwave. They also have got the advantage of being shelf stable. So no refrigeration is required. So they can travel with you anywhere, and with just a few minutes in the microwave your eating.
I recently ordered the "variety pack", which consists of 4 options (Turkey Meatballs, Chicken with Rice & Vegetables, Chicken Cacciatore, and Beef Stew. Each of them came individually boxed, in microwaveable containers. And each is about 300 calories - again the diet friendly focus.
Like other meal delivery services, you can't beat the convenience of Flavors of Home. The meals come fully prepared. It takes about 1 minute to get it ready to heat up and about 2 minutes in the microwave.
You also have the benefit of a portion controlled, low calorie meal. After all, the whole point of Medifast, is to lose weight. I found the portion size was what I'd expect for a weight loss oriented meal. About the size of a light lunch.
Unfortunately, along with a high degree of convenience, comes some loss of flavor/taste. None of the options I tried tasted really good & fresh...like something I'd make for myself. Although some where better than others.
The better ones, like the turkey meatballs, tasted fine, but were pretty un-interesting, and lacked any depth of flavor. Some options, like the Chicken with Rice & Vegetables, I did want to eat more than a bite or two for testing purposes.
Flavors of Home could be a great option for those looking for max convenience coupled with a regimented weight loss strategy. Particularly when paired with all the other food options that Medifast offers. But the taste was weak, and I'd strongly suggest you order carefully, as some options where just not doable for me.
Pros of Medifast
Extremely convenient meals in 2 - 4 minutes
Shelf stable means you can take them anywhere
Portion controlled & low calorie for weight loss
Cons of Medifast
Taste/flavor is not the best - particularly for some options.
No fresh vegetables; food seems heavily processed
Medifast's Cost
| | Cost per Serving |
| --- | --- |
| Individual meals | $4.95 |
| Variety pack meals | $4.58 |
How Medifast works
The Medifast Flavors of Home package could not be simpler. While there are subscription packages, unlike many other meal kit providers, you don't need to be a subscriber and ordering food from the site is just as simple as buying anything online.
Is Medifast Organic?
I couldn't find anything about Flavor of Home being organic, or non-GMO. So I'm going to assume the answer is no. The reality is, that organic/all natural doesn't seem to be a primary focus. Rather, the meals are designed to be fast, easy and diet friendly.
Registering & Ordering
Each of the meal options can be ordered a la carte, as a "guest" (as opposed to creating an account). On the Medifast website, you select the meals you'd like to buy, in what quantities. They come in packages of 6 servings for individual meals, or 12 servings for the variety pack. At the time of this writing there were six meals to choose from:
Turkey meatballs marinara
Beef stew
Chicken Cacciatore
Chili lime chicken
Chicken with rice & vegetables
Ginger lemongrass chicken
There are options to create an account, which will allow you to better track your orders and make regular orders easier. Either paying as a guest, or creating an account, is exactly as you'd expect it to be.
Where does Medifast Deliver?
Because (I assume), Flavors of Home meals don't require refrigeration, they can be delivered just about anywhere. And you don't need to be home to sign for, or immediate unpack, the box. Whenever you get home, you can simply unpack the boxes into your pantry until you are ready to eat.
How much do Flavors of Home meals cost?
All of the Flavor of Home meals are priced in shipments of 6 servings at $4.95 per serving. So, for a shipment of 6, you're looking at a minimum order of $29.70. That is definitely on the low cost side of all the providers that I've looked at. I'm sure part of that is due to the portion size, but also the fact that the ingredients of shelf stable, so there is likely less waste/spoilage. You get sight discounts with the variety pack/larger orders.
Medifast's Quality
If you're looking for fresh tasting, home cooked meals, then I gotta tell you, Flavors of Home is not for you.
In many ways the meals that I tried fell somewhere between bad airline food and elementary school cafeteria. They were edible...but a bit weird. The vegetables were soft. The meat a bit dry, and had a bit of any odd texture. That said, just like cafeteria food, some folks out there are actually going to think they taste fine.
If you're used to processed foods these will probably taste fine - they are on part of the TV dinners of my youth. Or if calorie counts/portion control is far more important than flavor, I understand the appeal.
But the reality is, if a nice tasting, fresh meal if what you're looking for, Flavor of Home is not for you. Medifast is laser focused on making dieting as easy as possible. And for that mission, they do a fine job.
The meals take minutes to make. And are portion controlled. Someone with the discipline, can easily make do with 3 or 4 of these meals in a day @ ~1,200 total calories. Add in some fresh veggies and fruit, that seems like an effective weight-loss plan (but I'm no dietician).
Medifast's Variety
Flavors of Home provides choices, but not a ton. At the time of writing, there were 6 meals to choose from. And as I've been working this review over the last few weeks, they have not rotated new options in. So, if you're looking to try new things every week, I'm guessing you're not going to find it here.
The meals they have today are:
Turkey meatballs marinara
Beef stew
Chicken Cacciatore
Chili lime chicken
Chicken with rice & vegetables
Ginger lemongrass chicken
Medifast's Simplicity
As I've already mentioned, I believe Flavors of Home has worked to make simplicity/ease a primarily value proposition for the brand.
There are some other meal providers that provide complete meals that you simply heat in the microwave, but Medifast takes it a step further by requiring no refrigeration. And by ensuring they are all low calorie. If you're working on the waistline, there's literally no reason you can't take these meals on the go, traveling or to work. You need 2 minutes with a microwave and a fork.
That does not get more simple.
Is Medifast Kid Friendly?
Some are probably not going to like the sodium content or some of the other nutrician elements when it comes to the kid friendliness of Flavor of Home. And to some extent I understand that. But the reality is much of the stuff in a frozen food isle of the grocery store is no different.
When it comes to flavor, I think you'll have some winners and some losers with the kids. My really liked the turkey meatballs, but wouldn't go near the chicken with rice. I think kids may actually like the food a bit more than the average adult...just like they tend to like airplane food a bit more!
Overall
Go into Medifast's Flavors of Home with your eyes wide open. It is NOT a culinary experience, and you're not going to be blown away with restaurant quality food in your own kitchen.
It is about ease. It is about diet. And frankly, it's pretty low cost at less than $5/serving.
If you're just starting out, I'd go ahead and try the turkey meatballs first. They were the best tasting in my opinion...and you can go from there.
Leave a comment and let me know how it goes.
About Medifast
Medifast as the name implies, positions itself squarely in the weight-loss category, and so they are not a perfect comparison with some of the other meal kit services on the market.
Medifast was founded in 1980 by William Vitale, a medical doctor. And the ties to the medical community seems to have persisted. Their website boosts, it's efficacy as medically proven and recommended by over 20,000 doctors since it's founding.
The company owns a few other brands, all centered round medication, fitness and weight-loss.
The Medifast brand itself offers dozens (if not hundreds) of food items designed to replace other options and help you lose weight. Many of their products are available "a la carte" but there are many packages and subscription options available for those looking to get "on a plan".