Review of Green Chef's Curry-Spiced Steaks & Chutney Cabbage, Carrot & Apple Slaw, Cumin-spiced Potatoes
Review Summary
I gave Green Chef's Curry-Spiced Steaks a try the other day, and while I had a couple issues, for the most part, I found the dish was tasty and worth ordering again.
This meal came along with two others, packaged in an insulated box with ice packs. All the ingredients (except for the steak) come bundled together in a paper bag, which eliminated any need to sort through ingredients. I threw everything into the fridge, as it would be a couple days before I actually cooked it.
When I unpacked the ingredients everything looked good, fresh and clean. Green Chef is a meal kit company that is USDA Certified organic, and everything they ship (subject to rare out of stock items) is organic. And all the produce I got looked great. Also included, were two sirloin steaks, about 6 ounces each. Sirloin seems to be the steak of choice for most of meal kit companies. It's fairly inexpensive, has great flavor and is generally pretty tender. While a bit smaller than I'd probably get in the grocery store, both of the ones I got, looked great.
Also included in the box is a recipe card with detailed directions and pictures on how to cook the steaks. The card suggests that it should take 35 minutes to make the meal, and I was able to get it done in just under that time. There aren't any complicated techniques that you need to know, and the average chef should have no issues. There are a couple spots on the recipe card, that could have used a bit more info/direction - like how to get the steak to your preferred doneness. These directions ensure you'll going to have a fully well-done (hockey puck like) steak.
I thought almost everything in this dish tasted great. I like the cabbage-apple slaw, made with a cilantro coconut dressing. The steak themselves were decent sirloins. I cooked mine to medium rare, and the flavor of the curry spice was there, but not over powering. I really liked the way the potatoes turned out. Tender and creamy, and the cumin seeds gave them an exotic flavor. The one thing I did not care for was the mango chutney. I just didn't think it went all that well with the steak. Fortunately the directions have you serving most of it on the side...which is where mine stayed.
Overall, I liked the simplicity and flavors here. Much of the prep is done, so you can get it cooked quickly. While there are some others sauces I would prefer (vs the chutney) with my steak, I'd be happy if this showed up again in the rotation.
Ingredients
One of Green Chef's key features is their focus on organic produce. Every ingredient that came was labeled organic, which is going to make some eaters very happy. They also advertise that their proteins are grass fed, pasture raised, wild or line caught. Again, good for those of us who care where our food is coming from.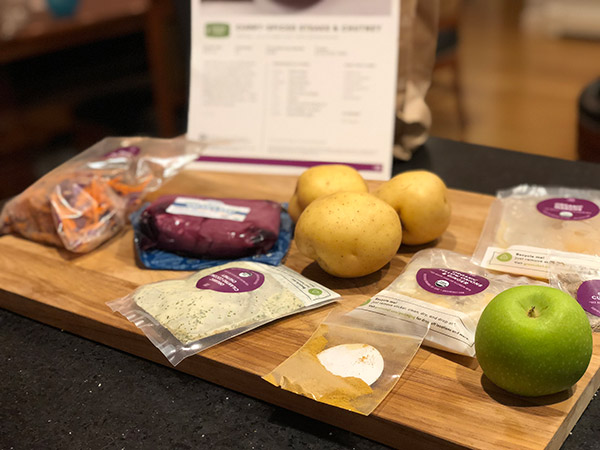 Another nice feature is that Green Chef seems to do most of the prep work for you. For example, the potatoes call for yellow onions & ginger, which came pre-chopped and ready to go into the pot. That saves a lot of time.
Included in this recipe was:
2 (5oz) sirloin steaks
Curry powder
Yellow potatoes
Cumin seeds
Yellow onion & ginger
Mangos
Cilantro coconut chutney
Red cabbage & carrots
Granny Smith apple
While the steaks were a bit small, everything provided was in the right proportions, and I had enough food for the two promised servings.
Making the dish
As I mentioned above, the recipe comes with a detailed recipe card with step by step directions for making the dish. There were a couple directions left off, that I'd suggest (see below) doing, but for the most part nothing was too complicated, and most home cooks shouldn't have any trouble make this dish.
It took me almost exactly 30 minutes; the recipe card suggests it will take 35, and you only need a pot and a pan for cooking.
Step by Step Directions:
Prep Potatoes, mangos & apple: In this step you dice the potatoes into 1/2 inch dice, after peeling them. You Julianne (fancy name for a French fry cut) the apple, and then coarsely chop up the mango.
Cook Potatoes: The potatoes should simmer in water until fork tender. The card suggests it should take 10 - 12 minutes, which I found accurate, and then once tender, you drain them into a colander. You do need to be careful not to over cook them, unless you like mushy potatoes; and to make the whole recipe go faster, you'll want to start cooking the steak while the potatoes are boiling.
Season & Cook Steaks: This is where the biggest gap in the directions exists. Steaks wrapped in plastic like these ones are, really need to be taken out and patted dry before doing anything else...and Green Chef makes no mention of that. I would not skip that step. Once dry, you toss them with some olive oil in bowl and coat with curry powder, salt and pepper, the last two of which you need to provide. You then get a pan going over medium high heat. Green Chef suggests you sear and cook the steak for a total of 15 - 20 minutes. IMO that's WAY too much. I like steak medium rare, and cooked the steaks for a total of about 7 minutes. If you go to 12, I think you'll have well done. I don't understand why it would take anyone 15 minutes to cook a 5 oz steak. It also neglects to mention you should let the steaks rest for few minutes before serving.
Make the Mango Chutney: You can do this step while the steaks rest. To make it, you simply combine the chopped mango, half the cilantro coconut chutney, and season with salt and pepper
Make Slaw: Like the chutney, this is a simple combining of ingredients. The apple, cabbage-carrot, and cilantro coconut chutney come together to make the slaw, seasoned with salt and pepper
Finish the Potatoes: To finish the potatoes, you can take the same pot you cooked them in, and put it back on the heat with a bit of oil. Add the onions and ginger, and stir until softened, then add the cumin seeds and allow them to toast for 30 - 60 seconds. Kill the heat, add the potatoes back to the pot, season with salt and pepper and another drizzle of olive oil.
Plate your dish: Green Chef has you slicing the steaks, which is a nice presentation. But of course, you should feel free to serve them whole. They also suggest you spoon some of the chutney over the steaks, but that was the one part of the dish I didn't love, so I'd give it a taste before you do so; and serve it on the side if you want.
Taste
I liked this dish. But it did take me a bit by surprise, as it's far more mild than the names would suggest.
Curry, Cumin, Mango Chutney...these are all big flavors. And they are there in the dish, but are not as pronounced as you might expect. At no point are you get punched in the face with flavor. Rather, these elements all play a supporting role. And they are good, just more mild than you'd expect.
For me, it's very important to cook the steak far less than the recipe card suggested. IMO cooking for 15 minutes would have ruined the steak. So use your judgement on that. Cooked medium rare like mine, I liked the steak in combination with the slaw (which provided acidity) and potatoes which turn out rich and creamy.
I did not care for the mango chutney. It's not that it was bad per se, it just didn't seem to go with the steak. So I ended up leaving it off to the side and not even eating it.
Green Chef's Curry-Spiced Steaks & Chutney Cabbage, Carrot & Apple Slaw, Cumin-spiced Potatoes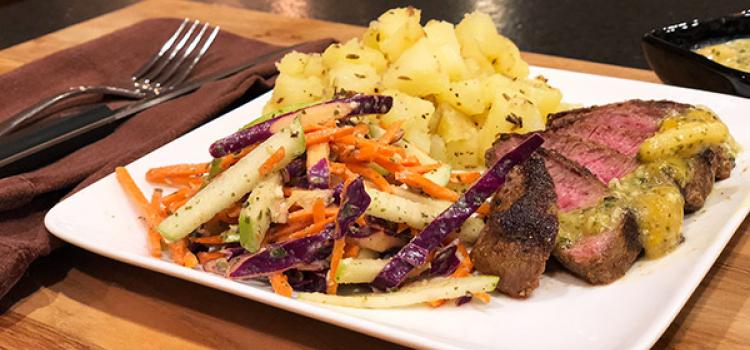 Overall
I say go ahead and give this one a try. Know going in, that it may not pack the punch the exotic name might suggest. Those flavors are there, but this is a lot closer to a standard meat and potatoes dish, than a visit to an Indian bazaar.
I do really like the simplicity and ease with which you can make this dish. A good amount of prep is done for you, and most people are not going to have any problem getting this done in less than 40 minutes. Although you do need to watch the directions on the card...make sure you're cooking to your preferences.
If you do give it a try, please let me know what you think! If you're interested in giving them a try, make sure to use the discount code below.