Review of HelloFresh's Pork Carnitas Tacos with Pickled Onions & Monterey Jack Cheese
Review Summary
When I first saw that HelloFresh had "Carnitas Tacos…..", I was both excited and a bit skeptical.  You see, Carnitas tacos are among my favorite things to eat. Traditionally made from slow cooked pork butt/shoulder that becomes super tender and flavorful after hours of cooking; yet the meat has a crispy crust from a last minute high heat char.
Of course, with just a bit of reading I knew when I ordered the meal, the meat I was getting sent was ground pork – not what you normally make carnitas out of. But I was curious if HelloFresh could help me possibly get close to a traditional version, in about 30 minutes.
Well, the reality I found out, is you can't. These tacos really shouldn't be labeled "carnitas". I understand that it's a nice name, and probably helps sell the dish; and that both this version and the traditional use pork – but that's not really what they are. And should you try them, don't go in with the expectation that you'll get a traditional carnitas.

Fortunately, the name (and the associated expectation) is about my only criticism of the recipe. At the end of the day, I had some pretty damn tasty ground pork tacos.
All of the ingredients that came were fresh, of high quality and tasted like they should. There was enough food for 6 reasonable sized tacos, and the whole meal took me about 35 minutes to make.
I really liked the amount of fresh onion and pepper provided, as both added flavor and texture to the taco filling. The spices, (along with the tomato) added a nice depth of flavor, and you could easily control the level of heat by adding more or less chili powder. The fresh vegetables and sour cream finished everything with fresh, light notes.
As I said, this isn't a traditional carnitas – it's much more like the ground beef tacos I grew up on as a kid (but with pork). But it tastes good, was simple to make, and I'd happily order it again.
Ingredients
The box from HelloFresh came with all the ingredients nicely organized. Inside there were two bags, one for each recipe I ordered, with all the ingredients packed together except for the proteins. The ground pork was packaged separately, sandwiched between ice packs. It was super easy to move everything to the fridge for cooking later in the week.
When unpacking the ingredients, everything looked fresh, and high quality. The red onion looked like it got knocked around a bit and had a minor dent it in, but there wasn't anything I wasn't happy with. Included in the box (packaged for 2 servings) was:
Ground Pork
Roma Tomato
Tomato paste
Red onion
Lime
Poblano pepper
Sour cream
Fajita seasoning
Chipotle chili powder
Monterey jack cheese
White wine vinegar
Concentrated chicken stock
6 soft taco shells
Cilantro
The only things that I had to have on hand were oil, salt, pepper and sugar
Making the dish
Traditional carnitas takes hours with slow roasted pork…this recipe required no such effort. HelloFresh breaks cooking the recipe down into six steps – all of which are simple enough for a novice. The recipe took me about 40 minutes to make (of course I was filming it too) and didn't require any special techniques or equipment.
Prep the ingredients: After washing & drying the produce, you do all the prep work, by dicing & slicing the red onion (you pickle the slices), dicing the pepper, tomato & cilantro
Pickle the Onions: You make a quick pickling liquid with the vinegar, some salt & sugar, and the put the sliced red onions in; these make a nice tangy garnish for the taco's
Cook the pork: Cooking the pork off in a pan with a bit of olive oil, salt and pepper, is easy and takes about 10 minutes. Cooking the meat separately, and first, is the same way I start my own tacos. Once fully cooked, you move the meat to the side and start the vegetables
Cook the Vegetables: To the same pan, you add the onions, peppers (and a bit more oil), and cook until the vegetables are softened. You then add the pork back to the dish, along with a package of concentrated chicken stock, water & fajita spices. As you cook, you scrape up all the brown bits from the pan (that's added flavor).
Make the Sour Cream: Instead of "plain" sour cream (which is fine if you like it that way), HelloFresh makes it spicy with the addition of chipotle chili powder. Add as much or as little as you like
Plate the tacos: Right before serving you warm the flour tortillas up (20 seconds in a microwave works), and then divide the pork filling between them. Top with onions, tomato, cheese and cilantro and you're good to go.
Most people shouldn't have any trouble getting this recipe done in about 30 minutes; 40 if you're a bit slower. And you don't really need any special equipment (it's all one pan) or techniques to pull everything together.
Taste
Despite the fact that these tacos are not traditional carnitas in any way, I did like them. It's a very simple recipe that is made successful by the amount of seasoning (both the spices & salt/pepper), and the freshness of the garnishes.
The amount of fajita spice and the added chicken stock concentrate gave the pork enough flavor to provide the main "body" of the taco – despite only being cooked for about 15 minutes total. If you have more time, simmering for longer would help bring out even more flavor.
The pickled red onion/lime juice really add a nice acidic pop to the taco, as well as (along with the tomato) a nice contrast in texture and temperature.
And finally, the sour cream, spiked with more chili powder, let you add some real heat to the taco, as well as some fat from the sour cream that helps all the ingredients come together.
I didn't think there was anything wildly interesting or unique about these tacos. There was not a major "wow" to them. They simply "got the job done" in a very simple, and very tasty would. I'd be happy to have them in a regular rotation.
HelloFresh's Pork Carnitas Tacos with Pickled Onions & Monterey Jack Cheese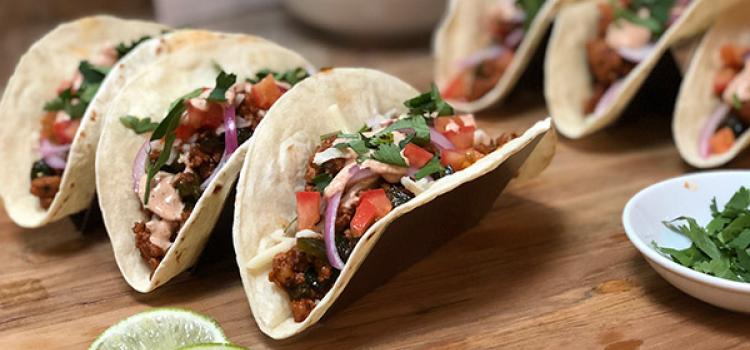 Overall
These are perfectly fine tacos from HelloFresh. I thought they tasted good. They were easy to make. And I'd happy have them once every couple weeks.
But, as I mentioned, they were not carnitas tacos. And they didn't really have anything special or exciting about them, that I wouldn't expect and while I think they would be a crowd pleaser, they are not going wow anybody with unusual, interesting, or unique flavors. If you're cooking for kids, I think they'd love this one.
I liked that they were easy to make despite the fact that there are a lot of ingredients. It only takes one pan for all the cooking, so clean up is not that bad, and I could easily see cranking this one out after getting home late from work.
If you give it a try, let me know what you think in the comments. And if you're looking to try HelloFresh, make sure you get a discount by clicking the link below.