Review of Purple Carrot's Tempeh Tikka Masala Tacos with Yogurt Cucumbers and Mango Chutney
Review Summary
I recently tried the Tempeh Tikki Masala tacos from Purple Carrot - the meal kit provider who's meals are 100% plant based. But before getting into my experience with said tacos, in the interest of full disclosure, I'm a committed omnivore and enjoy a piece of meat as much as anyone. I'm sure that, even if just subconsciously, influences my opinions...
I really like the idea of "exotic" tacos, and so the notion of Indian flavors in a taco really appealed to me. And the flavors here did not disappoint. The Tikki Marsala sauce made with onion, ginger, garlic, tomato pasta and garam masala was quite rich & tasty. For me, I could have used a bit more heat in the sauce, but that could easily be added with a bit of chili pepper.
The vegetable garnish, yogurt marinated cucumbers, and chopped red cabbage, provided a nice texture and flavor contrast to the tacos.
The only thing I didn't really care for was the Tempeh itself. Admittedly, this is where being a meat eater comes into play. The Tempeh (a soy product) didn't taste like much of anything - not bad at all, but also not good. It provided the "bulk" of the taco as a meat replacement, but honestly with every bite, a little voice in my head called out...."chicken would be better".
If you have had tempeh, and you like it, then I'd think you're going to love these tacos - as everything else provided was really good. Newbies to tempeh, take note, it's quite a bit different than chicken.
Making the dish was really quite simple. The recipe card was written well and the directions where clear. I think even a novice is going to have a pretty easy time making it. It took me about 35 minutes (while also filming) to make the tacos.
There was just enough filling for eight tacos, and I think the average set of eaters will have plenty of food.
Dedicated vegetarians (used to tempeh) are really going to like this dish, and I'd give it an enthusiastic thumbs up. The meat eaters really gotta understand what they are getting with the tempeh. The flavor of the sauce and garnish are great - but if you're used to meat, this is going to be a significant change.
Ingredients
Purple Carrot's box of ingredients arrived on my doorstep looking clean and pristine. The box was packed with ingredients for three recipes, most of which were bagged together for easy separation. There were a few, like bulb of garlic, that were meant to be used across recipes, and there packaged individually.
Everything for the Tempeh tacos looked fresh, clean and of high quality. All of the fresh produce looked good, and tasted good - at least as good as anything I'd normally get in the grocery store. There were a couple ingredients, like the tempeh, and vegan yogurt, that I had not had before. It's therefore tough to say they were better or worse than "normal" - but I had no issues with any of the ingredients.
Included for the tacos was:
1 package of tempeh
1 onion
A knob of fresh ginger
1 cucumber
1/4 cup of vegan yogurt
1 tsp garam masala
1 tbsp Indian spice blend
1 tbsp tomato paste
3 tbsp mango chutney
8 whole wheat tortillas
2 oz red cabbage
Making the dish
Purple Carrot suggests that these tacos, should take about 30 minutes to make. And I think that's about right. I may have taken a bit longer, but I was also filming while I was cooking. The biggest time suck is browning the tempeh. With the pan I had, I had to work in batches (3) when ended up taking about 15 minutes. If you can do it all at once, the recipe will go a bit faster.
The recipe is broken down into 6 steps:
Prepare the tempeh & vegetables: Set the oven to pre-heat (for the tortillas) and wash and chop all the vegetables. The tempeh is also julienned (french fry cuts) in prep for browning.
Marinate the cucumber: The cucumber you sliced in step one (you can peel it if you'd like), is marinated in the yogurt, the garam masala and a pinch of salt. The directions do not say, but I'd suggest adding, some fresh ground black pepper.
Crisp the Tempeh: This is the step that took me the most time, as I worked in batches. If you have a large enough pan, you can quickly brown the tempeh in a bit of vegetable oil; getting all the sides nicely browned and adding a bit of texture to tempeh
Cook the aromatics: Here you gently saute the onions, ginger and garlic. After just a few minutes, you add the spice blends to allow them to toast and bring out their flavor.
Make the Masala Sauce: To the sauteed vegetables, you add the remaining yogurt, tomato paste, some of them chutney and a cup of water. This creates the masala sauce, which you cook for a few minutes to bring the flavors together before adding back the crisped tempeh. The directions advise you to taste and add salt if needed; I'd suggest you also add some black pepper as well.
Serve: In the final few minutes you warm the tortillas in the oven, and then fill them. I found there was enough for about two "sticks" of tempeh per taco. I'd suggest you go heavy on the sauce, and then you garnish with the marinated cucumber, red cabbage, and a drizzle of the remaining chutney.
The directions in the recipe card were clear and concise. And none of the techniques were very complicated. I think most novice cooks won't have much of a problem with this dish.
You do need to make sure you don't burn the aromatics (particularly the garlic), as they can brown and then burn very quickly.
One "nit picky" thing, which I don't understand, is the lack of direction to use any black pepper. There's none in this recipe. And I think it could have used some.
Taste
The short story on the taste, is I loved the flavors, but was so-so on the tempeh.
As I mentioned above, I'm a meat eater. And I understand the tempeh was intended to fulfill the role of meat (most likely chicken in this case). But for a meat eater, its not a great substitute. It didn't taste bad really. It didn't taste like much of anything. And the texture was both a bit drier and more crumbly than meat. So with every bite, the little voice in head reminded me that it would be a better dish with chicken.
That said, I really liked the flavor of the masala sauce, which was plenty rich. And the cucumbers and cabbage provided a great texture contrast for the tacos. I drizzle of mango chutney was a very nice finishing touch, and absolutely shone through the rest of the dish. I could have used a bit more of it.
And I also would have been happy to have gotten a bit more heat with the sauce. A bit of spicy chili pepper would have added another dimension to the recipe - and the heat would have gone very nicely with the sweet from the chutney.
Certainly, if you're not a meat eater, I think you'll really like these tacos. If you are a meat eater, but committed to have a few meatless meals, I think the tempeh is fine; but chicken does taste better.
Doing this recipe again, I'd certainly put some fresh ground black pepper in a few spots, and probably add some heat with some chili pepper.
Purple Carrot's Tempeh Tikka Masala Tacos with Yogurt Cucumbers and Mango Chutney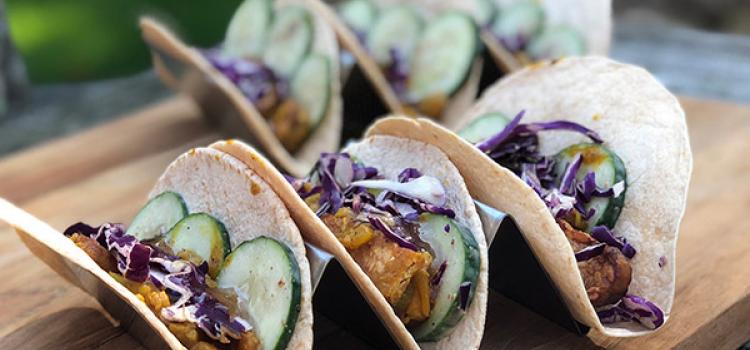 Overall
My overall take on this is that non-meat eaters are really going to like it. There's a nice diversity of flavor & textures, and "Indian Tacos" is a nice fusion recipe that will excite most people.
Importantly, the non-meat eaters probably have a very good expectation, acceptance and perhaps appreciation for the Tempeh - the only part of the dish I didn't really like. If you're good with it, I think you'll really like this recipe.
I myself (like many meat eaters I suspect), will like the dish, but ultimately question the the use of tempeh. Committed to a meatless recipe, it'll do, but knowing there's a more tasty option (chicken) is a bit tough. So you'll have to make your own call.
Making the taco's was simple, and had no surprises. Give it a try and let me know how it goes.