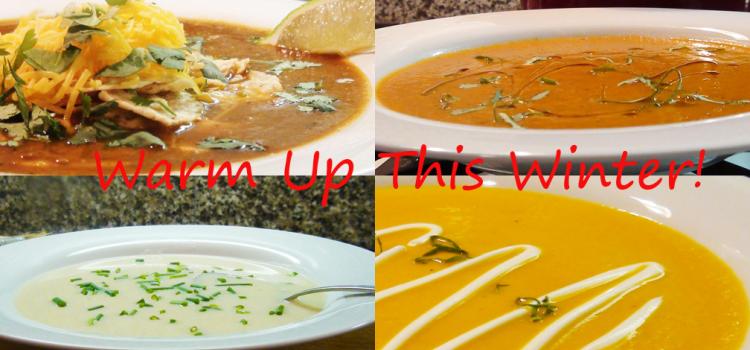 Soup - The Key to Winter Survival
In the deep depth of Winter, when the snow is deep, and the winds chilly, I find myself taking solace all too frequently in a warm bowl of soup.   There are literally thousands of soup recipes, some complex, but many more, so simple they can made is just 30 or so minutes.  And of course, so flavorful, they'll blow you away.  Whether as a starter, or a main course, there are ton of options to satisfy the pickiest of eaters, and the most creative culinarians.    I've picked a bunch of my all time favorite soups, and organized them below in the classics (which everyone should learn how to cook), the simple and easy soups you make even after a long day at work, and the slightly more complex, that take a bit more time, but pack a huge payoff in flavor!  I'm sure you'll find a least a couple worth making!
The Classics
Homemade Chicken Soup - Why go with a can? Roast a chicken for Sunday Dinner, and make a soup the next night!
French Onion Soup - A quarter inch of melted cheese...need i say more?
Vegetable Soup - The perfect way to clear out all the left over veggies hanging in the fridge
Simple 30 minute Vegetable Soups
Celery Soup - Who knew celery could be sooooo damn good?
Cream of Tomato - Whip up a grilled cheese sando, and think back to Mom's table.
Asparagus Soup - Fresh, light, and tasty, perfect for Spring
Carrot Soup - You'll love the flavor, but you won't beleive the color! 
Broccoli Soup with Cheddar Croutons - Broccoli and cheddar, a match made in heaven!
Pea Soup - Simple, clean and elegant!
A Bit Fancy (meaning harder) but Hella Good!
Potato Leek Soup - A French classic, this one is perfect as a comfort food, or to start a fancy dinner!
Butternut Squash Soup - A Fall classic, it's one of my favorites
Chicken Tortilla Soup - Complex flavors make this a wonderful soup, rich enough for a full meal
Coconut Curry Butternut Squash Soup - An exotic twist on the recipe above!
Corn Chowder - Who doesn't love a chowda!