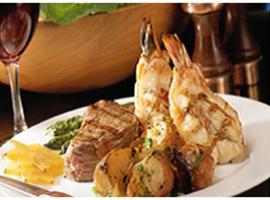 America's Best Culinary Schools
The demand for trained professionals is rapidly rising throughout the fast-growing food service industry.  Over the next few years, the travel, tourism and food industries expect to create more than 30,000 new jobs. High paying positions include Chef, Food Buyer, Caterer, Restaurant Manager, Restaurant Owner, Menu Planner, Event Coordinator and Culinary Instructor, to name only a few.  
Employers hiring culinary professionals include hotels, restaurants, event companies, airlines, hospitals, nursing homes, casinos, cruise lines, country clubs, culinary schools, corporate cafeterias and colleges, among others.
If you're lucky, some food service positions offer on-the-job training. But overall, the best jobs go to those who walk that extra mile known as formal education.  Here is a list of the top ten culinary degree programs in America.  
California School of Culinary Arts (CSCA)
California School of Culinary Arts (CSCA) is located in Pasadena's historic Playhouse District.  The campus has nine classrooms, 30 teaching labs, and an on-campus gourmet restaurant.  They offer a Culinary Arts Associate Degree called the Le Cordon Bleu Diploma, indicating the highest standard of food service.  Students learn classic French cooking combined with American technologies.
California Culinary Academy
California Culinary Academy offers the Le Cordon Bleu Culinary Arts Degree Program, a Baking & Pastry Arts Certificate Program, and a Le Cordon Bleu Hospitality & Restaurant Management Degree Program, a 45-week, comprehensive course of study combining business theory with practical, hands-on training.
Texas Culinary Academy
Texas Culinary Academy is a 52,000 square foot facility in Austin. Successful completion of their fast-paced 15-month program earns a Le Cordon Bleu Diploma.  
Orlando Culinary Academy
Orlando Culinary Academy is a world-class training center in one of the world's favorite tourist destinations.  They offer an Associate of Applied Science Degree in Le Cordon Bleu Culinary Arts.  
Pennsylvania Culinary Institute
Pennsylvania Culinary Institute issues diplomas in Culinary Arts and Pastry Arts, as well as hotel and restaurant management.  
The Cooking and Hospitality Institute of Chicago
The Cooking and Hospitality Institute of Chicago offers Associate of Applied Science Degrees in Cordon Bleu Culinary Arts, Patisserie, and Baking.  
Brown College
Brown College in Minneapolis offers the Le Cordon Bleu Culinary Certificate.  Brown is the first U.S. college to partner with the Le Cordon Bleu degree program.  Brown's program is known for its numerous baking courses.  Job placement assistant is available.
Scottsdale Culinary Institute
Scottsdale Culinary Institute is probably Arizona's most acclaimed cooking school.  This program is owned by the Career Education Corporation (CEC), the world's largest provider of Le Cordon Bleu certificate programs. The CEC oversees the operations of Le Cordon Bleu training at 50 campuses across America, including Nevada's Vegas Culinary Institute.  
McIntosh College
Finally, McIntosh College in Dover, New Hampshire is the only nationally accredited college in the United States to offer the Le Cordon Bleu program.  
Visit any of these schools' websites to learn more about exciting, lucrative, progressive careers in the food service industry.