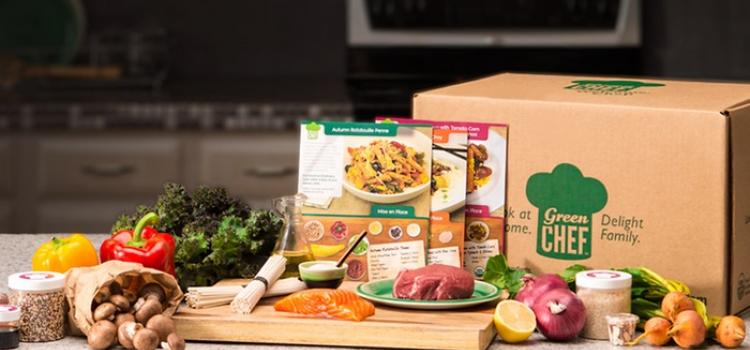 Green Chef Meal Kit Review
Review Summary
Established in 2014, Green Chef is the first meal-kit delivery service to be USDA-certified organic and Gluten Intolerance Group-certified gluten-free. Featured in Consumer Reports, SELF, USA Today, and Vogue, Green Chef has seven different meal plans including Carnivore, Keto, Omnivore, Paleo, Vegan, Vegetarian, and of course, Gluten-free.
I recently signed up and tried three of their meals:
Curry-Spiced Steaks & Chutney
Chicken with Enchilada Sauce
Thai Tuna Sandwiches
All three of those meals fell into my "omnivore" plan...of course that doesn't mean they aren't in some of the other plans too. And I think that many people are going to like the benefit of being able to choose among the six dietary plans, and know that all the meals they get will meet their needs. That flexibility is one of the features that makes Green Chef super easy and super flexible. 
Green Chef also (the only provider I've seen to do this) allows you to default your subscription into weekly, bi-weekly, or every 4 week shipment plans. That provides more options for those folks not looking for meals every week. While other companies allow you to skip weeks, you need to pro-actively make the choice to skip. Green Chef's plans provide insurance in case you forget.
Most of the plans have five meals to choose from every week. The vegan plan has just three, and the omnivore plan has six. And if you don't like what's in your plan, you can choose a meal from another plan, although they may change your cost. In all, there seem to be more than 20 meals to choose from every week, so the diversity & flexibility from Green Chef is very good.
The registration process was simple and as you'd expect it to be. Like many providers, Green Chef only ships to the continental US (and they don't yet cover a few parts of Louisiana), In the first part of the registration process you confirm you're in their delivery area, and then go through the process of selecting your plan, your meals, and providing billing/shipping information. Depending on when you sign up, it will take about 1 - 2 weeks for your first box.
Most importantly, are the meals any good?
All the ingredients that came from Green Chef were great. Everything looked, smelled and tasted high quality; at least as good as I'd get at any of my local markets. And everything that came was organic/GMO free.
The best example was the yellowfin tuna that came for one of my meals. it looked great was clearly fresh, with great texture, and no smell. And in the end tasted great. If the fish they send is high quality, I'm pretty confident everything else will be too.
The meals themselves made sense and the ingredients worked well together - for the most part. One minor nitpick, was a mango chutney side for the steak recipe. I didn't think it went well with the steak, and frankly just left it off. But the meal was still good. I really liked these meals. The portion sizes where modest, like all kits, but there was enough for two people (you can also order for 4 servings).
The directions (and pictures) on the recipe cards were well written and clear. I didn't need any special equipment or advanced cooking techniques to get everything prepared. Two of the meals, took almost exactly the suggested cooking time of 30 minutes. The other took me about 10 minutes longer, but all of them can easily be cooked in under an hour.
I was really quite happy with Green Chef, and all my expectations were met or exceeded. I'd happily recommend them to anyone.
Pros of Green Chef
Great flexibility with meal plan options & recipes
Organic & GMO free ingredients
Little to no prep work
Cons of Green Chef
A bit more expensive
Limited choices within selected meal plan
Green Chef's Cost
| | Keto Plan | Paleo Plan | Vegan Plan | Vegetarian Plan | Omnivore Plan | Gluten Free Plan |
| --- | --- | --- | --- | --- | --- | --- |
| Cost Per Serving | $12.99 | $12.99 | $11.99 | $11.99 | $11.99 | $11.99 |
How Green Chef works
One of the best things about Green Chef is it provides you a LOT of options...while still being pretty easy to manage. While a subscription service, like most meal kit providers, Green Chef providers a greater number of plan options for dietary needs, and for frequency of your deliveries.
To sign up you need to be within their delivery areas, which fortunately is just about everywhere. They'll deliver to the 48 continental states, with the exception of a few places in Louisiana - and hopefully come soon to there.
Green Chef is a meal kit company, meaning that they ship raw ingredients (vs complete meals) to you, so you avoid the meal planning & shopping steps. And all of Green Chef's ingredients are organic & GMO free. Proteins are line caught, free range, or wild. They are clearly trying to appeal to those who care about where their ingredients come from.
Registering & Ordering
After confirming you're in their delivery area, the first set of options you have with Green Chef is whether you're looking for a 2-person plan, or the family plan. Each box in the 2-Person plan contains 3 recipes, each designed to serve 2 people; while the family plan contains 2 recipes, each designed to serve 4.
If you'd like to order more, you can sign up for multiple boxes per week, ie, if you want 4 family meals every week, order two boxes.
Green Chef also allows you to choose to get weekly, bi-weekly, or every 4 week shipments. They are the first subscription provider I've seen to give this option during registration. And its a much better way to manage more limited buys than having to log in and skip weeks.
Once you have your quantities and delivery set, it's time to pick your meal plan. They have six:
Omnivore Menu: For those who eat everything, and are looking for "a balanced, seasonal mix"
Paleo Menu: Consists of grain-free dishes, packed with protein and veggies
Vegan: Are satisfying, plant-based dishes
Keto: Meals for low-carb lifestyles
Vegetarian: Diverse, nutrient-rich dishes, obviously absent meat & fish
Gluten-Free: Carefully prepared gluten-free dishes
The Keto & Paleo plan costs $12.99 per serving, with all others priced at $11.99. And most of the meals have 5 dishes to choose from every week. The omnivore menu has 6, and the vegan menu only 3.
The ability to get into a plan, means you don't have to sort through dishes to find which meals meet your dietary needs; you can be confident that every shipment will cover your bases.
Once you've got your plan all set, you simply enter your billing and shipping information to finalize sign up.
It's easy to edit your subscription, or even swap out meals if you'd like. Information, and even the full meal cards are available for you to view ahead of time. You can look ahead several weeks and make changes to upcoming meals. And you can skip deliveries whenever you'd like.
Boxes arrive on your door step, and there's no need to be there to sign for anything. The ingredients for each recipe are bundled together to make sorting easy, and the proteins are packed between ice packs. After unpacking, you can recycle everything that came.
Where does Green Chef Deliver?
If you are in the continental US you are in luck. Probably. Green Chef states they will deliver to the lower 48, with the exception of some parts of Louisiana. When signing up, you confirm you are in the delivery area.
Is Green Chef Organic?
YES! Green Chef takes great pride in providing organic and GMO free ingredients. Although they do hedge a bit and say if something is not available, they may need to provide a non-organic version. Everything i got for three meals was labeled organic. They also state their animal proteins are line caught, free range or wild.
Both of those are going to be very important to some.
Green Chef's Quality
I typically look at quality in two ways. First, the quality of the ingredients - is everything fresh, clean, and tasting the way it should. And second, the quality of the recipes - do the ingredients work together, provide a full balanced meal, that makes sense.
The boxes I got from Green Chef, were well packed, clean and well insulated. All the ingredients were bundled together, and still cool with frozen ice packs in the box. Ingredients for each recipe are bagged together, so you can don't need to do any sorting.
All the veggies that came were labeled organic. They were clean and fresh, and tasted as they should. And the quantities all seemed right.
For proteins, I got some chicken, steak (sirloin), and yellowfin tuna. The potion sizes were somewhat modest compared to what you get from the grocery store, but there was plenty of food. Quality was good on everything and I was particularly impressed with the tuna, which I'd call better than what I usually see at the grocery store. It was fresh, great color, texture, and no smell at all to it. I was happy with all the ingredients.
With respect to the finished meals themselves, I was also pretty happy. My Thai tuna sandwich came out very nice (the bun was probably the weakest part) with good flavors from the curry aioli. The mock "Carrot Fries" were tasty; not really fries....and perhaps a bit over cooked for my tastes, but still nice. I also enjoyed the chicken with enchilada sauce, served on pinto beans & corn. Everything there made sense.
For me, the one mis-step was pairing a mango chutney with the curry spiced sirloin steak. While I liked the dish, the chutney (served on the side) was not really my favorite, and I didn't think it was a great match for sirloin. Could just be my one preference, but I'd leave it off; and thought it would be better with pork or chicken.
Green Chef's Variety
I really like how Green Chef offers six distinct meal plans to choose from. Omnovores like me are happy to eat just about anything, but with so many people on vegetarian, low carb, high protein, gluten-free, etc diets, the ability to get into a plan, that you know will meet your needs, is very appealing.
Also, an option i rarely see, is the ability to go on bi-weekly or every 4 week plans. Like all subscription services my big fear is "falling behind" and having meals stack up faster than I can make them. These plans help you manage your quantities upfront, without having to pro-actively skip weeks.
Once you're in your plan, the meal selection seems a bit more limited. Most plans have five recipes to choose from, and you need to pick three. That doesn't seem like a lot of choice. But, if you don't like your meals, you can just switch plans, and pick meals off one of the other plans. In all, there seem to be about 20 unique meals you can choose from every week - and that's a pretty good set of options.
Green Chef's Simplicity
Green Chef is a meal kit company...they send ingredients, so no matter what you're going to be doing some cooking. There are options out there to get meals delivered, the simplest option, but in my opinion, those meals are not nearly as tasty as what I ate from Green Chef.
Each recipe comes with a detailed recipe card that provides a short summary of the recipe, step by step directions, nutrition and dietary info, and pretty pictures showing how to cook the recipes.
The three that I tried, all had cooking times of between 30 - 35 minutes. And two of them, the tuna & the steak took exactly that long to cook. It took me about another 12 minutes beyond the suggested 30 to get the chicken done.
None of the recipes had me doing any advanced cooking techniques or using any equipment that most people won't have. Very much appreciated, most of the ingredients that came where already prepped for me. Onion was chopped. Ginger was grated. And cabbage & carrots where chopped.
The fact that there was so little prep really helped to get the recipes done quickly and I'd have no problem seeing folks cooking these meals after getting home from work.
Is Green Chef Kid Friendly?
While not the most kid-friendly meal kit provider I've seen, I'd think many of the Green Chef recipes are going to be ok with the kiddos.
With what I tested, the chicken w/ beans would have gone over very well in my house. The tuna (especially cooked rare) probably not so much, and the steak somewhere in between.
For the most part, I see plenty of chicken, pork and pasta dishes (my kids favorites) on the Green Chef menu. There will probably be enough kid friendly choices for most families. However, many recipes attempt to make those proteins "more interesting" with exotic spices/flavors (tandoori, curry, etc) which may  make them a tougher sell.
Overall
I really liked Green Chef.
The flexibility of the meal plans, delivery dates, and quantities is something that I don't see often from other providers. And when you're not picking up the ingredients yourself, I think that flexibility is very important.
The choice of meals (when you look across plans) is robust, so you're unlikely to get bored easily. And since the prep time needed to cook these meals, is modest, you can get them cooked even on week nights.
Most important to me, the ingredients were high quality and the meals tasted good. The finished dishes made sense, were fairly healthy, creative and tasty.
Finally it's all organic. That's honestly not a huge deal for me...but I know it is for many, and Green Chef delivers on it.
About Green Chef
Established in 2014, Green Chef is the first meal-kit delivery service to be USDA-certified organic and Gluten Intolerance Group-certified gluten-free. Featured in Consumer Reports, SELF, USA Today, and Vogue, Green Chef has seven different meal plans including Carnivore, Keto, Omnivore, Paleo, Vegan, Vegetarian, and of course, Gluten-free. Meal plans are designed for two and a Family plan for four is also available. Meals include pre-portioned, prepped ingredients, signature sauces, and easy, step-by-step instructions. 
Excluding the family plan, each plan includes three dinners delivered weekly (six meals total).
Each dinner is ready in about 30 minutes. Family dinners include two dinners, served family-style for parents and kids (eight meals/servings total per box). Family meals are ready in 30-45 minutes and include Carnivore and Omnivore options. Plan costs are:
Carnivore, $13.49/meal
Gluten-free, $13.49/meal
Keto, $14.99/meal
Omnivore, $11.99/meal
Paleo, $14.99/meal
Vegan, $11.99/meal
Vegetarian, $10.49/meal
Sample recipes include Coconut-Crusted Cod, Honey Mustard Chicken Thighs, Lentils with Carrots & Beets, Moroccan Cauliflower, Shrimp Scampi, Steak with Green Curry Chard, and Thai Veggie & Mango Stir-Fry. Meal kits are delivered Monday-Friday by 8 p.m. and customers may customize their delivery days. Shipping is $6.99 per box and meals arrive in recycled or recyclable packaging, with plant-based and other non-toxic components. 
Green Chef says that it balances 100% of its carbon emissions, from company operations to packaging materials, with sustainable offset programs. They accomplish this by teaming up with TerraPass, which helps businesses take responsibility for and reduce their impact on the climate through renewable energy projects and emissions reduction.