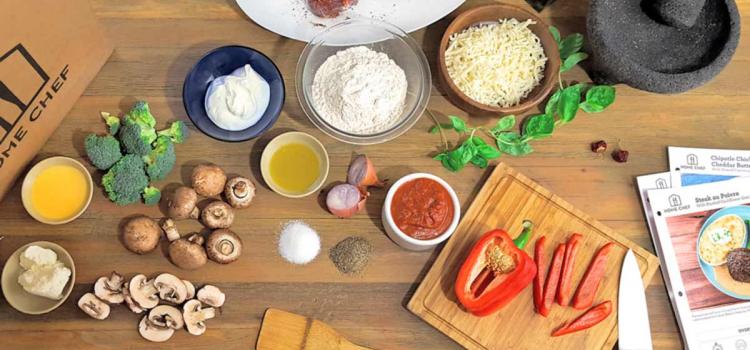 Home Chef Meal Kit Review
Review Summary
Home Chef was built from the start with the premise that cooking a high quality meal at home should be possible even for the most busy among us.
To deliver on that promise, every thing needs to be keep simple and that's reflected in the Home Chef program.
The service is among the most straightforward out there. Flat rate pricing, one menu everyone choose from (and can customize for dietary restrictions), and a simple registration process makes getting started simple.
In addition to dinner recipes, Home Chef also allows you to order fresh fruit, smoothies and lunch dishes.
The meals offered include a nice variety of meat, seafood, pasta and vegetarian recipes. The ingredients I've seen are of the quality I'd expect. One of the recipes I ordered, Baja Fish Tacos, had (quite obviously) fish as it's main ingredient. I honestly was a bit worried about the quality of fish sent to me via the mail, but found it to be fresh, firm, and delicious.
The meals I cooked were well balanced in flavor, interesting enough to keep my attention, without being overly complex, and the directions on the recipes cards where clear and concise.
Most recipes take about 30 minutes, per the recipe cards that come in the box; but I think most people will find they need a bit more time.
My one issue with Home Chef was a packing mistake. Both my recipes came with about a cup of oil for frying, packed in a small plastic tube. In both cases, the some of the oil leaked out of the tube, coating some of the bags the other ingredients came in. I still had plenty of oil, and nothing was ruined, but it did make things a bit messier than they should have been.
I really enjoyed the recipes from Home Chef and wouldn't hesitate to recommend them.
Pros of Home Chef
$30 off your first order
Flexible order quantities
Flat, competitive pricing @ $9.95/serving
Order fresh fruit & smoothies
Cons of Home Chef
Tame recipes if you are a foodie
No discounts for larger orders
Home Chef's Cost
| Cost Per Serving | 2 Recipes Per Week | 3 Recipes Per Week | 4 Recipes Per Week | 5 Recipes Per Week | 6 Recipes Per Week |
| --- | --- | --- | --- | --- | --- |
| 2 Servings | $9.99 | $9.99 | $9.99 | $9.99 | $9.99 |
| 4 Servings | $9.99 | $9.99 | $9.99 | $9.99 | $9.99 |
| 6 Servings | $9.99 | $9.99 | $9.99 | $9.99 | $9.99 |
How Home Chef works
Home Chef offers super simple meal plans. They have 3 options, one each for 2, 4, or 6 servings. Each plan is priced at the same cost per serving, so you're really just selecting the quality of food you'd like to receive.
Each week you'll have the option of choose from about 11 dinner recipes, 3 - 4 lunch recipes, as well as fresh fruit and smoothies.  The recipes include a broad variety of options from red meat to chicken & pork; seafood, pasta, and vegetarian dishes.
At the time of this review...some of dishes that caught my eye included:
Steak with Tomato-Marsala Sauce
French Onion Shrimp and Grits
Coq au Vin
Maple Glazed Pork Tenderloin
Penne Pasta with Sun-Dried Tomato
So far I've cooked Baja fish tacos and chicken kiev. The recipes came together in one box, but each was packaged with their own ingredients in a separate bag, so it was super easy to sort through and keep everything I needed for each together. The proteins come packed separate from the other ingredients, packaged closest to the included ice packs.
Each recipe is well labeled with both ingredients and nutritional information, so you can make an informed decision on what you're ordering.
My first box also came with a plastic three ring binder, and the recipes cards pre-hole punched for inclusion in said binder. As more recipes come in, one can easily keep them all organized in the binder, and cook them on their own. That was a very nice touch and it'll make it easier to re-create your favorites. 
As you start the registration process, you'll first enter your address to ensure that Home Chef can deliver to you area - they deliver just about everywhere, so chances are they can.
Home Chef, like most meal kit providers, is a subscription service. Once registered, you've signed up to receive meals every week, and you're enrolled every week. You can always skip a week (provided you're within the time window), and you can cancel anytime.
The ingredients, along with recipe cards, get delivered to your doorstep in a refrigerated box. You don't need to be there to sign off; and the box can stay out of the fridge for 24 hours after shipping - so it'll last until you get home from work.
After unpacking, you'll have at least a few days with the ingredients in the fridge before you need to cook.
Registering & Ordering
The Home Chef registration process is simple to do. There are 5 steps that should take you about 5 - 10 minutes to complete.
You start by providing your email address and meal preferences. It's at this stage you can specify if you have any dietary restrictions or specific ingredients that you would want to regularly avoid. 
When you're registered, Home Chef will select a default weekly menu for you based on the preferences you've entered. And while they won't modify a specific recipe for you, they will exclude any recipes that don't fit your needs.
After entering your payment info, the last step is to review your default recipes, and make any adjustments. You can swap out recipes, change quantities or even skip a week if you'd like.
Every week, Home Chef will send an email with your weekly selections. You can do nothing if you're happy with those choices, or log in to modify.
Shipping is free for any orders over $45.
Where does Home Chef deliver
While Home Chef doesn't guarantee they can deliver to your address, chance are they can. They cover about 98% of the US. Before you pay, there's a check to make sure you're in the delivery area.
Is Chef'd Organic?
Like many other providers Chef'd says that they use organic ingredients wherever possible, but does not make a claim they are all organic. They do suggest the packaging/recipe descriptions which indicate what is organic.
Home Chef's Quality
Everything I got from Home Chef was at least as good, if not better than I'd get at my local grocery store. With the exception of a bit of oil leaking out of a small bottle, (which made things a bit slippery, but wasn't a bit deal), everything came packaged individually, ready to unpack and use.
I put Home Chef to the test by ordering fish, and found the Tilapia that came to be fresh and tasty. The vegetables where crisp, fresh and tasted good. And when fully cooked, everything come together to provide the right balance of interesting flavors and textures.
Home Chef gets high ratings for quality.
Home Chef's Variety
I love how Home Chef has branched out beyond the standard dinner recipes. Included in your box you can get fruit and smoothies. There are several lunch options. And, at least occasionally, they've got the whole "breakfast for dinner" thing happening - Pineapple Upside-Down Pancakes the week that I looked.
In my first package, I did double down on "fried" recipes with Baja Fish Tacos & Chicken Kiev. Both obviously have an "international" flair to them, which seems common in the Home Chef portfolio of recipes. While there are not as many weekly choices as some of the other services, it does look like you've got plenty of chances to mix up with wide variety of tastes and ingredients.
Home Chef's Simplicity
The dinner recipes themselves come in a fairly wide range of options from red meat to vegetarian. And there are several that have an international spin to them...bringing in Asian, Latin, and Middle Eastern flavors.
From both trying a couple recipes, as well as looking through their website, Home Chef recipes, are not exactly "Simple". There are fairly sophisticated; I'd say worthy of the "foodies" out there. So naturally, there's a few steps to follow.
However, I found that the recipes cards where well written with simple to follow steps and clear directions. I had not trouble following their steps, and didn't feel like I had to make any major adjustments.
Is Home Chef Kid Friendly?
As always I hedge a bit on the Kid Friendly notes, as kids are all so different. Looking through Home Chef's recipes and ingredients, there's not a lot of complete meals that my kids would dive head first into.
However, just about all of them have some ingredients that my kids would happy eat...of course my kids are under 8, which is always tough. If you're got teens, I think you'll be just fine. 
Overall
I read quite a few good reviews about Home Chef, and I'm happy to say that my experience did not disappoint. It is clearly one of the best options out there.
The ordering and delivery process where simple. The cost of the service is a bit higher than some others, but it excessively so.
The food is where Home Chef really shines. All the ingredients came fresh. The produce and proteins all tasted great. And while I was admittedly nervous trying a fish recipe, it exceeded my expectations.
As someone who cooks meals from scratch at least 5 nights a week, I'd be happy to include Home Chef into the mix.
About Home Chef
Founded in 2013, Home Chef is a Chicago-based meal kit company that Inc. 5000 ranks as the third-fastest growing private company in the country. This "fresh ingredient and recipe delivery service" has been featured in USA Today and The New York Times, and on ABC, FOX, and WGN. In May, Kroger Co., the largest supermarket chain in the U.S. and parent company of Mariano's, announced that it would pay $700 million to acquire Home Chef. The move will make the company's meal kits available to a wider audience.  
Home Chef says its customers have direct access to some of the nation's highest quality food suppliers with recipes created by seasoned chefs. To get started, customers can sign up for the delivery service online and begin browsing through 15 fresh recipes featuring chicken, fish, pork, steak, vegetarian and more. Low-calorie and low-carb options are available as well as options for those with food sensitivities to soy, shellfish, milk, nuts, and wheat. Each kit contains easy-to-follow recipe cards and pre-portioned ingredients, packaged in insulated Home Chef boxes with ice packs. Meals are delivered each week, directly to the customer's door. 
Meals are priced at $9.95 per serving. Customers can choose meals in pairs of two, four, or six servings. A lunch option, sold at $7.99 per serving, is featured each week. Specially featured premium dishes are sold at market price. Shipping is free on orders over $45. For orders less than $45, the shipping cost is $10.