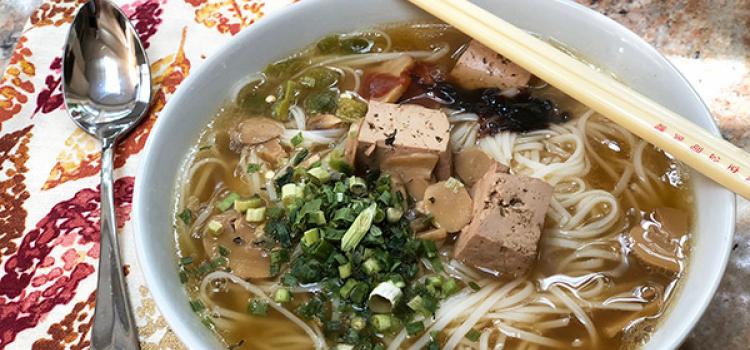 Take Out Kit Review
Review Summary
If I had to sum up Take Out Kit in one word, it would be Wow. I was so impressed with the two boxes (Indian Butter Chicken & Vietnamese Pho) that I tried, that I definitely plan on ordering again. Cooking them was simple. And the flavors packed quite a punch. And sense each box comes in servings of 4, i even thought about hosting a Take Out Kit dinner party with some friends.
The company provides about 20 meals you can order on their website, all focused on various traditional "take-out" cuisines - Asian, Indian, Latin American, and even Eastern European. All of the meals come packaged with shelf stable ingredients, meaning once you get them, you can store them in your pantry - no refrigeration required. In some cases, that means you can choose to add your own protein, picking up fish, chicken, beef, etc at your local grocery store; or in other cases, they'll provide tofu, or even chicken (packaged to be shelf stable similar to packing tuna in a can/pouch).
The two recipes I tried each took about 30 minutes to make. One (the pho) used tofu, the other chicken.
I was impressed from the moment I saw the colorful box. It looks fun, exciting and inviting. And that feeling continued as I unpacked it. Each box is carefully packed with various seasoning packets, spices and flavors you need for the recipe. All of which, I thought were above average quality. As well as detailed recipe cards that provide directions, pictures, and some context for the food you're making.
A word about the non-refrigerated chicken. It's fully cooked, and comes in pieces about 1/2 inch cubed. It, along with the tofu, are the only elements I didn't think were as good as I'd get fresh. However, both were much better than I expected, and actually worked quite well in the dish. I'd have no problem using them again.
The meals took about 30 minutes to make. Packed a ton of flavor. And cost about $7/serving. 
I had a really positive experience, and highly recommend you give them a try.
Pros of Take Out Kit
Really tasty food from exotic regions
Easy to make recipes - almost no prep work needed
Low cost per serving
Cons of Take Out Kit
Best if you buy your own protein
Must order in 4 person servings size
Take Out Kit's Cost
| Cost Per Serving | Lowest Cost | Highest Cost |
| --- | --- | --- |
| Meal Kits | $7.50 | $8.75 |
| Meal Samplers | $6.14 | $7.35 |
| Drink Kits | $1.75 | $2.00 |
How Take Out Kit works
Take Out Kit is one of the more interesting meal kit companies I've reviewed.
First the food. With respect to recipes, they are clearly targeting a very specific niche around "exotic" foods (shockingly the very cuisines typically associated with take out food). While there are not a ton of recipe options to choose from (16 at my last count), each of them hails from some far way place...Morocco, Thailand, Argentina & more. You're not going to find pizza & burgers here, so if that's your thing, move on.
Second, the ingredients. Take Out Kit sends all the ingredients you'll need for a meal (unless you choose to add your own protein), and they unabashedly DON'T focus on fresh ingredients. All of Take Out Kits boxes (that I've seen) are shelf stable - meaning you can store them outside the fridge. The proteins are either canned (Tofu) or pouched (Chicken) and don't required refrigeration, but they also make it clear you can buy their kits without any protein at all, and provide your own. The kit is really focused on spices & flavors to make the meal as authentic as possible. And based on my two samples, the flavors shine for sure. 
Adding some fresh veggies & protein would be nice, but honestly, Take Out Kit makes it possible for me to make a really good tasting Pho or Indian butter chicken in 30 minutes with only what comes out of the box.
Registering & Ordering
The fact that Take Out Kit is not shipping fresh ingredients make the ordering & shipping process much easier. Like most other meal kit providers, you don't need to be home when delivered, but unlike most others, you don't even need to unpack the box for weeks or even months. That takes a ton of pressure of "feeling you've got to get to the box".
When you visit the website you'll be able to easily find the current meal kits that are offered. They come in serving sizes of 4 and range in price from ~$29 - $34. Most will cost a bit less if you choose to provide your own protein.
At the time of writing Take Out Kit was offering:
Pad Thai
Peruvian Creamy Yellow Pepper Chicken
Japanese Tonkotsu Ramen
Burmese Curry Noodles (Khao Soi)
Indian Butter Chicken & Basmati Rice
Thai Crab Curry
Spanish Paella
Korean Tofu Stew (Sundubu Jjigae)
Vietnamese Pho Noodle Soup
Argentinian Empanadas
Sichuan Mapo Tofu
German Beer Garden Spätzle
Ethiopian Lentils (Misr Wat) & Injera
Moroccan Baked Eggs (Shakshuka)
Italian Truffle Risotto
Indian Chana Masala Meal
If desired, you can subscribe and get regular shipments, but you don't need to. If you're just an occasional buyer, you can purchase a la cart. You simply add the kits you'd like to your cart, and then check out with credit card or paypal.
Each box comes with all the ingredients you need (unless you choose to add your own protein), and is easy to unpack. The box also contains a well designed and good looking, recipe card. It provides pictures, some context for the recipe and detailed step by step directions.
In addition to the kits above, they offer "sampler" packages which consists of 3 meals of 4 servings each. And they offer drink kits as well.
Is Take Out Kit Organic?
While the ingredients are shelf stable, Take Out Kit promotes they are of the highest quality (which was my experience) and organic & preservative-free whenever possible.
Where does Take Out Kit Deliver?
Because their boxes don't need refrigeration or to be packed on ice, Take Out Kit can be shipped just about anywhere. Per their website, they can ship to all of the US (Alaska, Hawaii & Puerto Rico included) as well as APO military bases worldwide.
What does Take Out Kit Cost?
Take Out Kit meals come in portions of 4 servings, and a single box ranges in price from about $29 to $34. So the cost per serving is around $7.50 to almost $9. That's a bit cheaper than the average meal kit provider. And if you buy the sampler boxes (12 servings) then the cost per serving drops about another buck.
Take Out Kit's Quality
My simple perspective on quality, is that I really liked everything that came in the box from Take Out Kit. 
The slightly longer version factors in what exactly Take Out Kit ships. Unlike some other providers you're not getting fresh fruit, veggies, and meat from Take Out Kit. So, there is nothing that's going to spoil or go bad by the time you get it.
The recipes I tried, provided spices, flavor packets, and dry goods like rice & noodles. For protein, I got canned tofu & chicken (packaged in a shelf stable pouch).
All the dry goods i got were exceptional. I've tried many spice blends, and often they taste flat and/or over processed. Every one of them that I got from Take Out Kit was great, and provided a rich tasting dish.
I'm not a huge tofu eater, so it's hard to judge the canned tofu. But I thought it tasted like tofu should. I was most skeptical about the chicken in a pouch. I've never had chicken in a pouch.
Certainly, if given a choice of chicken on a plate, I'd take a fresh cooked chicken breast over the pouch. However, the recipe (Indian Butter Chicken) essentially calls for a "stewed" chicken, and the chicken in the pouch worked great. The taste and texture was fine (again, not a good as homemade) and blended in nicely with the sauce.
I give Take Out Kit high marks for quality.
Take Out Kit's Variety
Take Out Kit has 16 choices on their website. And several of the recipes can be ordered without an protein. If you add your own, you can change up the recipes at home.
The 16 recipes they have, are from all over the world (Asia, Europe, Latin America), and represent a greater selection of authentic regional foods than I've seen from other providers. So they get high marks for that.
However, the menu doesn't seem to rotate much, and some items at times are out of stock.
So, if you're looking for a "once a week" option, you're probably not going to get board, and there'll be plenty to choose from. But, if you want to order, 2 or 3 meals per week, after just a couple weeks, you're going to be forced into repeats.
Take Out Kit's Simplicity
The fact that there are no fresh veggies or meat in the Take Out Kit boxes actually helps to make cooking process quite simple.
Both of the recipes that I made really required almost no prep work, and once I started cooking, took less than 30 minutes to make. 
The detailed recipe card that comes in the box provided very clear directions - in addition to a bit of context for the recipe - that were very easy to follow. They also highlighted a few tips and tricks that'll make the finished dish even better.
Now, some people will want to take the opportunity to add their own protein, or veggies to the meal. And if you do that, things will of course be a bit more complex.
Is Take Out Kit Kid Friendly?
Got an adventurous kid?
The answer to that question makes or breaks Take Out Kit's kid friendly appeal. The flavors are bold and exotic. Nothing i had was too spicy (or at least spice could be controlled) for a kid, but kids (who are all under 8) honestly would not go near the stuff. It was just too unfamiliar.
However, if you got some older kids, or adventurous eaters, this would work.
Overall
I was really, really impressed with Take Out Kit.
Often, I'll buy spice kits/jars that promise to deliver authentic flavors, but too often they are just plain bad. Either missing the mark completely on the flavor profile, or tasting processed/chemically.
That is NOT Take Out Kit. I honestly enjoyed the flavors of everything I tried. 
The recipes were also very simple to make - and don't require more than "novice" level cooking skills. I did kinda miss having fresh vegetables and meat, but those would be pretty easy to add in.
I'd strongly suggest you give them a try. And if you do, let me know how it goes.
About Take Out Kit
Takeout Kit is a global meal kit delivery service that caters to diners looking to explore international cuisines. Rachel Lake, founder of Takeout Kit, says she believes that "an appreciation of a country's food cultivates curiosity in culture, which leads to traveling and learning, which leads to feeling more connected to a global community, and ultimately having a better life. Through Takeout Kit, Lake "hopes to bring that experience to every home in America."
Each box features hard-to-find, exotic ingredients, authentic recipes, information about the culture and background of the dish, and easy-to-follow instructions. Music playlists and drink pairings are included to enhance the experience. Eighteen different types of cuisine are available ranging from African, Asian and European to Middle Eastern, Peruvian, and Vietnamese. Dietary preference categories include all natural, meat, natural ingredients, proteins, vegan, and vegetarian. Cook time options are under 30 minutes, 30-40 minutes and 45+ minutes and spice levels are mild, medium, and spicy. 
Sample dishes include German Spatzle, Korean Tofu Stew, Italian Truffle Risotto, Moroccan Baked Eggs, and Peruvian Creamy Yellow Pepper Chicken. Meals serve four and prices are either $30 and under or $30-$40 for single kits. A subscription is not required, but for those who prefer a plan options include:
•    Month-to-Month - 1 kit/month, $32.99; 2 kits/month, $65.99; 3 kits/month, $92.99
•    3-Month, $94.99 - 1 new global cooking adventure each month
•    6 Month, $179.99 - 1 new global cooking adventure each month
Takeout Kits have a two-month shelf life and shipping is free.