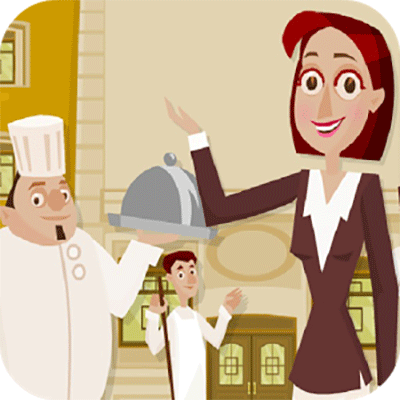 Culinary Profile: Food Service & Restaurant Managers
What does a Food Service Manager do? Where do they work? Salary & Career Trends for Food Service Managers?
About Food Service Managers
Job titles in the culinary industry can be tricky. You'll often find Food Service Managers going by other titles, which may include: Banquet Manager, Catering Manager, Director of Food & Beverage, Food Service Director, Food Service Manager, Food Service Supervisor, Kitchen Manager, Restaurant General Manager, Restaurant Manager
While Head (or Executive) Chefs will often be responsible for all aspects of a restaurant (or food service establishment), just as often they will partner with a Food Service Manager to share responsibilities. The chef will be the leader in the kitchen, or "the back of the house", where a food service manager, will take "the front of the house". The exact responsibilities of the food service manager can vary, but generally they have a significant amount of experience & training in culinary arts, retail, and customer service.
According the the BLS, there were about 305,000 Food Service Jobs in the United States in 2014, with new jobs expected to be added at about the same rate as total job growth. 
What does a Food Service Manager do?
Food Service Managers are leaders first and foremost. They need to partner with the head chef to ensure that their restaurant or food service establishment is running smoothly & profitably with happy and returning customers. As such, in addition the activities below, food service managers, often need to be a "jack of all trades", jumping in wherever they're needed.  Much of the time, they will be:
Managing staff - hiring, scheduling & training & firing employees
Ordering food, drink & supplies and ensuring inventory is where it should be
Tracking revenue, costs & profitability
Planning prices for meals & drinks
Ensuring safety and sanitary standards are met
Engaging with customers & customer service
Marketing & promotions
The best food service managers are primarily responsible for ensuring things are running smoothly, and always ready to quickly problem solve with the need arises.
Who Employs Food Service Managers?
While Fast Food or Quick Service Restaurants are unlikely to employ Head Chefs, just about any place that is serving food & drink to patrons will have one or more Food Service Managers. The BLS reports that, there are nearly twice as many food service manager jobs that head chef jobs. That said, restaurants are still the largest employers of food service managers,. The largest employers by industry are:
Restaurants: 70%
Special Food Service (Food Trucks, carts, etc): 6%
Travel Accommodation (hotels, B & Bs, etc):4%
Management of Companies and Enterprises: 4%
Schools: 3%
What is a Food Service Manager's Salary?
There is quite a range between the highest and lowest paid food service managers. On the high end, the top 10% in the US make close to $83,000 per year according the the BLS. Offsetting that, on the the bottom 10% make $28,780 which is about $7k lower than the average for all occupations. Obviously several different factors influence how much any particular Food Service Manager is paid, including things like: Experience, education, location, restaurant type (fine dining, chain, fast food, school, etc…), and of course the individual's job responsibilities & performance.
On average, food service managers make $48,690, which is more than $10K over the national average for all jobs.
How to Become a Food Service Manager?
Many Food Service Managers reached their position through on the job training, starting out in lesser roles, and allowing their good work & experience to propel them to higher position. Typically the only educational requirement is a high school diploma, and many food service managers work as servers (waiters), hosts, bartenders, cooks; learning the management skills on the job.
In addition to on the job training, several more formal education options exist to get the skills needed to be a food service manager.  Several national food service & cooking associations offers various certificates in things like food safety and management schools.
Schools & colleges also offer more formal training in the form of certificates and degrees. Many culinary arts programs provide classes on the "business" side of the culinary industry. Dedicated Hospitality Management programs are dedicated to teaching students the workings & operations of restaurants, hotels, resorts, casinos and a number of other food service venues. In those hospitality programs, students learn marketing, business strategy, management & HR best practices, analytics & business management.  
There are culinary & hospitality management schools all over America that prepare student for Food Service Management.. Schools tend to offer three training programs/paths:
Certificates: Are generally short term programs focused on specific restaurant operations skills/techniques
Associate's Programs: Are two year degrees frequently offered by community colleges that offer instruction on the management/business aspects of being a food service manager
Bachelor Programs: Offer a four year degrees hospitality management, and provide individuals with an excellent educational base, and generally hands on experience, to pursue a culinary career.