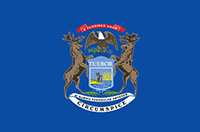 Culinary Schools in Michigan
Michigan may be the birthplace of the auto industry, Motown and the home of the Detroit Lions, but Michigan also means interesting regional cuisine. Although the state doesn't have any Michelin-ranked restaurants, it is currently exploding with sophisticated and diverse restaurants and restaurateurs exploring both traditional and modern food trends. 
Unlike other established foodie cities, Michigan is not dominated by iconic restaurants. 
Instead, the state, and Detroit in particular, is a place of local haunts and familiar favorites. New restaurants are finding their way into empty buildings throughout economic strapped towns dotting the state landscape, attracting investments from investors eager to help rebuild the region. According to the Michigan Restaurant Association, there are nearly 421,000 individuals across the state, employed at more than 15,900 restaurants. Michigan restaurants produce $14 billion in sales annually and currently 11% of the jobs in Michigan are people employed in restaurants and food service.
According to the National Restaurant Association, the culinary industry in Michigan is still recovering from the economic downturn, meaning the state is experiencing only 5.8% job growth and overall, individual career growth is expected to be somewhat muted into 2022. However, one of the culinary careers projected to have the largest increase, estimated at 7% according to the Michigan Department of Technology, Management and Budget, are food service managers. Statewide the numbers for those in the culinary industry are good: Chefs and head cooks average $43,000, according to the Bureau of Labor Statistics (BLS). Bakers and pastry workers average $25,000 and food service managers average $50,000 annual salary.
There are multiple avenues to becoming a chef: working abroad in culinary hotspots like France; apprentice under a culinary tutor, or attending a culinary school in Michigan. 
There are 16 culinary programs in Michigan and the Culinary Institute of Michigan is one of the largest. For those seeking a culinary degree in the Auto State you can select from one of four subject paths at various Michigan culinary schools: Culinary Arts, Baking and Pastry Arts, Culinary Management, and Hospitality Management. Training at a culinary institute can prepare any graduate to pursue a variety of careers, including chefs, private chefs, caterers, restaurant managers, pastry chefs, sous chefs and more and the Michigan culinary scene is a viable consideration.
With an economic recovery taking place in Detroit and throughout Michigan, coupled with emerging food scenes in multiple locations across the state is poised to be an attractive possibility for students considering a culinary education. And consider this -  Michigan produces a broader variety of produce than any state in the nation except California. This in no way is meant to indicate that a startup restaurant operation in Michigan would be easy, only that the state has immense possibilities for those willing to work hard and take risks.
Culinary Schools in Michigan by City
Detroit MichiganDorsey Business Schools-Roseville
Roseville MI
Pontiac MI
Dearborn MI
Warren MI
Bloomfield Hills MI
Livonia MI
Novi MI
www.artinstitutes.edu/detroit/
Grand Rapids MichiganBaker College of Muskegon
Muskegon MI - Grand Rapids
Grand Rapids MI
Flint MI
Big Rapids MI
Jackson MI
Monroe MI
Traverse City MI
Ann Arbor MI