Review of Freshly's Buffalo Chicken with Loaded Cauliflower
Review Summary
Freshly, rather than being a meal kit service, is actually a meal delivery service. Rather than sending you a box of ingredients for you to cook your email, Freshly's meals come fully cooked and packaged. You only need to heat and eat. That of course is a huge difference...in both eating...and reviewing their recipes.
The buffalo chicken breast with cauliflower came just as advertised. Simple, fairly tasty and incredibly convenient. It took about 3 minutes to heat up in the microwave, and both the chicken and the cauliflower are done at the same time.
The chicken was tender, and fairly juicy. The buffalo sauce was a tiny bit spicy, tasted pretty good, but did have a bit of a processed feel to it. The loaded cauliflower had a good consistency and was also tasty.
I think the best comparison is not a home cooked meal, but a pre-cooked frozen meal from the grocery store. And with that comparison...this dish kicked ass. It was clear it wasn't frozen, and everything tasted fresh.
If you're not a cook, or you're looking for maximum ease, it's a great option for you. If however, you like getting your hands dirty, I think you can probably get a better tasting version cooking it yourself.
Ingredients
Like all Freshly meals, this one came gluten free, and at a calorie count of just 470, is also waistline friendly. There are a several ingredients listed, like citrus extract, that I'm not going to list here; but I don't see anything too "artificial":
Cauliflower
Chicken Breast
Water
Cheddar Cheese
Butter
Canola oil
Cayenne Pepper Sauce
Bason
Greek Yogurt
Making the dish
There isn't really any "making the dish" with Freshly. All you need to do is heat it up.
I chose to heat this one up on a plate vs in the package, but you're able to do either. Both take about 3 minutes, and both methods are clearly described on the packaging.
For the plated option, I removed and plated the chicken breast and microwaved for about 45 seconds, covered. Then I added the cauliflower and finished for about another 2 minutes.
The meal heated though nicely, and after letting is rest for another 2 minutes, was ready eat.
Taste
As an avid home cook, for me food is all about taste; not convenience. And Freshly, in my opinion, is about providing a good tasting meal, at maximum convenience.
It delivers on that process.
The chicken itself was tender, but lacked the hard sear/crust that you get from cooking it fresh over high heat. The buffalo sauce was tasty, but the super bright orange color was a bit odd...and it did taste slightly processed. I thought the loaded cauliflower mash was the best part of the recipe. The flavor and the consistency was good. Again however, since it's cooked for you, there's relatively little you can do to modify it to suit your own tastes.
I'd be happy to eat this again...assuming I didn't have the time to cook from scratch, and I'd take Freshly's version over anything from the frozen section in the grocery store for sure.
Freshly's Buffalo Chicken with Loaded Cauliflower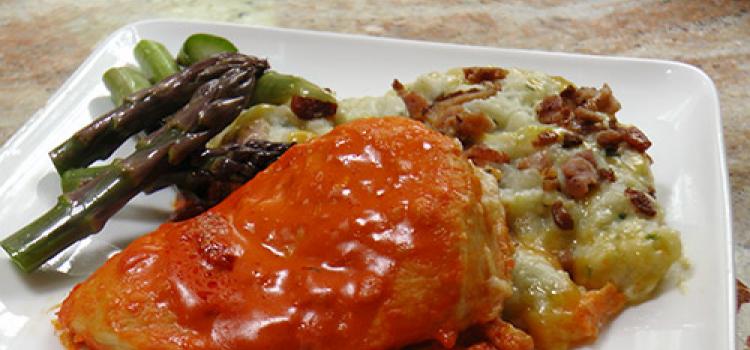 Overall
I was perfectly happy with Freshly's buffalo chicken. It was not the the greatest chicken breast recipe I've every had or every made. But it probably comes very close to the best I've ever had with 3 minutes cooking time!
Please let me know how your experience with Freshly goes in the comments below, and what you think about the recipe. If you're looking for that kind of ease and convenience give it a try with the discount code below!