Review of Freshly's Steak Peppercorn with Sauteed Carrots & French Green Beans
Review Summary
The other day a box of Freshly meals arrived, and one of their top rated meals - Steak Peppercorn was in the box. I was very interested to find out how it would taste.
For those not familiar with Freshly, rather than sending ingredients, Freshly delivers fully cooked and package meals. After unpacking you simply reheat in a microwave and they're ready it eat. The whole process literally takes about five minutes.
Like every Freshly meal I've tried, this one was super simple, and I was eating within just a few minutes. Also like the other Freshly meals I've had, this was tasted good - far better than any pre-packaged meal I've gotten at the grocery store. That said, from a taste perspective, it's not nearly as good as a home cooked meal.
The potato mash was flavorful and well seasoned. For me both the steak and veggies where a bit overcooked; but steak is such a "personalized" food - some like it rare, come well done. This steak was well done, but did have nice grill marks, and was definitely tender and flavorful.
If you're not a cook, or aren't looking to spend an hour in the kitchen, Freshly is probably for you.
Ingredients
All of Freshly's meals are gluten free, so if you're looking for that, it's a great choice. And everything that I tasted seemed fresh and of good quality. Because (I think) Freshly meals are cooked and shipped, there's a whole bunch of ingredients, they use like "expeller pressed canolo oil", that you never see in the package; and I'm not listing them here. According to their website, they use only natural ingredients, and everything I've seen jives with that.  For the Steak Peppercorn recipe, the meal came with:
Flat Iron Steak
Potatoes
Green Beans
Carrots
Cream Sauce - which was mostly "melted" into the steak and potatoes
Making the dish
Freshly's main value proposition (in my opinion) is that there is no "making the dish". The Steak Peppercorn came packaged and fully cooked. After heating up for five minutes you're ready to go. 
Each recipe comes packaged in a cardboard sleeve which contains recipe info and heating instructions. One you remove the sleeve, you pierce the plastic cover a few times to allow steam to escape.
After microwaving for about 3 minutes, and resting for another 2, the meal is ready to eat. You can either plate it, of eat right out of the plastic container, and save yourself a dish to clean.
Taste
The steak peppercorn dish has three main components, the steak, the mash potatoes, and the veggies.
For me, the mashed potatoes tasted just as good as what I'd expect homemade mashed potatoes to taste like. They had a good texture and where well seasoned. The sauce that came with the steak mixed with the potatoes a bit, and that gave the potatoes some additional flavor.
The steak was tender, and had good flavor. It was easy to see grill marks on the outside of the steak which I was impressed with. It was clearly cooked over high heat, and had a nice flavorful char. The peppercorn sauce got a bit "lost" as it melted way in the microwave and blended with the potatoes. My main issue was the steak was cooked well-done without a trace of pink. I prefer medium-rare, so I thought it was a bit dry. Someone who likes well done, would have no problem enjoying the steak.
The mixed green beans and carrots, like everything else tasted fresh and were well seasoned. I think for most people they would be cooked very well; for me, they were a touch soft, but I tender to like vegetable closer to the raw side.
Freshly's Steak Peppercorn with Sauteed Carrots & French Green Beans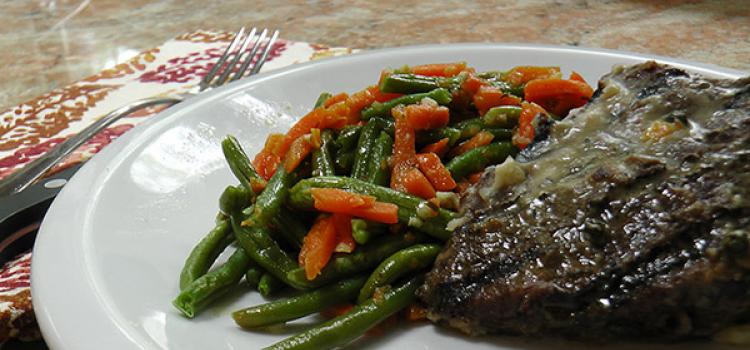 Overall
When it comes to Freshly, for me, context is everything.
If you're not looking to spend time cooking, I think you'd be really happy with this Steak Peppercorn recipe. Everything tasted good and had the right consistency/texture.
If you don't have the time, patience, or skill to cook, and the alternative is a grocery store frozen food aisle steak. I would happily take Freshly every single time.
That said, don't expect the same result you'd get from going to your local butcher & farmers market and preparing everything from scratch.
Going in with that understanding and I think you'll be a happy eater. Let me know what you think in the comments below, and how your experience with Freshly went. If you're interested in trying Freshly out, make sure to use the discount code below.