Review of Freshly's Veggie Baked Penne
Review Summary
First the good.
I thought the veggie part of this dish (Zucchini, Tomatoes, Spinach) were quite nice. The Zucchini especially was cooked well. It retained some firmness and texture, and tasted nice. The sauce and the cheese came together and give the dish a rich tasting flavor (it does seem like a slow cooked sauce made with love) that had complexity, good seasoning and flavor. It was rich and pretty nice.
However. I really did not like the texture of the pasta which seemed over cooked an mushy - the opposite of al dente.
Now, one of Freshly's value propositions is that the meals are gluten free, so obviously this was not traditional wheat pasta. Rather it's rice based, and I'm not super familiar with the normal texture of rice based pasta. What I tired in this dish tasted like overcooked, mushy pasta that had no texture or bite to it at all. And that pretty much ruined the dish for me.
I've found when I've re-heated traditional pasta in sauce at home, if oven ends up overcooked. I got the same effect here, and my next Freshly meal probably won't be a pasta one.
That said, like all Freshly meals, it was a breeze to make. As it arrives fully cooked, it only took about 5 minutes to un-wrap, heat up and start eating. You can't beat the convenience.
Ingredients
Since the Freshly meals come fully cooked there are no actual individual ingredients delivered. And the fully prepared meals have some ingredients (like stabilizers) that I don't list out below...but the main ingredients in this recipe are:
Marinara sauce
Penne pasta (gluten free)
Zucchini
Tomatoes
Spinach
Onion
Ricotta cheese
Mozzarelle cheese
Parmesan cheese
Making the dish
Like all of Freshly's recipes, ease and convenience is king (as is the lack of gluten), and there's no cooking needed at all. The recipe comes fully cooked, packaged in individual servings. You're ready to eat in about five minutes.
Simply remove the microwavable package from cardboard container, poke a few holes into the cover and pop the whole thing into the microwave for about 3 minutes. Let it cook for couple minutes and you're ready to go.
Taste
As i mentioned above, there is actually quite a bit that is good with this recipe.
I found the marinara sauce to be a just the right bit sweet, tangy and rich. The cheese nicely melted into the sauce and provided a some extra body, as well as the salty flavor of the parmesan cheese.
And the vegetables held up quite well. There were clear pieces of zucchini that held their shape and texture throughout the cooking process. The spinach was lightly wilted, and with the tomatoes, tasted nice.
However, the pasta really was too soft for me to enjoy the dish as much as the other ingredients deserved. And while I think a lot of people would be ok with it, I'd rather order something else.
Freshly's Veggie Baked Penne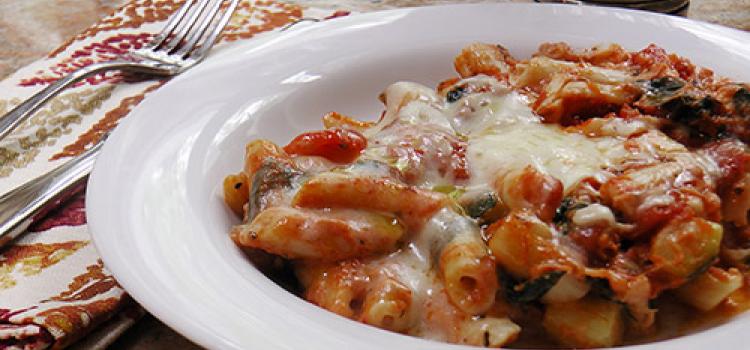 Overall
While the softness of pasta meant i was not a fan of this dish, I'd love to get feedback from those who regularly eat gluten free pasta. Is that normal? And if so, those we need to be gluten free, are used to and like rice pasta. then go for it.
For me, or those that are used to wheat pasta cooked al dente - stay away, and go ahead and spend your $ on a different Freshly meal.