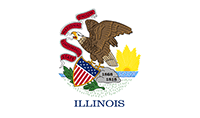 Culinary Employment Trends in Illinois
Illinois Culinary Jobs, Employment and Salary Trends, Job Opportunities; Culinary Schools and Colleges in Illinois
Overview of Culinary Careers in Illinois
Featuring the Chicago Bears, Superman's Metropolis and the Sears Tower, Illinois is also known for her culinary presence, whether casual: she is the birthplace of the first McDonald's restaurant; or formal: she is proud to claim Spaggia, the celebrated Italian restaurant where famous musicians, actors and even our President has frequented.
The Illinois food scene seems to be a mix of American and ethnic cuisines: Italian, Greek and Eastern European, with her most popular foods being Italian sandwiches, ranch dressing, corn, deep dish pizza, gyros, popcorn, hotdogs, burgers and pierogies, according to OnlyInYourState. German immigrants have influenced the love of pork sausages and potatoes in Illinois, while Eastern European settlers converted the populous to enthusiastic fans of the pierogi.
But a lesser known fact may be that Illinois supports two AVAs, or American Viticultural Areas, one running across several states: Mississippi Valley AVA and the other in southern Illinois: Shawnee Hills AVA. What may seem like an up-and-coming wine culture has really existed for over a century, but has been somewhat ignored. Wine and food events can be seen all over the state now, especially in Chicago, affording chefs further opportunity for culinary creativity.
Ask anyone what Chicago is known for and the answer hands down is: their restaurants. In Thrillist's article "19 Illinois Cities, Ranked by Their Food and Drink", Chicago came in at #1—no shock there. And Chicago features 4 of the 100 Best Restaurants in America (according to OpenTable):
Bavettes, Chicago, IL
Boka, Chicago, IL
The Capital Grille - Chicago – Lombard, IL
Les Nomades, Chicago, IL
But visitors to Illinois should not miss Evanston, ranked #2 among Thrillist's 19 great food cities. And the Herald&Review placed her among "The 19 tastiest cities in Illinois". Some of Evanston's better eateries offer "the best" of tapas, burgers and fried chicken. Finally, Evanston is credited with naming the ice cream "sundae".
Aside from her striking dining and restaurant offerings, Illinois further impresses with her bounties from the land. The state is a leading producer of soybeans, corn and swine, according to the Illinois Department of Agriculture, and farmlands cover about 75% of the total land area. Other interesting crops produced include horseradish, ostriches and buckwheat, but Illinois also raises mainstream items like cattle, wheat, oats and poultry. Her 2,640 food manufacturing companies are prolific, developing crops and livestock into food products and therefore providing aspiring cooks and chefs an abundance of culinary elements to work with.
Illinois' food landscape offers would-be chefs:
opportunities at several service levels, from hotels to bars to the finest restaurants. 
an interesting mix of cuisines to work with, including American, Italian, Greek and Eastern European.
prospects in a field expected to grow by 2.2% over the next year. Over the next ten years, restaurant cook and food service supervision jobs are expected to grow more than 10%.
an average salary for Illinois cooks that is ranked 25th in the nation.
Owing to Chicago's exuberant restaurant scene, Illinois employs 165,170 culinary professionals, the fifth highest number employed in any of the top 10-populated states. The number comprises food service managers, chefs and head cooks, food service supervisors, line cooks, bakers and bartenders throughout the state's cafés, hotels, restaurants and other venues. Cooks in Illinois frequently take on more than one job at a time to ultimately increase their experience and desirability.
Employment and Salary Trends in Illinois
With so many culinary jobs available, to repeat:165,170, according to the Bureau of Labor Statistics (BLS), food professionals tend to try different types of culinary occupations, often enjoying promotions after several years of hard work and experience.
Illinois chefs, cooks, bartenders and their managers earn an average of $29,093 per year. But as you'd expect, there is quite a bit of variability among job types and employees. 
Food service managers tend to earn the most with an average salary of $53,690 (BLS May 2015 Data), which is up from $ 52,950 a year ago (BLS May 2014 data). Illinois food service managers' salaries rank 22nd among the 50 states, ahead of Ohio and behind New Hampshire. The top 10% of food service managers earn over $78,000, well above the average. Food service managers also have the most wage variability.
Chefs and head cooks earn the next highest average salary of $44,350 which is up from $43,470 a year ago. The top 10% of chefs earn a lot more than the average, at nearly $72,000 per year.
Restaurant cooks' salaries rank 25th in Illinois among the 50 states, ahead of Virginia and behind Utah. Chefs' and Head Cooks' salaries rank lower nationally at 28th, ahead of Ohio and behind Hawaii. Experienced restaurant cooks, at the top 10% of the pay scale, earn almost $32,000 per year.
In Illinois, culinary jobs tend to hover around the average for all jobs, with some higher, and some lower within their categories, but chefs, head cooks, and food service supervisors in Ohio are all paid above the national average for all culinary occupations.
Culinary Job Opportunities and Employers in Illinois
Given the nature of the work, there are not many restaurants in Illinois that employ hundreds of culinary professionals. Instead, most food service locations will employ a relatively small number of chefs, cooks and food service managers. That said, there are a broad range of employers available, which include:
Restaurants and Bars
Hotels, B & Bs and Lodges
Schools
Hospitals
Private companies and individuals looking for private chefs
The State of Illinois maintains a database of jobs at https://illinoisjoblink.illinois.gov/ada/r/job_seeker, provided by the Illinois Department of Employment Security. You can search by keywords, location and radius. Employers offering numerous food service jobs are hotels, senior living communities and restaurants.
Culinary Training, Schools and Colleges in Illinois
Aspiring cooks and chefs in Illinois will either opt for formal education or on-the-job training. The latter often means very entry-level jobs like dishwashing or even unpaid opportunities, such as internships. But most restaurant managers constantly facing high turnover will welcome these temporarily unskilled workers, especially in restaurant-dense cities like Chicago and Evanston. True, the work is hard and pay is low, but up-and-coming culinary talent is motivated to learn from the ground up.
Those individuals who choose the education route can select among Illinois' many culinary arts, baking and pastry or hospitality management schools. Along with its incredible food and restaurant scene, Illinois provides dozens of culinary schools and programs, some with degrees awarded. However, not all schools provide the same culinary education, with cost, programs, graduation rates and more varying by school. A few of the better known Illinois culinary schools include:
The Art Institutes of Chicago, Chicago Illinois
Kendal College, in Chicago Illinois
Southwestern Illinois College, in Belleville, Illinois
Illinois Central College, in East Peoria, Illinois
Community colleges throughout the state with culinary training programs