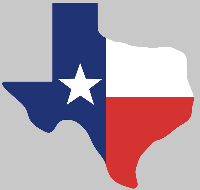 Culinary Employment Trends in Texas
Texas Culinary Jobs, Employment and Salary Trends, Job Opportunities; Culinary Schools and Colleges in Texas 
Overview of Culinary Careers in Texas
The Lone Star State of Texas proudly claims homeland to the Dallas Cowboys, the Houston Astros, jalapeno pepper jelly and Dr Pepper. Citizens take their sports seriously and maybe their food even more seriously, celebrating their cuisine(s) with hundreds of food festivals per year and organizing various cooking retreats and vacations. Influenced by several ethnicities: Native American, Mexican, German, Cajun/Creole, African American, Asian, Jewish and Italian, Texas' beloved food staples are eclectic, including chili, chicken-fried steak, schnitzel, tacos and beef ribs. A few distinct styles have emerged, like Tex-Mex, that marries Mexican cuisine to American sensibilities; Texas barbecue, which uses beef rather than pork (unlike other parts of the country); southeastern Texas style with its Cajun and Creole impact; and west Texas style, more like chuck wagon cooking. And finally, there is Tex-Jex: Tex-Mex via Jewish interpretation.
Texas is home to five of the 100 Best Restaurants in America (according to OpenTable):
Chez Nous French Restaurant, Humble, TX
The French Room, Dallas, TX
Le Cep, Fort Worth, TX
Rudy & Paco Restaurant & Bar, Galveston, TX
Truluck's Seafood, Steak and Crab House, Austin, TX
The only Texas city to win a spot in Zagat's "The Top 17 Food Cities of 2015" is Dallas. Despite its quintessential Tex-Mex style and steakhouse reputation, the city has recently opened a notable number of restaurants with innovative menus. And Austin made a name for herself with a high ranking in Thrillist's 40 Biggest US Cities, Ranked by Their Food: #6, due to the influx of acclaimed chefs opening restaurants there, an exploding gourmet food truck scene and devotion to the Mexican food culture. Aspiring cooks should also consider Houston and San Antonio as fertile culinary ground.
And fertile ground has indeed blessed this enormous state. 86% of Texas' land is devoted to agriculture and more land is farmed there than in any other state. Texas is number one in the nation in the production of beef and top crops include vegetables, citrus, corn, wheat, peanuts, pecans, sorghum and rice according to the Department of Agriculture.
Texas' large size, coupled with her land's bounty and food landscape, allows culinary professionals to enjoy:
an abundant selection of occupations, ranging from work at concerts to bars to the finest restaurants. 
work with a cuisine that incorporates Tex-Mex, barbecue, Cajun and Creole influences as well as working with up-and-coming chefs within the modern culinary scene.
numerous openings in a field expected to grow by 5% over the next year. Over the next ten years, chef, head cook, restaurant cook, food service supervision and food service management jobs are expected to grow more than 10%.
an average salary for Texas cooks that is ranked 31st in the nation.
Texas employs 356,150 culinary professionals, the second-highest number employed in any of the top 10-populated states. The number comprises food service managers, chefs and head cooks, food service supervisors, line cooks, bakers and bartenders throughout the state's barbeque diners, steakhouses, fine restaurants and other settings. Numerous professionals will work more than one job at a time, perhaps teaching cooking classes during the day and bartending at night.
Employment and Salary Trends in Texas
We stated above that Texas employs 356,150 food workers, according to the Bureau of Labor Statistics (BLS). This large number of jobs allows culinary workers to move in and out of the different positions, gaining enough experience to advance to management positions.
Texas chefs, cooks, bartenders and their managers earn an average of $29,749 per year. But as you'd expect, there is quite a bit of variability among job types and employees. 
Food service managers tend to earn the most with an average salary of $58,170 (BLS May 2015 Data), which is up from $56,250 a year ago (BLS May 2014 data). Texas food service managers' salaries rank 16th among the 50 states, ahead of Pennsylvania and behind Hawaii. The top 10% of food service managers earn over $93,000, well above the average. Food service managers also have the most wage variability.
Chefs and head cooks earn the next highest average salary of $43,380 which is down from $44,140 a year ago. The top 10% of chefs earn a lot more than the average, at nearly $71,000 per year.
Restaurant cooks' salaries rank 31st in Texas among the 50 states, ahead of Wisconsin and behind Michigan. Chefs and head cooks' salaries rank lower nationally at 32nd, ahead of Alaska and behind New Hampshire. Experienced cooks, at the top 10% of the pay scale, earn over $30,000 per year.
Generally speaking, Texas culinary jobs tend to hover around the average for all jobs, with some higher, and some lower. But the average annual earnings for the state's food service managers and food service supervisors are higher than the national average within their categories, and chefs and head chefs beat the national average for all culinary occupations.
Culinary Job Opportunities and Employers in Texas
Given the nature of the work, there are not many restaurants in Texas that employ hundreds of culinary professionals. Instead, most food service locations will employ a relatively small number of chefs, cooks and food service managers. That said, there are a broad range of employers available, which include:
Restaurants and Bars
Hotels, B & Bs and Lodges
Schools
Hospitals
Private companies and individuals looking for private chefs
The State of Texas maintains a database of jobs through the Texas Workforce Commission and Texas Workforce Solutions: https://wit.twc.state.tx.us. You can search by keyword, pay, number of hours and duration. Employers offering numerous food service jobs are hospitals, restaurants and hotels.
Culinary Training, Schools and Colleges in Texas
Beginners in the culinary field may opt for either formal education or on-the-job training. Those who seek the latter option often find they must take on entry-level positions like dishwashing or even unpaid internships. But learning the business from the ground up is worth the hard work and low pay. And managers used to high turnover, especially in restaurant-dense cities like Dallas, Austin and Houston welcome the help.
Aspiring cooks interested in formal training do have quite the selection among Texas' many culinary arts, baking and pastry or hospitality management schools. Along with its compelling dining scene, Texas provides dozens of culinary schools and programs, some with degrees awarded. However, not all schools provide the same culinary education, with cost, programs, graduation rates and more varying by school. A few of the better known Texas culinary schools include:
Culinary Institute of America, In San Antonio, Texas
Culinary Institute, in Houston, Texas
The Art Institute of Houston, in Houston, Texas
Le Cordon Blue College of Culinary Arts, in Austin, Texas
Auguste Escoffier School of Culinary Arts, in Austin, Texas
South University – The Art Institute of Dallas, in Dallas, Texas
Community colleges throughout the state with culinary training programs